In the world of contemporaries, I won't say it's easy to write about guys who save lives for a living, but certainly some professions lend themselves to Alpha heroes, like Navy Seals, firemen, cops, and spies to name a few. What woman doesn't want a guy capable of killing with his bare hands and saving the world, most especially her? But not every book can have that kind of hero, so it's up to the writer to turn an ordinary guy into a worthy hero. And sometimes that can be a challenge.
First, there's the name. Some of my historical writing friends claim certain names like Robert or Edward are great, but in the contemporary book world, those names usually go to the guy who doesn't get the girl. Contemporary alpha names are often short and hard like Jake, Max, Nick, Luke, Cole, Zach and then a few syllables, Connor, Logan, Tyler or perhaps an Irish or Italian twist, Patrick, Aidan, Ian, Tony, Michael … You get the picture. The name has to imply this is a man worth taking note of.
Then there's his job. If he can't be one of the above hero types, then he needs to have a job that requires him to be smart and bold. If he hasn't been a risk taker, then meeting the heroine will turn him into one. To flesh him out, he can have some interesting passion, sailing, playing in a band, building homes for poverty stricken areas anything that makes him about more than just numbers and business.
Which leads us to his actions. A true hero has to rise above all expectations, sometimes even his own. He has to be brave where he hasn't been brave before. For an extremely rugged guy, being brave might be more about facing his emotions than facing down the barrel of a gun. Most importantly, a hero has to be willing to risk it all for the woman he loves. And in turn, that woman almost always has to be willing to do the same.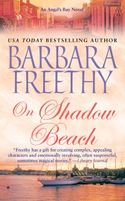 I love writing stories that put ordinary people in extraordinary situations. The characters in my books are often people that you would know, but when faced with sometimes impossible situations, they have to rise to the occasion. They have to be willing to fight for themselves and for the people they love. In my book, ON SHADOW BEACH, which came out last month, the hero was once accused of murdering the heroine's sister. He's been a black sheep ever since and some people in town are genuinely afraid of him. He has to fight to prove his innocence and his love. In my latest book, IN SHELTER COVE, which was released last week, the hero is the cop who put the heroine's late husband in jail. The conflict between them is intense, as both are determined to prove that they're right, but someone has to be wrong.
What are your favorite kinds of contemporary heroes?
(I'll be giving away two copies of ON SHADOW BEACH today picked from the commenters)