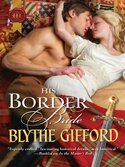 With HIS BORDER BRIDE, I crossed a border myself and set a book in Scotland for the first time. While I'm still writing 14th century medieval romance, this time I looked at the world from the northern side of the Cheviot Hills.
I crossed another border with the book, too. I wrote my first "bad boy" hero. (Well, at least everyone THINKS he's a bad boy. We all know he's a hero at heart.)
The man who is "mad, bad, and dangerous to know," as Lady Caroline Lamb once said of the poet, Lord Byron, should have STAY AWAY signs all over him. He's disillusioned, cynical, and has done things you can't tell your mother about.
(Many of which, we suspect, have something to do with S-E-X.)
But despite all this, (or because of it?) he's somehow irresistible. Not only is he sadly wiser to the cruel ways of the world, he's also developed a charismatic charm that will draw you closer until you're hooked and you can't escape.
I've always written wounded heroes, and the hero of this book is no exception. Gavin Fitzjohn is the illegitimate son of a prince of England and a Scots woman. Not only is he torn between royal and noble, he's torn between two kingdoms. "A rebel without a country," as the back cover copy says, he's a man with a reputation so terrible, he's outcast by both sides.
How does he fight what other people think? He doesn't. He knows that no matter what he says, his words won't change someone else's opinion. He just puts on that lazy smile lets them think he's as bad, or maybe even worse, than the rumors.
So who is a match for a man who refuses to defend his reputation? Who can challenge a man who seems to revel in every bad thing ever said about him?
A woman who is looking for the perfect "knight in shining armor," of course.
Clare Carr expects perfection in herself and in her future husband. But chivalry was an uneasy mix of religious, romantic, and militaristic tenets that provided a veneer of civilization in a warlike era. A knight was first and foremost a fighter. Gavin's business, like that of any knight, was violence, dominance, and death. It's no wonder that a "knight in shining armor" might hide some dark deeds beneath the shiny façade.
Or, that the bad boy might see beyond a woman's spotless reputation to the things she'd prefer to keep hidden…
I'll be giving a copy of HIS BORDER BRIDE to a commenter. To start the conversation, tell me about your favorite hero. Bad Boy? Warrior? Rake? Or someone else?
BLYTHE GIFFORD is the author of five medieval romances from Harlequin Historical. She specializes in characters born on the wrong side of the royal blanket. With HIS BORDER BRIDE, she crosses the border and sets a story in Scotland for the first time, where the rules of chivalry don't always apply. Here's a brief description:
Royal Rogue: He is the bastard son of an English prince and a Scotswoman. A rebel without a country, he has darkness in his soul.
Innocent Lady: Daughter of a Scottish border lord, she can recite the laws of chivalry, and knows this man has broken every one. But she's gripped by desire for him—could he be the one to unleash the dangerous urges she's hidden until now?
She loves to have visitors at her website and at her facebook page.