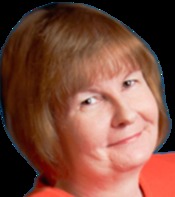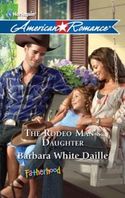 Hi, and a big thanks to the folks here at Fresh Fiction for inviting me to blog with them.
Today I'd like to talk about reunions.  When an envelope arrives in the mail to announce a family or class reunion, the person receiving the invitation can react in many different ways.  With joy and anticipation.  With second thoughts and trepidation.  Or maybe with outright panic because two weeks won't give him or her enough time to lose twenty pounds or to find the outfit that will make them look ten years younger.
As a romance reader—and writer—I have always loved reunion stories, especially those books in which the hero or heroine returns home.  The character gets to do what we sometimes wish we could.  Grab a second chance.  Have an opportunity to make things better.  Get lucky enough to make things right.  But when the hero of my latest book, THE RODEO MAN'S DAUGHTER, returns to his hometown, he's not looking to do any of those things.  In fact, he wants just the opposite.
Caleb Cantrell's a rodeo star who grew up dirt-poor and looked down upon by folks in town.  Still a teen, he took off for the fame and fortune of the rodeo circuit.  After he's tossed by a bull and almost loses his life, his rodeo dreams are destroyed.  He comes back to Flagman's Folly, New Mexico intending to settle scores with the folks who'd done him wrong—and then leave them all behind to get on with the rest of his life.
Here's a brief clip of what happens just minutes after he's returned to town after a ten-year absence:
The gang of kids had moved out of sight behind one of the shacks. A lone boy, eight or nine years old, stayed behind and stood watching him. Dark hair, a dirty face. Torn T-shirt and skinned knees. Could have been Caleb, twenty years ago.
The kid made his way across the road.  "Hey," he said, "whatcha doing?"
"Just looking around."
"What's wrong with your leg?"
The boy must have noticed his awkward gait, the stiffness that always hit him after he sat in one position for a while.  "I hurt my knee.  Getting off a bull."
"Thought you were supposed to stay on 'em."
He shrugged.  "That one had other ideas."  Not too bad—in those three quick sentences, he'd managed to bypass two years' worth of rehab and pain.
The kid looked away and then quickly back again, shuffled his feet and jerked his chin up high. Caleb recognized the mix of pride and false bravado.
"Hey, mister…got a dollar?"
"Sure."  How many times had he asked that question himself?  How many times had he sworn he'd never ask it again?  He reached into his pocket for his wallet, thumbed it open and plucked out a bill without looking at it.  "Here you go."
"Wow.  Gee, thanks.  Thanks a lot."
Caleb grinned.  The boy's grubby fingers clutched a hundred-dollar bill.  He turned and raced across the road as if fearing Caleb would change his mind.  He wouldn't.  He had plenty of money now. Folks in town would sure be surprised to see him again, especially when he started spending that cash.  When he started showing them just how far he'd come.  Maybe then they'd look at him differently than they had years ago.
His grin fading, he shoved the wallet into his pocket and nodded.
Yeah.  He'd show them, all right.
I hope you enjoyed the quick peek into Caleb's life.
Have you got a reunion story in your history?  Please share!  Or feel free to leave a comment or question for me.
---
Originally from the East Coast, award-winning author Barbara White Daille now lives with her husband in the warm, sunny Southwest, where they love the lizards in the front yard but could do without the scorpions in the bathroom.
From the time she was a toddler, Barbara found herself fascinated by those things her mom called "books."  Once she learned the words between the covers held the magic of storytelling, she wanted to see her words in print so she could weave that spell for others.
Barbara hopes you will enjoy reading her stories and will find your own storytelling magic in them!
She would love to have you drop by her website www.barbarawhitedaille.com or look for her at Facebook and Twitter  http://www.facebook.com/barbarawhitedaille and https://twitter.com/BarbaraWDaille
To celebrate the release of THE RODEO MAN'S DAUGHTER (February 2012), she is giving away an autographed copy of her previous book, A RANCHER'S PRIDE.
To be entered in the drawing, leave a response or question for her below.
To comment on Barbara White Daille's blog please click here.