My book BREAK EVERY CHAIN is, for the most part, a Christian adventure novel. I could simplify things and call it Christian drama, but Christian adventure sounds a little more interesting. It's a story about faith and how we can find hope in unexpected places when the world is at its darkest.
On the flip side, I have also written horror novels featuring a grave-robbing witch, a haunted house that gets its power from human blood, and an enormous sea creature that lays its eggs in the digestive tracts of human beings.
So yeah, I'm a horror guy at heart.
This can confuse some readers and I totally understand that. I get that one question all of the time: "As a Christ follower, how can you write such horrific stuff?"
And while the answer is worthy of an essay, it can also be summed up rather easily. As a Christ follower, my faith is structured around stories within scripture that are, in and of themselves, quite horrific. The dead coming back to life, beheadings, crucifixions, demonic possession, people being burned alive, a global flood, and on and on.
Whether Christians want to admit it or not, the Bible is filled to the brim with horror.
But I must also admit that I was writing horror long before I gave my life to Christ (I'm only about 8 years into this thing). But rather than abandon my love of all things horror, I decided to try to use it to supplement my faith. I believe that all Christians should use their talents for the betterment of the world and, when possible, to pass along the message of the gospel—just without beating people over the head with scripture, guilt, and the hellfire and brimstone spiel.
So it made me start to wonder what it might look like to have flawed characters with shaken faith confront things of a dark nature. Where does faith come into play? Where does our reliance on our own logic end and a curiosity about divine things begin?
And do you know what I discovered? The balance of these things is just about the same in both traditional Christian stories as well as horror.
This is one of the reasons it baffles me that Christian horror isn't more popular than it is. As another not-so subtle plug for my own work, I'm currently in the middle of writing a series of books that, while not faith-based enough to be considered Christian fiction, has an underlying narrative that deals with faith and how it can be used as a way to better understand the unknown—even when the unknown consists of poltergeists, mythology, and dark science-fiction tropes.
Look around any writer's forum and you'll see many people expressing the opinion that now is one of the best times to be a writer in the history of forever. I agree with this not only because the lines between genres are beginning to blur more and more, but because someone like me can write an uplifting and personal book like BREAK EVERY CHAIN and then turn around to write about vengeful ghosts and lake monsters and it won't be considered odd (not too odd, anyway).
So the discussion to have is this: as readers, just how blended can genres be before you feel displaced or fooled by the writer. And writers, to what extend to you give a certain genre power of your story before bucking tradition and doing your own thing?
GIVEAWAY
How blended do you like genres for reading? One reader will receive a copy of BREAK EVERY CHAIN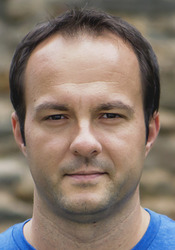 Barry Napier has had novels, short story collections, poetry collections, and a chapbook published by small press venues. He has had work appear in a wide range of publications, from a Norton anthology to a horror collection thematically based on The Wizard of Oz. He is the author of Break Every Chain, Dark Water, Serpentine, The Bleeding Room, and Nests, among other titles.
Can you imagine what it would be like for a person who has no real faith to be thrown into a situation in a foreign place where his faith is the only thing that can save his life?
After running his life into the gutter through alcoholism and sexual addiction, Ryan Fulbright takes part in an impromptu mission's trip in an attempt to redirect his life. Ryan visits a rescue home for underage girls in Nicaragua who have been rescued from sexual slavery. Seeking answers, he quickly finds himself at war with his fragile faith.
In the midst of this, he becomes involved in an ill-advised rescue attempt that leaves him stranded and wounded in the mountains of Nicaragua. With only a six-year-old girl to help, Ryan needs to not only figure out how to survive, but also how to save several young girls who have recently been sold into sexual slavery.
Inspirational Mystery | Suspense [Elk Lake Publishing, On Sale: October 30, 2015, Paperback / e-Book, ISBN: 9781942513605 / ]