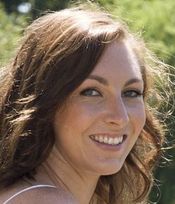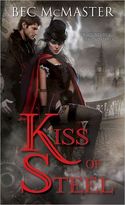 Vampires. They're a subject near and dear to my heart, whether they be sparkly, terrifying, seductive or I-vant-to-suck-your-blood… I don't care what form they come in.
When I decided to write KISS OF STEEL, which is set in a Victorian-era world ruled by the blue bloods of the Echelon, I knew I wanted to use the vampire myth somehow. My blue bloods are gentleman who deliberately infect themselves with the craving virus in order to become elite; making them stronger, faster, invulnerable to illness or injury… and with a thirst for blood. Women are denied the Blood Rites for fear their gentle natures won't be able to control the strong hungers that develop, their purpose in life to become a blue blood's thrall – or blood slave.
The craving virus gifts its bearers with many advantages but there is also a cost. Over the years the virus eventually colonises the body, and the Fade begins. The first signs are albinism and the faint, decaying stench of rot. Eventually the victim evolves into something more. A creature with no reason, driven only by its hungers and its invincible strength. A vampire.
History is full of supposed vampires and their legends. Whilst researching my latest novel, Kiss of Steel, I came across some interesting and creepy legends that helped create the mythology behind my blue bloods and the vampires they evolve into. Some of them you may know.
Five of the more interesting include:
1. Countess Elizabeth Bathory – in Hungarian folklore, she is known as the 'woman who bathed in blood' and pops up on many serial-killer lists as one of the most prolific female serial killers. Born into the Bathory family in 1560 – one of the oldest families in Transylvania – Elizabeth married a Hungarian Count and moved to the eerie castle of Csejthe. One evening she hit her maid for hurting her whilst brushing her hair and where the maid's blood fell on her skin, she noticed it seemed a lot more youthful. This began a long reign of terror where she and her servants lured young local girls to her castle under pretence of employment, subjected them to horrific tortures and supposedly drank and bathed in their blood to preserve her beauty. When the King of Hungary found out, he had her servants executed and Elizabeth was walled up inside a section of the castle with only a tiny slot left open for food to be passed through, as she was a noble. I find this tale particularly creepy and illustrative of the power a vampire in the nobility could have.
2. Vlad the Impaler – with a nickname like the 'Impaler', its fairly evident that this was not a nice guy. Son of a fierce Wallachian voivode (warlord), Vlad III was nicknamed Dracula (Little Dragon) and is the inspiration for this little story you may have heard of. As a child he was given to the Ottoman Empire as a hostage which cultivated an intense hatred that led to his own personal crusade against them in later years. His favourite method of killing his enemies was to stake them alive, hence the 'Impaler' and he was guilty of other atrocities such as nailing the turbans of Turkish ambassadors to their heads for refusing to respect him by taking them off, burning beggars and boiling or roasting others alive. There's no evidence that he ever actually drank blood, but Bram Stoker's novel set the stage for his notoriety and many legends have since sprang up.
3. The Highgate Vampire – A supposed vampire that haunted Highgate Cemetery in London in the 1970's, the furore was set off by a group of occultists who liked to roam the cemetery. One of their members, David Farrant, stayed the night there and believed he had seen a grey figure he thought to be supernatural. Another local, Sean Manchester, was reported in the Hampstead and Highgate Express as claiming it to be a 'King Vampire of the Undead', or a medieval nobleman who'd practiced black magic in Wallachia. This set off a rivalry between the pair to find the vampire, and on Friday 13th March 1970, a mass vampire hunt was planned by Manchester. Despite police intervention, a swarm of would-be vampire hunters descended on the cemetery, armed with garlic and crucifixes.  Several months later the charred remains of a decapitated woman's body were found near a catacomb, which police suspected was the result of black magic. The feud between Farrant and Manchester continues to this day, which each of them pouring scorn on the other's skill and level of involvement.
4. Aswid and Asmund – An interesting tale about a long ago prince of Iceland, Asmund, who lost his way in a storm. Prince Aswid intervened and saved his life and the pair became inseparable, swearing to go to the grave together. After years of fighting, Aswid mysteriously died and Asmund had himself buried alive with Aswid to protect him on his journey to the next life. Several hundred years later, a warband raided the burial mound for its treasure and lowered one of their bravest into the pit. When Asmund was hauled out, he told them Aswid had risen as a Draugr, which is a creature of Nordic mythology that were believed to be the bodies of the dead.  With superhuman strength, the ability to change size and the constant rotting stench of death about them, they were tied to their burial mound and immune to most weapons. Asmund claimed he had been battling Aswid for centuries.
5. Gilles de Rais, a former member of Joan of Arc's guard, was a sadist who raped, tortured and killed around 200-300 children, in order to use their blood in his quest to conjure a devil.  He was convicted of infanticide and is considered to be one of history's greatest serial killers. Interestingly enough, the Bluebeard myth is said to be based on him too, as he had several unlucky encounters with taking a wife.
All the creepier for the fact that all of this actually happened! Personally I prefer a more-seductive take on the version than the monster, but I loved playing with the fact that this is what my blue bloods could turn into. And even more fun? Setting one on the loose for my hero and heroine to hunt.
So how do you like your vampires? Seductive? Brutal monsters? Villain or hero? And what's your favourite fictional vampire character?
KISS OF STEEL BY BEC MCMASTER – IN STORES SEPTEMBER 2012
A brilliantly creative debut where vampires, werewolves, and clockwork creatures roam the mist-shrouded streets of London…
When Nowhere is Safe…
Most people avoid the dreaded Whitecapel district. For Honoria Todd, it's the last safe haven. But at what price?
Blade is known as the master of the rookeries—no one dares cross him. It's been said he faced down the Echelon's army single-handedly, that ever since being infected by the blood-craving he's been quicker, stronger, and almost immortal.
When Honoria shows up at his door, his tenuous control comes close to snapping. She's so…innocent. He doesn't see her backbone of steel—or that she could be the very salvation he's been seeking.
ABOUT THE AUTHOR
Award-winning author Bec McMaster lives in a small town in Australia and grew up with her nose in a book. A member of RWA, she writes sexy, dark paranormals and steampunk romance. When not writing, reading, or poring over travel brochures, she loves spending time with her very own hero or daydreaming about new worlds. For more information, please visit http://www.becmcmaster.com/ or follow her on Twitter, @BecMcMaster.
To comment on Bec McMaster's blog please click here.