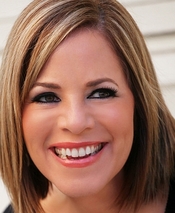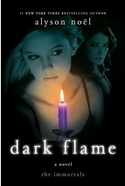 I had an amazing adventure with the Fresh Fiction staff this past Thursday!
I accompanied Gwen to my first ever author interview, with Alyson Noel, as Fresh Fiction's official intern. I was so excited! After getting lost trying to find a Starbucks…Sara and Gwen found me on the way to the hotel that Alyson Noel was staying at. We had a 3 o'clock appointment for our video interview and were 10 minutes early to scout out different locations. We met Alyson in the lobby of the hotel and lucked out with conducting the interview in the hotel bar; Alyson was so fun, she joked about modeling against the table so we could get the mysterious atmosphere of the bar.
Gwen forgot the camera tripod and luckily, she had me! This interview session I was "behind the scenes" on camera duty. The video interview was great; in my opinion, Alyson is really laid back and down to earth. She conversed with us as if she had known us for several days. What's funny is that the video interview lasted a total of 7 minutes while the conversation we had afterwards lasted for more than an hour. We got sidetracked with talk over Buffy the Vampire Slayer, True Blood, and Spartacus: Blood and Sand; of course, it was all about love triangles and paranormal drama.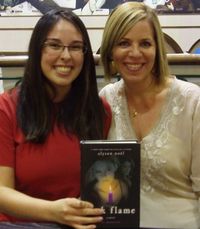 While holding the camera, I did my best to listen to the interview but all my attention went into not moving. Haha! I kept telling myself not to sneeze, not to move, or breath too deep. Camera duty is stressful I tell you! Really stressful and I only held the camera for 7 minutes. Even though I was otherwise preoccupied with my thoughts and actions, the interview was a complete success. Gwen was a great interviewer and Alyson was a great interviewee.
After leaving Alyson to her rightful nap we headed out to Barnes and Noble to attend Alyson's new book signing later that night. Walking into the bookstore was entertaining in itself. Lots of little girls with their moms were running around all over the place and when we ventured toward the designated area, every seat was taken. We joined the other stragglers standing alongside the bookcases in the back and listened to Alyson read chapter nine of the new book, DARK FLAME. Her fans weren't just listening to her; they opened up their copies of the book and read right along with her. It was a joy to watch and even better to listen to when all the girls started asking questions.
We learned that Alyson doesn't ever want to be psychic; she is currently writing a spin-off series, featuring Ever's little sister named Riley; and that her first published book took 15 years to write. Alyson was great with the crowd and walked all over the designated area to hear questions. At one point she walked all the way to the back to hear a question from a soft spoken young woman and had a man with bright orange crocs walk right in between them. The man never fazed her and the question, plus many others, was answered as if no one but fans were in the room. Alyson Noel's interview and book signing was probably the best time I've had since becoming an intern with Fresh Fiction! It was a great opportunity for me. Next time I'll try not to get lost trying to find a Starbucks…
Becky 🙂
PS: big welcome to Becky! Our first intern and she's hit the ground running! Besides serving as unofficial camera tripod / holder, Becky's adding books and authors to the site and doing reviews. Look for her first review today!
PPS: comment to win the signed copy of DARK FLAME Alyson
signed for Gwen and Becky on Thursday!