Instead of writing a blog about my new book SEAMS LIKE MURDER, the 10th in the Crochet series, I thought I'd offer you a chance to play something Molly Pink and her best friend Dinah Lyons call the Sherlock Holmes game. What it amounts to is listening, observing and then deducing the facts. The names have been removed to protect the innocent and to make it less confusing.
Recently, I helped give a surprise party for a friend's birthday. My job was to be the greeter and deal with the gifts. Guest 1 was the first to arrive and she handed me a rectangular package wrapped in silver paper with a silver bow. I put it on the dining room table and told her everyone was to hide in the den. Guest 2 came in with guest 3. The first one had a yellow shopping bag with orange tissue paper poking out of the top and placed it on the table and guest 3 added a small box in turquoise wrapping paper. "I hope she likes this shade," guest 4 said as I took her gift. "I know she likes the color."
The array of packages grew as guest 5 6 and 7 put came in. 5 commented that her gift matched the birthday girl's eyes. Guest 6 glanced at the the shelves near the door and her face fell. "Oh, no. Well, she can always take it back."
Guest 7 said, "I'm pretty sure she can't get enough of what I brought," as she handed me a fragrant gold box.
I'd barely got everyone in the den when I heard the door open and the birthday girl came in looking like a plum down to her sneakers. Just as everyone came out and yelled surprise, I realized in all my efforts to pull off the surprise, I had forgotten to bring her my gift. I slipped out and went home to pick it up. When I returned the birthday girl had just finished opening her presents. The wrappings were all in a pile and the presents were spread on the table. I looked over her haul. She'd gotten a box of chocolates, a blue mohair shawl, a silver bangle bracelet with an amethyst bead, a lavender scarf, a mug with her name on it with a half pound of Kona coffee, a copy of SEAMS LIKE MURDER, and a red t-shirt that said Women are Like Wine, They Get Better With Age.
"I know who gave you what," I said and then reeled off which gift went with who.
The birthday girl seemed surprised. "You must be psychic."
"No, just observant," I said.
Did you figure it out?
In case you didn't– The box of chocolates came from guest 7. There were two clues. She said she was sure the birthday girl couldn't get too much of her gift. What else could that be but the chocolate, and besides the gold box smelled like it. The blue mohair shawl was from guest 5 who had mentioned her gift matched the birthday girl's eyes. It was the only blue present. The lavender scarf was from guest 4 who mentioned she was sure the birthday girl liked the color. Only someone who loved purple would be dressed in it down to her sneakers. The silver bracelet was easy. Only guest 3 had a gift in a small box. I was sure the copy of SEAMS LIKE MURDER was from guest 6. She'd been upset when she saw a book on the shelf by the door and realized the birthday girl already had it. The mug and coffee were from guest 2, the yellow shopping bag was the only packaging that would have fit it, and the red t-shirt was from guest 1 by the process of elimination.
It's amazing what you can figure out if you just pay attention!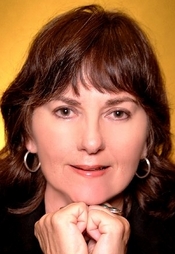 Betty Hechtman grew up in Chicago and has a degree in fine arts. She writes two national best selling series. SEAMS LIKE MURDER is the tenth book in the Crochet series and follows the sleuthing of Molly Pink and the Tarzana Hookers in Southern California. She loves writing books involving yarn as she enjoys both crochet and knitting herself and it gives her an excuse to have massive amounts of yarn. She designs all the patterns included in the books, but assures people they don't have to do yarn craft to read the books. She lives in Southern California with her family. More information at www.BettyHechtman.com Facebook: Betty Hechtman (author).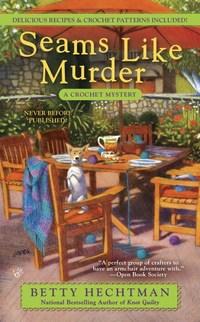 The national bestselling author of Knot Guilty is back, as Molly Pink and the Tarzana Hookers get a dangerous lesson on crafty criminals…
Knitting and crocheting books are selling like crazy at the bookstore where Molly works, so to keep the customers coming, she sets up a series of classes where the Tarzana Hookers can pass on their skills to others: a Yarn University. The only problem is the teacher of the most popular seminar—Sheila—is getting a massive case of stage fright about being in front of a crowd.
To ease Sheila's nerves, the Hookers plan a practice class at crocheter CeeCee's mansion. But before the lesson begins, Molly and the gang stumble upon a dead body in the apartment above CeeCee's garage. Now, Molly must unravel the clues to find a killer quickly—or school might be out forever…
Delicious recipes & crochet patterns included!