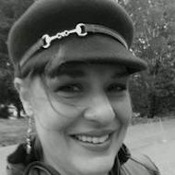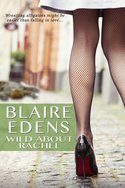 My name is Blaire and I'm a bookaholic. I will read anything. Romance, science fiction, magazines. Anything. Everything. As a child, the only time I didn't have a book in my hand was at meal time. I had a mother who believed in three squares and meaningful conversation so I was prohibited from bringing my book to the table. With no story to escape into, I resorted to reading food labels. If you ever need the potato salad recipe printed on the back of 1980s Hellman's mayo, tweet me. I'm totally your girl. The labels were never my favorite thing to read, but in a pinch, they were mildly interesting. Who knew A1 sauce is mostly raisin paste?
I began writing WILD ABOUT RACHEL as a lark. It was a pet project, a window I could flip to when I was discouraged with other books in progress. Before WILD ABOUT RACHEL sold to Entangled Publishing, I wrote dozens, yes, dozens, of more traditional romances with very safe storylines, most of which never went anywhere. They didn't go anywhere because they were missing one important ingredient: heart. They were as flat as a Heinz Ketchup label.
Frustrated and discouraged, a dear friend sent me a quote by Toni Morrison. "If there's a book you really want to read, but it hasn't been written yet, then you must write it."
Light bulb moment. I'd accidentally been writing the wrong books. I'd been creating books about as interesting as the French's mustard label, stories that would do in a pinch, but would never be my favorite thing to read. Energized, I pulled out a notebook and pen and started making lists of what I wanted to read in a book. I longed for a heroine who was totally out of her comfort zone, a woman who could balance her femininity with a job that demanded fearlessness. I needed a hero who was real, the undiscovered guy next door, who could be both tough and protective but still retained a softness for the women in his life. I wanted to write about real love, complete with all the bumps and roadblocks along the way. I wanted characters who could overcome and learn to live a more fulfilling life. And funny. I wanted funny. After all, when you're forced to read horseradish labels, you crave funny. Trust me. Enter Mark and Rachel.
My whole writing life changed overnight. Instead of bargaining with myself to write, the way I had when I was slaving away on those books I thought I was supposed to be writing, I spent every spare moment with Mark and Rachel. I was always excited to enter their world and sad to leave it. Before I knew it, I had a book filled with wicked one-liners, wild animals and two leading characters who felt more like friends, a book I loved reading.
Toni Morrison's quote gave me permission, a ticket to write the kind of characters who interested me, and I ran with it. It's not all about writing, though. The quote is applicable to any dream, any ambition you might have. Make your work your own. That's what it's really all about: the glorious individuality that makes each person on earth totally unique. Put your stamp on whatever it is you do. Never apologize for being yourself. Give yourself permission to be just who you are. Amazing results will follow.
WILD ABOUT RACHEL has all the things I craved in a romance. It's my book, the one I was supposed to write. I hope you enjoy it.
P.S. — You have my permission to take it to the table with you.