1–What's the name of your latest release? 
THE REVOLUTIONARY AND THE ROGUE
2–What is it about? 
Perrin de Vesey, an aristocrat who is grieving the unjust execution of his lover, is recruited by his friends to help save innocents from the guillotine. But handsome Committee officer, Henri Chevalier, is hot on his trail, eager to ensnare counterrevolutionary conspirators. Attraction simmers between the two, tearing down the barricades that stand between them.
3–What word best describes Perrin? 
Compassionate
4–What makes Henri irresistible? 
He dreams of freedom and equality for all people and believes in fair and just trials–even for his enemies.
5–Who are the people your main characters turn to when they need help? 
Perrin has a strong support of friends from Crimson Rose–a club that welcomes men who prefer men. They stand together and shield one another from danger at all costs. Henri, on the other hand, finds himself unable to trust his fellow Committee officers. In a city where anyone might betray their neighbors, it isn't easy to find good friends.
6–What do you love about the setting of your book? 
I have always been fascinated with the French Revolution. Their leaders fought for many good and noble causes: freedom, education of the people, and a redistribution of wealth. But the amount of bloodshed committed at the guillotine's scaffold during the Reign of Terror was horrifying. The injustices committed on both sides of the struggle set the stage for an intriguing enemies-to-lovers story.
7–Are you a plotter (follow an outline) or a pantster (write by the seat of your pants)?
A bit of both. Sometimes I just sit down and write to get a feel for the characters or a scene that comes to mind. Over the past few years, I have become more of a plotter. I use character charts and a detailed synopsis to help map out where the story is heading. 
8–What is an ideal writing day for you? 
Sitting on the couch with my laptop, windows open with the birds chirping outside.
9–Do you listen to music while you write, need total silence, or do you have the TV on?
Music is often a big inspiration for my writing. With this particular story, I spent of a lot of time listening to the Broadway cast recording of The Scarlet Pimpernel to set the mood. I also listened to the Shakespeare in Love soundtrack (the theme song is a go-to writing anthem for me).
10– How do you approach research? 
I buy too many books. Sometimes I have something specific to look up, other times I have found that just reading to gain a wider understanding of the time period can lead to additions in the manuscript. For instance, I was researching fashion and learned that the design for military uniform buttons had been changed and debated upon by the government. This popped into the manuscript because it worked really well for Henri's character to question why the country's leaders were debating buttons while their citizens desperately needed food.
11–What is your publishing journey story? 
From early on I wanted write, but I became sidetracked along the way. I was swept up by the world of ballroom dancing and lived out my own stories through interpreting the music. After several injuries, I finally accepted that my time competing was over and I reconnected with writing. It took a few years and a number of manuscripts that failed to get through the querying process before this one came into the world. And even then, it went through a number of revisions to get to the point where I found my agent and then finally reached publication.
12–Do you have critique partners/writing groups you want to give a shout-out to? 
Yes. I'm so glad I have a strong foundation of critique partners and writer friends to help support me through this. My RChat girls have been there for me every step of the way.
13–What're the most frustrating things about being an author? 
Writing can suck me out of the real world. That's both a blessing and a curse. I could write from seven in the morning until well after midnight, which means sometimes I miss out on an actual day where I could have been out in the world experiencing life. I'm fortunate that my spouse understands my need to write and also enjoys getting involved in critiquing my work.
14–What's your favorite scent?
Mint
15–What movie will you watch no matter what if it's on TV? 
SHAKESPEARE IN LOVE
16–Do you like breakfast, lunch, or dinner best? 
Breakfast. I could go for pancakes just about any time of day.
17–What's one thing you wish you knew more about? 
I really wish I knew how to sew. I'm obsessed with 18th-century fashion and would love to make my own coats and waistcoats.
18–What's the silliest thing you've recently done?
I recently found a board game for the movie LABYRINTH, and I kind of geeked out singing the songs and speaking for the characters while playing.  
19–What can readers expect from you next? 
I'm working on a story based upon the spies of King Louis XV.  
20–How can readers reach you? 
Through my website: www.blakeferrebooks.com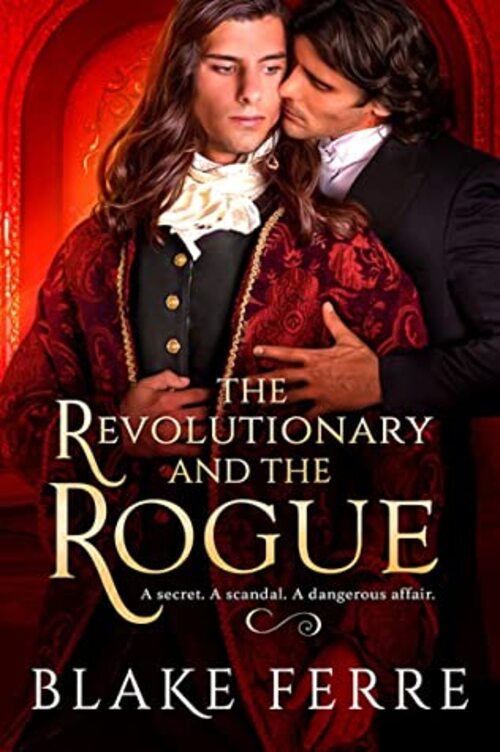 Perrin deVesey knows pain. As a member of Crimson Rose, a secret club for men who love men, he's taken the vow "to stand and shield." Standing together during these perilous times is the only thing keeping their necks from the guillotine. Now their leader is using the club to rescue wrongly accused traitors. After losing a past lover to an unjust execution, the decision to support this treasonous cause is easy. . . until a devastatingly handsome Committee Officer complicates Perrin's whole world.
Officer Henri Chevalier hates aristocrats. But the man he finds while investigating Crimson Rose is more than just wealthy and fancily clothed. He's a rogue that could take him to the heart of the uprising and stop it before it starts. His plan to get close to Perrin and steal his secrets backfires, though, when Henri finds himself falling for the damned aristo and his dangerous smile. His heart is even more conflicted as he learns the truth behind their cause. . . and the truth his own people have been hiding.
Together they must make the choice–to stand and shield at any cost–and their love might be the deadliest weapon in all of France.
Romance Historical | Romance LGBTQ [Entangled: Amara, On Sale: August 24, 2020, e-Book, ISBN: 9781649370051 / eISBN: 9781649370051]