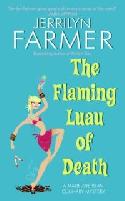 Our book club author for September was Jerrilyn Farmer and with a book entitled The Flaming Luau of Death how could tropical not be the them for dinner?! Jerrilyn writes the Madeline Bean culinary mysteries, but her talents do not stop at writing. She actually started out, and continues to be, an accomplished comedy (some of Dana Carvey's "Church Lady" sketches) and game show (Jeopardy! and Supermarket Sweep) writer.
After college, Jerrilyn moved from Chicago to LA and got involved in comedy writing and game show writing. She wrote for several Saturday Night Live comedians and took writing courses through UCLA and was inspired to write a book. Problem? Living in the LA area and working in the television industry, naturally her first impulse was to show her book to some of the people she knew from the TV industry. Unfortunately, they kept looking at the book from the perspective of turning it into a movie. Jerrilyn then sent out copies of her book to several agents, as most aspiring authors do, and was successful in finding an agent.
When it comes to promotion for her Madeline Bean books, Jerrilyn does not go the same route as other authors of culinary mysteries and provide multiple recipes from, or inspired by, the latest book to readers. Her Editor has never even suggested writing recipes. That is not say that recipes are never given. Jerrilyn generally posts one recipe on her website per book release. It is also worth mentioning that in each book she generally lists the ingredients and preparation for at least one dish but does not provide the exact measurements. Anyone who read The Flaming Luau of Death can appreciate how good those chicken lollipops at the luau must have tasted!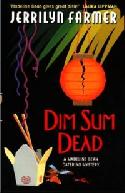 During her book tour for The Flaming Luau of Death, Jerrilyn's publicist was able to line up several TV interviews with local morning shows by pitching the fact that she cooks and writes culinary mysteries. When Dim Sum Dead was released, she held several dim sum parties.
Back to The Flaming Luau of Death. Her publisher thought the title was too long but our book club totally loved it. When asked how much say her Editor has with her plot, Jerrilyn said her Editor is very hands off. Jerrilyn usually just gives her a one paragraph synopsis initially for her OK.
The Madeline Bean mysteries usually have one big event, but this one was a whole weekend. Given the title, it definitely takes place in Hawaii. Can we say research trip for the author? Oh yes. Jerrilyn knew she wanted to partly set a book in Hawaii, but her Editor said they would not mind having the whole book set there. She got to experience some of what is discussed in the book including the spa treatments and swimming with the dolphins.
The Flaming Luau of Death was released in 2005, but talks about the idea of bamboo becoming a mainstream building and flooring product. It is definitely becoming that way today but it certainly was not the case when Jerrilyn was writing this book so I have to give a lot of credit to her for even fathoming such an idea at that time. Jerrilyn says she actually did find a bamboo society that put their minutes online at the time she was researching for this book.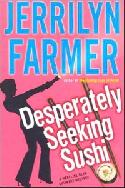 The next Madeline Bean mystery, Desperately Seeking Sushi, is currently scheduled to be released March 2008. Jerrilyn is also planning a new series that should be very funny & over the top.