Linda Conrad, proud mama of a new Bichon Frise puppy, joined us over the phone last night for our book club chat. She is currently living in the Florida Keys, but spent most of her adult life in the Rio Grande Valley of Texas and was first published in 2002.
The inspiration for creating the Night Guardians series (readers often call it the Shadow series because of the titles) was from research Linda did for Between Strangers (Silhouette Desire). She does not have any Navajo ancestry. The hero in Between Strangers, Lance White Eagle Steele, is half Navajo. During her research, she visited the four corners Navajo reservation and learned about the Skinwalker legend. The four corners area is very rural, but she said it has some of the most fabulous natural wonders.
The Night Guardians books can each standalone, but there is a thread running through all of them. Her heroes, the Brotherhood, learn a little bit more about the Skinwalkers in each book. The upcoming sixth book, Shadow Whispers, will end the series. We also asked about the possibility of a future standalone title for this series, but she says there are no real plans for one.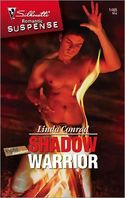 On to cover art…because, well, Shadow Warrior has a memorable cover! Last night's dinner theme was New York deli and we had Cosmo-tinis to go with it. Let's just say that after Cosmo-tinis everyone around the table was trying to strike the cover pose. Linda is allowed minor input on the cover art. She is sent a survey asking various questions about the book and asked to provide three scenes she would like to see depicted on the cover. That said, none of her scene selections have made the covers.
Beyond the Night Guardians, Linda just sold a three book set to Silhouette Romantic Suspense that she is calling the Safe Keepers series and should be out some time in 2008. Safe Keepers will tell the stories of two brothers and their sister who are all magical. The siblings go into business together opening a bodyguard agency focusing on children.
Some of Linda's notable quotes from the evening with our book club:
– "I've got a twisted brain."
– "No ladies. I make this stuff up."