Well once again, I forgot to bring my notepad and pen with me to the book club dinner table. I did have it with me….just not at the table when we first started chatting with Robyn Carr (this month's Plano book club author). Luckily one of the other ladies was able to run to the other room to get it for me. Thank goodness especially since I am getting to this so late. My evil day job is keeping me from everything lately. My apologies.
As I said, Robyn Carr was the Plano book club's author for our August get together. Anyone who has read her Virgin River series will be pleased to know she did spill the beans about characters in upcoming Virgin River books. The series could go on and on with the current area residents and Jack's five unmarried marine buddies.
Book 4, likely to be released in late 2008/early 2009, will center around Paul & Vanessa. Book 5 will center around a retired Army blackhawk helicopter pilot who owns several cabins in the area and a young caregiver named Shelby who was briefly mentioned one of the existing Virgin River books. Book 6 is Ricky's book and the mysterious pot grower will also have a storyline in this book. Books 4, 5 and 6 are already written and will likely be released close together similar to how books 1 – 3 were released. She also has a 7th Virgin River book in outline, but no word on if the publisher has bought a 7th book.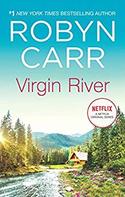 Robyn says she tries to balance both the romance and women's issues instead of having an either or situation. She likes watching women get through their daily lives with the natural drama and humor that occurs. When she was writing Virgin River, she to demonstrate that Mel would not recognize herself at the end of the book because of Mel's experiences in the book from start to finish.
Robyn thinks adjustment subjects are not covered as much because there is no big drama like that associated with say a character having an affair. In Robyn's Grace Valley series, the series was complete and she did not want to just create a melodrama in it for it to continue.
Who does Robyn Carr like to read when she is not writing:
– JR Ward. She read the whole series twice.
– Susan Elizabeth Phillips
– Jennifer Crusie
Some of Robyn's notable quotes from the evening with our book club:
– "…somebody got me hooked on these damn vampires."
– "They have their spouses to dump their own emotional crisises on."