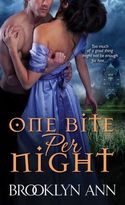 I think the wait for ONE BITE PER NIGHT has been even more nail-bitingly tense than it was for my debut novel, BITE ME, YOUR GRACE. Though the pub date for my debut novel was a long 18 months after I signed the contract, everything in preparation for turning a humble word document into a book happened on schedule.
This one, on the other hand, was like the proverbial "bratty" child that comes after birthing a "perfect angel." A marketing decision which caused unexpected changes in the manuscript, coupled with two personal emergencies, and other marketing decisions caused my release date to be delayed twice. The cover even changed.
Despite the fact that I just compared this book to a bratty kid, this one is actually my favorite. I've never before fallen in love with one of my own heroes. 🙂 Anyway, finally all of the book-making process is complete and ONE BITE PER NIGHT will hit the shelves on August 5th!
To celebrate, I finally get to tell you about the book, show off the cover, and give you a teaser excerpt.
I'm also going to give away a copy of the first book, BITE ME, YOUR GRACE to one random commenter.
Blurb:
"Vincent Tremayne, the reclusive "Devil Earl," has been manipulated into taking rambunctious Lydia Price as his ward. As Lord Vampire of Cornwall. Vincent has more important things to do than bring out an unruly debutante.
American-born Lydia Price doesn't care for the stuffy strictures of the ton, and is unimpressed with her foppish suitors. She dreams of studying with the talented but scandalous British portrait painter, Sir Thomas Lawrence. But just when it seems her dreams will come true, Lydia is plunged into Vincent's dark world and finds herself caught between the life she'd known and a future she never could have imagined."
Excerpt:
"Good evening, Lydia," Deveril called as he crested the hill. "How is the painting?"
A shiver ran down her body. He only said her name when they were alone… as if they shared an intimate secret. Lydia set down her palette and brush and pulled the folds of her cloak tighter. "It is going as well as it could be, with so few hours to capture the dusk. What is your Christian name?" she blurted as she removed the canvas from the easel. "I've known you for a week and I feel I am at a disadvantage."
"It is Vincent," he replied in an odd tone. "I didn't realize you were unaware."
"Vincent." She tasted the word. Now she knew what name to invoke in her dreams. "That is quite a name for a devil. Do you truly steal milk from cows at night and change into a sea monster during the full moon, devouring hapless fishermen along the way?"
Deveril stiffened and his eyes turned glacial. "Emma has been carrying tales, I see." Rage deepened his voice to a feral growl. "How dare she try to frighten you after I gave her shelter and employment when your grandmother sacked her? By God, I shall—"
"It was not Emma, my lord. It was her sister who said these things." Her face burned with guilt as she confessed her indiscretion. "I was in the passage, eavesdropping… Emma then assured her sister that you are not a monster." Although she believes you are somewhat cracked.
Then, his words struck her. He'd employed Emma after Lady Morley dismissed her. Lydia's heart warmed at his kind gesture.
Vincent continued to glower. "Perhaps I shall have to find a new scullery maid."
Lydia shook her head. "I do not think so, for you would only encounter the same problem with the next one. I understand the rumors are wide-spread." She attempted to make light of it as she packed away her painting supplies. "You should be flattered to be such a part of local lore. Perhaps one day 'The Devil Earl' will be as popular as 'Jack and the Beanstalk.'"
"I do not believe I've heard that one before." The hostility left his countenance and he leaned against the great oak tree. "Would you tell it to me?"
"Of course." Relief washed over her. She had not caused Emma or Beth to lose their employment.
Taking a deep breath, she recited the tale. Lydia took extra care to insert appropriate drama when the giant arrived. "Fee, Fie, Foe, Fum, I smell the blood of an Englishman." She stomped toward Vincent. "Be he live or be he dead, I'll grind his bones to make my bread!"
When she finished, Vincent applauded. "Now I must add storytelling to your list of accomplishments. We should return to the castle and meet the dressmakers."
"Not yet, my lord." Lydia stopped him, unwilling to relinquish the evening's beauty and his company. "Now you must tell me a story."
He sighed and nodded. "Very well." Vincent stepped away from the tree and began. "A young girl was told to bring a basket of food and herbs to her grandmother, who was ill."
Lydia had heard this tale, yet the way Vincent told it with his melodious voice and sinister narrative had her listening with anticipation. She watched entranced as he adopted the persona of the wolf, stalking around the tree like a sleek predator.
As Vincent neared the end of the story, he stepped closer to her. "'What big eyes you have,' said the girl. 'The better to see you with,' the wolf replied."
Lydia sucked in a breath as he circled her, eyes glittering with savage hunger. She could almost believe he was the wolf. Her knees trembled as he continued.
"'What big teeth you have,' the girl said next. To which the wolf answered, 'the better to eat you with.'" Vincent snarled and seized her shoulders.
Heat flared low in her body at his touch. Lydia shivered as she looked up at him. A trick of the moonlight made his teeth appear sharp and deadly. A gasp tore from her throat as he lunged forward. For a moment it seemed he was going to bite her.
She wanted him to.
Instead his lips caressed her neck as he whispered, "Then the wolf swallowed her whole."
Liquid tremors wracked her form. She reached up to cling to his shoulders, to beg for more. Vincent stepped back, leaving her to grasp at the air.
Shielding her embarrassment at her reaction, she managed a small giggle. He'd only been telling a story, after all. "In the version my mother told me, the girl got away."
"Yes, that would be best." His voice sounded rough. "She should get away."
To comment on Brooklyn Ann's blog please click here.