As usual, I never had as much time as I expected to prepare for the holidays so it doesn't come as a HUGE surprise I'm still writing a holiday letter — or to be honest, I just gave up on it. Trust me, you would have found it boring. And 11pm on Christmas Eve is a bit late to be creative. I still have presents to wrap. But Faye said I had to blog on Christmas and so I'll need to come up with something. I gave up on pithy and witty and I'm stuck with mundane. At book club this is the point we go around the room and talk about the best (or worst) book read this month. So I think I'll just go with books I discovered in the past two months.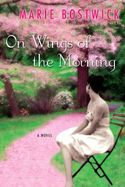 One of the things I try to do is to read the books by an author who is either coming to town for a signing or is a book club guest. After all it's really rude to not at least taste a hostess's cooking. You don't have to like it, but you better take a bite to be polite. Unfortunately for my book budget (laughing), when I take a taste of a book, I usually have to find all the rest of the author's books so I can do a bit of feasting. So my latest books to develop into a massive book slurping adventure were Marie Bostwick's FIELDS OF GOLD and ON WINGS OF MORNING. I really enjoy historical fiction and Bostwick's duo are set in the early 20th century or the period after WWI and through WWII. Both are easy reads but packed with the tastes of history I enjoy. It's much better than falling asleep to the sounds of the History Channel's documentaries when I need a history fix even if I needed a box of tissues to mop up after I finished.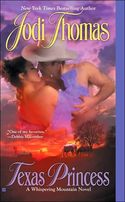 I've read Jodi Thomas off and on for several years, depending on my mood, but TEXAS PRINCESS is the middle of the "Texas Ranger" series and when I went back to find the rest, realized I had read them so I spent time doing a little revisiting and enjoying Texas of the late 19th century. Yes, it's changed a bit but not that much if you scratch the surface. TEXAS PRINCESS is the story of one strange kidnapping — arranged by a father — to save his daughter who isn't the delicate flower she pretends to be. Her April 2008 book is supposed to be different and engrossing so I can't wait to get a copy.
Tom wanted to meet his favorite author — Clive Cussler — when he came to town but after the last two Dirk Pitt misadventures I was willing to wait on a paperback copy of THE CHASE. But Mr. Cussler was SO entertaining I ended up reading Tom's extra copy of THE CHASE and found it refreshing. Not quite up to earlier Dirk Pitt adventures but MUCH better than the father – son collaborations we've suffered through recently. And yes, Tom got a copy signed to him plus a reading copy. The idiosyncrasies of readers, what can I say? I'm one too!
Other books I'd recommend are:
THE HELLFIRE CONSPIRACY by Will Thomas, a Victorian mystery
THE MEDUSA SEDUCTION by Cindy Dees, look for it only in December in the series romance section. It's a great ride of read!
DANCING WITH WEREWOLVES by Carole Nelson Douglas, watch out Las Vegas!
But I'd also like to say, circling back to the holiday and end of year stuff, Season's Greetings to all our friends and fellow readers. May 2008 be filled with great books, delicious reading finds and good friends to tell!
Sara