1–What is the title of your latest release?
2–What is it about?
Pitched as "Elena Ferrante meets Big Little Lies",  THE GODMOTHERS is about four remarkable women from very different backgrounds who are united by marriage in an elegant, prosperous Italian family, and then must take charge of the family's business when their husbands are forced to leave them during World War II.
3–What do you love about the setting of your book?
 THE GODMOTHERS takes place mainly in New York City and its Westchester suburbs from the 1930s through the 1950s. I worked in the city and I loved discovering its old buildings and the great stories that went with it. That glamorous, dangerous, bygone aura still clings to places like Bergdorf Goodman's, the Copacabana, the Majestic apartment building, Coney Island, Balducci's Market, the Plaza Hotel—it's all still there.
4–How did your main character(s) surprise you?
They are so brave! The four Godmothers never fail to rise to the occasion as a team: Filomena overcomes childhood trauma to be a leader and protector of the family; Lucy uses her skills as a nurse to make the right decisions even when she feels betrayed; Amie recovers from an abusive past to defend her new relatives; and Petrina uses her education and talent to create a second chance for all of them. Together they stand up to the most notorious gangsters of the era: Lucky Luciano, Frank Costello, Albert Anastasia, Tony "Bender" Strollo, and Tommy "Three Finger" Lucchese.
5–Why will readers relate to your characters?
So many modest people are underestimated by those who claim to know and love them. But the Godmothers don't indulge in hurt feelings and resentments. They set the right priorities, and they join forces to take care of business and get things done.
6–What was one of your biggest challenges while writing this book (spoiler-free, of course!)?
Whenever I write a novel based on historical events, I want to make sure that the fictional characters I create are real people with real feelings doing real things. And the real-life characters need to be human, too. The research should always be just the tip of the iceberg. I'm always glad when readers tell me, "I felt like I was right there with them."
7–Do you look forward to or do you dread the revision process?
I love revising! That means the book exists now, and you just keep refining the gold and removing what isn't, like an alchemist.
8–What's your favorite snack to have on hand while writing?
Oh, I don't snack while writing! I get so absorbed that I hardly remember to drink water. But I had European grandparents and that means that when my work is done for the day, my husband and I cook good, satisfying meals together.
9–Where would you go for an ideal writer's retreat?
I love to travel, but that's usually for research, or for a restful break. I do most of the actual writing at home, where I can watch the sun rise and set from my windows, and then go for a walk to listen to the birds singing when I need a break. But to tell you the truth, the best thing for a writer is a cozy, rainy day. No distractions and you feel perfectly justified in doing nothing but writing!
10–What's the best piece of writing advice you've received?
My mentor Margaret Atwood had some great advice, she said: "We only have what's on the page." That means that whatever is in your head is nice, but you've got to write it down in order to share it with your readers. She also said, "Drink more water." She meant it!
11–Who is the fictional character you want to hang out with the most? (anyone in literature!)
Raymond Chandler's Philip Marlowe. He's a man with a conscience, and he sees everything. People always get him wrong and caricature him as a tough guy who ogles women. But what I love about him is that he is resolutely incorruptible.
12–What's one of your earliest book memories?
My mother used to take us to a children's toy store that had a whole wall of shelves in the back with books. I would tell her which ones I coveted, and then, miraculously, on my birthday and at Easter, the book would appear with other gifts. It meant that reading was a gift, just as important to a child as candy or a toy.
13–If you had to write in a different genre, what would it be and why?
Someday I'm going to write a ghost story. It's brewing on the back burner . . .
14–What song will automatically put you in a good mood?
Beethoven's "Ode to Joy", and the Beatles' "I Feel Fine."
15–What is your favorite way to practice self-care?
I love to swim. I get my best ideas in water, whether in a pool or a bathtub. I must be part mermaid.
16–What can you eat and never get sick of?
There are a million ways to cook eggs and serve them. And you can eat them anytime, morning, noon or night.
17–Will you share a favorite, recent-ish book you recommend?
I wish I had time to keep up with recent books! I think you just can't do better than ANNA KARENINA. Tolstoy puts you in the heads of every kind of human being, and it's all true and authentic and lovely. But if you want to cheer up, read a really good cookbook that has great photos. That gives you a reason to keep living.
18–Do you have any hobbies?
Well, as I said, I love swimming, traveling, cooking. I also like to paint. I love music, and I used to dance, semi-professionally, first ballet and then Isadora Duncan technique. When nobody is looking, I still kick up my heels.
19–Are you an early bird or a night owl?
I follow the sun. Depending on the season, I rise when it does, and I start to get cozy in bed when it sets and the stars come out.
20–What can readers expect from you next?
I write about people who aren't particularly rich and famous and celebrated . . . but they ought to be loved and cherished, so I give them a chance to shine. And if they should happen to "bump into" the celebrities of their time, well, my fictional characters will invariably shed new light on the situation.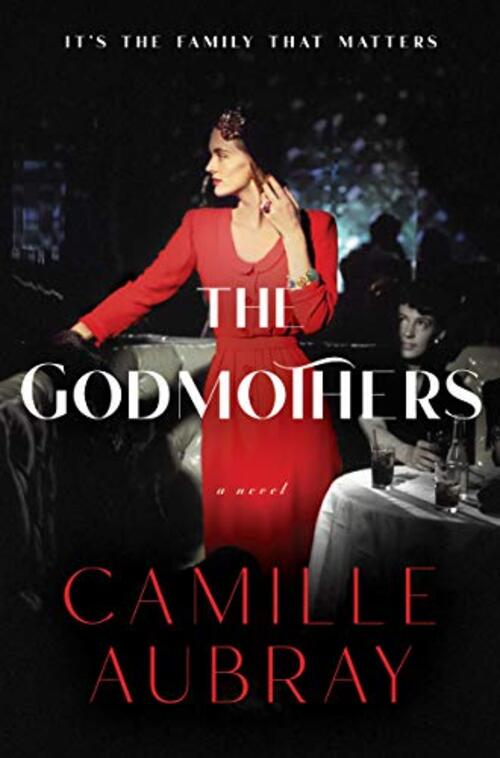 Big Little Lies set in World War II era Greenwich Village! An irresistible, suspenseful novel about four women who marry into an elegant, prosperous Italian family, and then must take charge of the family's business when their husbands are forced to leave them during the war.
Meet the Godmothers: Filomena is a clever and resourceful war refugee with a childhood secret, who comes to America to wed Mario, the family's favored son. Amie, a beautiful and dreamy French girl from upstate New York, escapes an abusive husband after falling in love with Johnny, the oldest of the brothers. Lucy, a tough-as-nails Irish nurse, ran away from a strict girls' home and marries Frankie, the sensuous middle son. And the glamorous Petrina, the family's only daughter, graduates with honors from Barnard College despite a past trauma that nearly caused a family scandal.
All four women become godmothers to one another's children, finding hope and shelter in this prosperous family and their sumptuous Greenwich Village home, and enjoying New York life with its fine dining, opulent department stores and sophisticated nightclubs.
But the women's secret pasts lead to unforeseen consequences and betrayals that threaten to unravel all their carefully laid plans. And when their husbands are forced to leave them during the second World War, the Godmothers must unexpectedly contend with notorious gangsters like Frank Costello and Lucky Luciano who run the streets of New York City.
Refusing to merely imitate the world of men, the four Godmothers learn to put aside their differences and grudges so that they can work together to protect their loved ones, and to find their own unique paths to success, love, forgiveness, and the futures they've always dreamed of.
Historical [William Morrow, On Sale: June 15, 2021, Hardcover / e-Book, ISBN: 9780062983695 / eISBN: 9780062983718]
Camille Aubray is an Edward F. Albee Foundation Fellowship winner. A writer-in-residence at the Karolyi Foundation in the South of France, she was a finalist for the Pushcart Press Editors' Book Award and the Eugene O'Neill National Playwrights Conference. She studied writing at the University of London with David Hare, Tom Stoppard, and Fay Weldon; and with her mentor Margaret Atwood at the Humber College School of Creative Writing Workshop in Toronto. Aubray has been a staff writer for the daytime dramas One Life to Live and Capitol, has taught writing at New York University, and has written and produced for ABC News, PBS, and A&E. The author divides her time between Connecticut and the South of France.