Candy's Inside Books
A look at books, authors and movie events
I'd hoped to put together a list of some of my favorite books from the past year for this last column of the year. I couldn't do it. Whittling down more than a 100 books, most of which I loved, was absolutely impossible. I will, at the end of this column give you some authors to check out if you need help with your gift buying.
But we have several December releases to talk about first: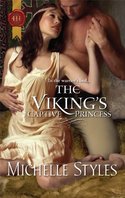 Michelle Styles says THE VIKING' CAPTIVE PRINCESS is the story of an exiled Viking princess who takes her half- sister's place in an enemy warrior's bed to save her sister's life. "One of my favorite bits is doing research and finding little factoids so I was really pleased when I learned about the gem stone iolite," Styles says. "It is a natural polarizing filter (think sun glasses!) and the Vikings used it in navigation as a sun compass because of course if you are sailing in the land of the Midnight Sun, there are no stars to guide you. It really fascinated me and I made sure iolite was mentioned in the book."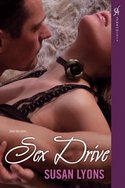 Susan Lyon's new title, SEX DRIVE, says it all. "While I'm not as bright as my genius heroine," says Lyons, "I grew up as one of those clever kids who skipped a grade and was always younger than my classmates. It didn't help that I was also always the smallest in my class. Oh, and of course I wore glasses, too. Nope, I didn't have much of a social life – at least when it came to boys. So, when I created Damien for the socially and sexually repressed Theresa, I had a fabulous time! It felt like vindication for all of us plain-Jane smart girls."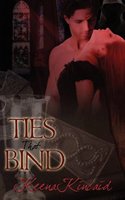 Keena Kincaid has new one out TIES THAT BIND. The lead character, Aedan, was supposed to be a minor one in the first book in the series "Anam Cara," but then he demanded his own story. "He talked me and demanded I write his story," Lykins says. "I'd left his reputation in tatters and he wanted me to fix it. So I wrote his story. As a druid, one of his magical abilities is the gift of words. He can talk anyone into anything. It wasn't the easiest book I've ever written, but I loved the challenge of taking a self-centered character who is used to getting whatever he wants, thwarting him at every turn, and then using the power of love to make him a better man."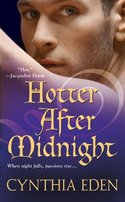 HOTTER AFTER MIDNIGHT is the first book in Cynthia Eden's Midnight trilogy that is out in mass market paperback, and it introduces readers to Emily Drake, the "Monster Doctor"–a psychologist who only treats paranormal patients. Emily must profile a paranormal killer…and protect her heart from the wolf shifter detective leading the investigation.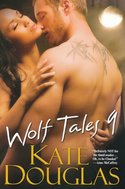 Kate Douglas says WOLF TALES 9 was written as a result of a poll she did with her readers, asking which characters they wanted to know more about. "I had hundreds of responses," she says, "and WT9 answers their questions. As the Chanku gather in Montana to await the birth of Tia and Luc's first baby, they tell the stories of how they met and how they first discovered they were Chanku. Mik and AJ, Jake and Luc, Anton and Oliver— and the list goes on."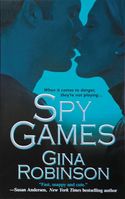 Gina Robinson calls SPY GAMES a romantic suspense with spunk. "Reilly Peterson's been many things in her thirty-two years: an athlete, a model, a sportswear executive," says Robinson. "Her ex- boyfriend, however, has done a good job of making Reilly something she's never been—scared. Now Reilly's ready to protect herself with more than her sharp tongue. Fantasy Spy Camp's Seattle-based Urban Ops division will train her to survive using everything from her bare hands to a submachine gun. But when she gets an eyeful of fellow camper Van Keller, all Reilly wants is to chill out, partner up and go deep undercover."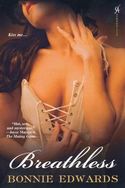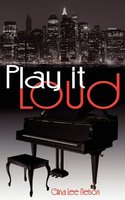 More books to check out this month: Bonnie Edward's BREATHLESS, Patti Shenberger's MISTLETOE SEDUCTIONS, and Gina Nelson's PLAY IT LOUD.
Gift Buying Ideas
The following is to help those of you who may want to buy books for family and friends. It is in no way a complete list. It's an off-the-top-of-my-head list to give you some authors to check out. In sci-fi fantasy: A. Lee Martinez, Jim Butcher, Rachel Caine, (Her YA's are cool too), Yasmine Galenorn, Cathy Clamp and C.T. Adams, Lynn Viehl; young adult: Rosemary Clement Moore, Richelle Mead, Gena Showalter (Her paranormal romances also rock), Alyson Noel, P.C and Kristen Cast; Funny romance: Dakota Cassidy, Michele Bardsley, Linda Wisdom, Mark Henry, Candace Havens (I hear she is really awesome); Historical romance: Jodi Thomas, Lorraine Heath; Paranormal romance: Anya Bast, Nancy Haddock, Carrie Vaughn; Mystery: Wendy Lyn Watson, Annette Blair; Horror: Joseph Nassise, Neil Gaiman (his early works); Romantic Suspense/Thriller: Sandra Brown, Lisa Jackson, Bob Mayer; Erotic romance: Sasha White, Amie Stuart; Women's fiction: Kate Austin (Her new paranormals are awesome too), Leanna Ellis, Susan Wiggs, Britta Coleman.
Well, that's it for this month, see you next year with more news…Candy
---
Candy is a nationally syndicated entertainment columnist, who has interviewed just about every celebrity there is in Hollywood and written thousands of articles. She is the author of the Charmed & Dangerous series including Charmed & Ready Charmed & Dangerous, Charmed & Deadly, and Like A Charm. Her latest book The Demon King and I is available now!
Her non-fiction prose includes Joss Whedon: The Genius Behind Buffy, and essays in Alias Assumed: Sex, Lies and SD-6, and Five Seasons of Angel. She's also the entertainment critic providing the latest on TV, film and celebs for the radio station 96.3 KSCS. And she's the managing editor for FYI Television.