It can't possibly be June already. Wasn't it just February? I should be grateful for the warmer weather and the lazy days of summer, but unfortunately there isn't much time to laze these days. (Smile) I did make myself a promise, and that is reading at least one book a weekend. So far I'm averaging two, and I have to say it's the one way I can get my brain off of my crazy life and send it into a lovely new world someone else has created.
There are tons of fun books and here are a few for you to check out: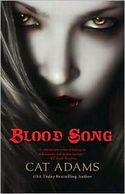 BLOOD SONG is the first of a new series by Cat Adams (formerly C.T. Adams & Cathy Clamp). This is the story of Celia Graves, a vanilla human trying to get by in a paranormal world. "But Celia's life is rocked when she's bitten by a master vampire and becomes half human and half vampire," says Clamp. "Celia's world was first developed in an unusual fashion. There's a saying: 'A picture is worth a thousand words.' Well, in the case of this book, a picture was worth a hundred thousand words. Cie Adams and Cathy Clamp were attending FenCon, a SF/F convention near Dallas, Texas, several years ago. One of the big hooks of this particular convention is the art auction for charity. Science fiction and fantasy artists from all over the world donate paintings, photos and other creative works and one in particular caught Cie's eye. It was one of those works that you can't tell at first whether it's a photo or a painting. It was entitled 'Sweet but Deadly' and showed a blonde female vampire holding a black daisy between her fangs. The picture was the inspiration for the heroine and even though it took us months to find the artist (actually, a photographer—it's a manipulated self-portrait) our editor agreed it was just perfect for the cover. The artist became our cover artist and we couldn't be more thrilled.
If you want to see the inspiration for the cover of 'BLOOD SONG,' here's a link to the photographer's works. The original photo is on the second row, third from the right side (look for the black daisy). And feel free to wander around her other works. We'd love for the artist to get more recognition for her amazing talent."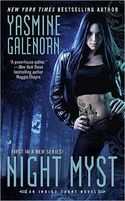 Yasmine Galenorn is excited for readers to see her latest project. NIGHT MYST, the first in my new Indigo Court Series, begins the saga of Cicely Waters—a witch who can control the wind," Galenorn says. "Cicely returns to New Forest, Wa. to protect her aunt and cousin, and to find her long-lost love—Grieve, a Fae Prince now captured by Myst, queen of the Indigo Court. In fact, the entire town of New Forest, Wa. is being held hostage by the growing evil of Myst and her sadistic people. The true vampires—who were responsible for creating the demonic hybrid of Fae and Vampire, enlist Cicely to help them in the long prophesized war between the two races. One of the serendipitous moments for me is that owls play a huge part in the book (and the upcoming books), barred owls in particular. A couple of months ago, I joined the millions on the Net following the saga of Molly the Owl. A couple in southern California set up an owl box in their backyard, and an owl came to lay her eggs there. They called her Molly, and had set up a cameras in and out of the box. The second day I clicked over to see what Molly was up to, I was just in time to watch two of the eggs hatch! Within a week, all four were hatched. So began my captivation with Molly and her four owlets. Now, two months later, two of the owlets have taken wing and sped to their own lives, and the other two are close to doing so. Watching Molly has been a double blessing—a living meditation and delight, but also book fodder because Molly is a barred owl, and what better research could I find than to just watch her babies grow and learn to fly and eat and spit up owl pellets?"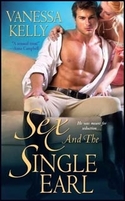 Vanessa Kelly has a new one out, SEX AND THE SINGLE EARL. "I had just turned in my Regency-set historical manuscript to my editor," Kelly says. "The title at the time of submission was 'AN ANGEL FOR THE EARL,' which I loved. My heroine, Sophie, is a sweet but strong-willed character, with a very kind heart. In fact, she's a bit of a do-gooder, so the title seemed perfect to me. But not to my editor. 'Not sexy enough,' was his response. He definitely wanted sexy. Muttering curses under my breath, I went to consult with my husband, who has a knack for these kinds of things. As it was cocktail hour, we cracked open a bottle of wine and went to work. An hour later, the muse had still not struck. Finally, as a joke, my husband said, "what about Sex And The Single Earl?" After we stopped laughing, I sent it to my editor – as a joke. He answered immediately, also laughing. But then we both said, hey, wait a minute. We kind of like it. So we stuck with it and you know what? People love this title."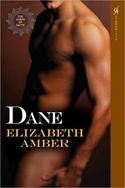 Elizabeth Amber says, "I'm enthralled by the stories of how partners in a couple first met – even if I don't know them well – or at all. It's the romantic in me. And it's why I so enjoy the Bravo reality series 'Millionaire Matchmaker.' In my June release, DANE, THE LORDS OF SATYR, I get to play matchmaker myself, through the character of my heroine, Eva. Dane and his brothers are half-satyr men living in Rome circa 1880s, where they are in danger of discovery by humankind at any moment. To further entrench themselves in Roman society, they must choose human wives. A matchmaker is dispatched from their world to assist in this. But when Dane meets his matchmaker—Eva—he also meets his match. Both are troubled by mysterious secrets in their pasts that make them perfect for one another. I loved having a part in bringing these two together."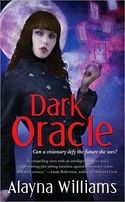 Alayna William's book DARK ORACLE was inspired by something mystical. "I'd been wanting to write a story about Tarot cards for some time, but was struggling about who the heroine should be," says Williams. "I knew that she would be a criminal profiler who uses Tarot cards to solve crimes, but I didn't know anything more about her personality than that. So, I picked up my Tarot deck, shuffled, and drew the Queen of Swords from the top. The Queen of Swords depicts a woman staring into a stormy sky, holding a lifted sword as if she's cut herself with it. The swords, in general, represent intellect. The Queen of swords traditionally represents sadness and mourning or a particularly clever woman. I always associated her with the Snow Queen from fairy tales. And that interpretation was perfect for the story. The Queen of Swords became my inspiration for Tara Sheridan. Whenever I got stuck in the story, I pulled out the deck and used the cards as prompts. I used the same method for the hero, Agent Harry Li. I picked the Knight of Pentacles, who's a pragmatic man. Since Pentacles are also referred to as coins in many decks, I gave Harry the nervous habit of jingling change in his suit pocket."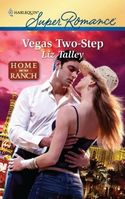 Liz Talley cracks me up with her story of how she came up with the story for her new book. "Ever wear sandals with pantyhose? Well, yeah, maybe in the 80s," says Talley. "But that's how I got the idea for my June debut release VEGAS TWO STEP. Crazy, huh? I was attending the 2007 RWA National conference in Candace's hometown and watched my roommate slip on a pair of sandals with her knee-highs. I remember thinking, "Why's she doing that? It's too hot for hose in Texas!" Well, the image stuck in my mind for some reason and later that day when I attended a workshop where the editor allowed attendees to scribble down pitches on a piece of paper, I found myself writing a pitch for a small town Texas librarian who gets made fun of for wearing knee highs with her espadrilles, so she goes to Vegas, gets a sexy makeover, and has a fling with a hot nightclub owner. The workshop editor never called me, but the character just begged to be written. So VEGAS TWO STEP was born – a sort of twisted version of the musical 'Grease.' It's a fun, spirited book just perfect for slipping off your knee-highs and grabbing a pool-side cocktail."
So, try these and I'll be back with more in July…Candy
---
Candace Havens is a columnist for FYI Television, an online news and media service, where she writes five weekly columns for an overall audience of 44 million readers. She is also an entertainment reporter for 96.3 KSCS in Fort Worth. She lives in Fort Worth, Texas. She is the author of the Charmed & Dangerous series including CHARMED & READY, CHARMED & DANGEROUS, CHARMED & DEADLY, and LIKE A CHARM as well as the Caruthers sisters: DRAGONS PREFER BLONDES and THE DEMON KING AND I. Her latest book, TAKE ME IF YOU DARE is in stores in February 2010.
Her non-fiction prose includes JOSS WHEDON: THE GENIUS BEHIND BUFFY, and essays in ALIAS ASSUMED: SEX, LIES AND SD-6, and FIVE SEASONS OF ANGEL.