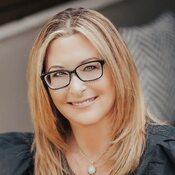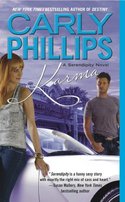 It isn't easy to write a contemporary novel with serious subject matter and still keep it light and moving quickly.  I had my work cut out for me with Liza McKnight and Dare Barron because the event that links them in the past is a party where a teenage boy died.  That night caused both of their lives to change and ultimately is what brings them together as adults.  Dare and Liza want to be good people.  They live their lives trying to do the best they can and think about others before themselves, while Liza's brother, who lied in the past and caused the boy's death, is wallowing in pain, guilt and alcohol.  So Liza enables him while Dare arrests him and tries not to be like him.
Light moments? You'd think there aren't any.  And yet I don't think of KARMA as a dark story.  Liza and Dare – to me – are so perfectly matched. I find his caring for her charming.  I find her search for love, and allowing herself to be loved, disarming.
So at heart, I think this story more than most, needed balance between light and dark.  And I hope, in bringing you the last Barron brothers' story, that I found it.
What do you look for in a contemporary romance?  A light story? Dark? A mix of the two? One commenter will win choice of Serendipity backlist title – SERENDIPITY, DESTINY, or "Kismet" (eBook only) US addresses only
Welcome to the town of Serendipity and the Barron brothers.
To comment on Carly Phillips's blog please click here.