New Releases: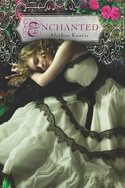 ENCHANTED by Alethea Kontis. (Harcourt) It isn't easy being the overlooked sibling to six older sisters. Sunday's only comfort is writing stories, and her new friendship with an enchanted frog. One night Sunday kisses her frog goodbye and leaves, not realizing that her love has transformed him back into Rumbold, the crown prince of Arilland—and a man Sunday's family despises.
The prince returns intent on making Sunday fall in love with him as the man he is, not the frog he was. But Sunday is not so easy to woo. She distrusts her mysterious attraction to this prince almost as much as she distrusts the Rumbold himself, not to mention the twisted secrets in his past – and hers? Mystery, romance and magic in this charming, stand alone fairy tale retelling.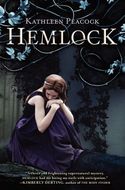 HEMLOCK (Hemlock #1) by Kathleen Peacock. (HarperTeen) Mackenzie's life has been turned upside down by the murder of her best friend Amy. Since her brutal killing, Amy has haunted Mac in her dreams. To end her nightmares, Mac decides to investigate Amy's murder and discovers secrets lurking in the shadows of her hometown of Hemlock. Lupine syndrome—also known as the werewolf virus—is on the rise across the country. Many of the infected try to hide their symptoms, but bloodlust is not easy to control. A group of extremists called the Trackers has come to town to hunt the white werewolf who killed Amy, and Mac is thrown into a maelstrom of violence and betrayal that puts her life at risk.
Kathleen Peacock's thrilling novel is the first in the Hemlock trilogy, a spellbinding urban fantasy series filled with provocative questions about prejudice, trust, lies, and love.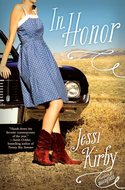 IN HONOR by Jessi Kirby. (Simon & Schuster) Hours after her brother's military funeral, Honor opens the last letter Finn ever sent, which contains tickets to their favorite pop star's concert and a joking request to tell Kylie he loves her. So Honor heads to California, getting as far as the driveway before running into Rusty, Finn's best friend since third grade and his polar opposite: arrogant and stubborn… and drop-dead gorgeous.
Despite Honor's better judgment, the two set off together on a voyage from Texas to California. Along the way, they find small and sometimes surprising ways to ease their shared loss and honor Finn's memory—but when shocking truths emerge at the end of the road, will either of them be able to cope with the consequences?
A contemporary novel from the author of MOONGLASS, whose voice Sarah Dessen says "is fresh and wise, all at once."
PRETTY AMY by Lisa Burstein. (Entangled Publishing) Amy is fine living in the shadows of beautiful Lila and uber-cool Cassie, because at least she's somewhat beautiful and uber-cool by association. But when their dates stand them up for prom, and the girls take matters into their own hands—earning them a night in jail outfitted in satin, stilettos, and Spanx—Amy discovers even a prom spent in handcuffs might be better than the humiliating "rehabilitation" now filling up her summer. Worse, with Lila and Cassie parentally banned, Amy feels like she has nothing—like she is nothing.
Navigating unlikely alliances with her new coworker, two very different boys, and possibly even her parents, Amy struggles to decide if it's worth being a best friend when it makes you a public enemy. Bringing readers along on an often hilarious and heartwarming journey, Amy finds that maybe getting a life only happens once you think your life is over.
New in Continuing Series: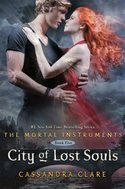 CITY OF LOST SOULS (The Mortal Instruments #5) by Cassandra Clare. (McElderry) This Paranormal/Urban Fantasy series a has been on the NYT Series Best Seller List for one full year. If you're not reading it yet, you might want to get on that and see what the fuss is about.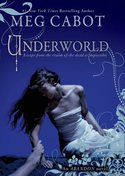 UNDERWORLD (Abandon #2) by Meg Cabot. (Scholastic) The second book in a modern paranormal retelling of the Persephone myth. The first book, ABANDON, leaves you drooling for this one. (You might want to read it first if you are a completist.)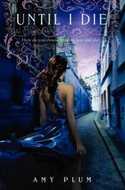 UNTIL I DIE (Revenants #2) by Amy Plum. An unusual Parisian setting, heart-pounding suspense, spellbinding romance, and a "cliff-hanger ending" that will leave readers desperate for the third and final novel in the series.
ENDURE (Need #4) by Carrie Jones. It's all-out war (and no-holds-barred romance) in the climactic conclusion to Carrie Jones's bestselling series about evil pixies and the girl at the center of a war between magical and human worlds. This might not be the book to start with. Grab the first, NEED, and have a marathon.
Happy Reading!
–Rosemary
---
Rosemary Clement-Moore writes Young Adult books because she loves to read them.
Visit her webpage or blog to find out more about her award winning Maggie Quinn: Girl vs. Evil series, and her gothic romance, THE SPLENDOR FALLS (now in paperback). Her latest book is TEXAS GOTHIC.