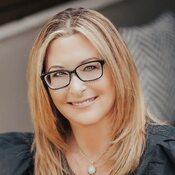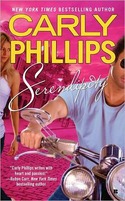 The Serendipity series is small town driven.  The town of Serendipity in upstate New York is a fictional place filled with fascinating people, beginning with the Barron brothers, Ethan, Nash and Dare (oldest to youngest).
In the Romance genre, we tend to talk about heroes in terms of type:
Alpha – the strong, silent, take no prisoners, it's my way kind of guy.
Beta – the nice guy hero who doesn't mind doing the chasing, the romancing, in southern terms, the wooing.
Gamma – a rather new construct that mixes both.
But at the heart of the matter, each hero is meant for one woman only and only she can capture his, up until now, elusive heart.
I have never given too much thought to where my heroes fit in mostly because I write them from the heart and they are who they are.  In SERENDIPITY, however, Ethan was supposed to be the ultimate Alpha hero – and then he met (or should I say re-met) Faith – and everything about him changed for me.  She IS his heart and I think that made him more of a Gamma hero than anything else.  That said, he's probably the most Alpha I've written (or tried to write).  When Nash came around, he was the hard hearted brother, angry at the world.  I almost didn't expect that and so he was a tough one to write, but my heroine turned him to mush … well not exactly! But you know what I mean.  And lastly, there is Dare.  Mr. Easy Going who turns out to be anything but.  Until he meets Liza and then there's nothing he won't do to help her or keep her safe.
These brothers were a blast to write.  I've fallen in love with them myself.  They're each unique and different but oh so special and I hope you think so too.
So tell me what kind of hero YOU like to read about most! Win a set of Carly Phillips Romance Trading Cards, THREE winners (US / Canada only please)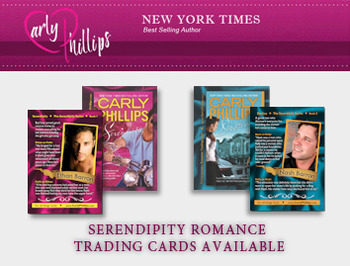 To comment on Carly Phillips's blog please click here.