Even before I started writing A WEEKEND OF MISBEHAVING, I was always drawn to the nanny/boss trope. Okay. I admit it. I watched one too many episodes of The Nanny growing up. Then, of course, there are fabulous classics like The Sound of Music and Mary Poppins—despite the nanny not snatching the guy on the latter, she was still the focal point of the movie/Broadway musical.
Recently, hot celebrities like Ben Affleck and Gavin Rossdale were rumored to have cheated on their respective wives because of a hot affair with their nannies. Those marriages ended up in divorce. Coincidence? Maybe.
The fact is, whether they are perceived in the media as the life-saving creatures who can bring warmth and assistance to a busy family, or the sexy females with a hidden agenda (hello, The Hand that Rocks the Cradle!) nannies are interesting characters to write. Why?
Because they are living and/or working for a different family. This family has rules, baggage, and a past. The nanny is able to watch them, and learn from them, teach them, and at the same time question her own ideas and values. It's really a fascinating interaction.
Here's a teaser from A WEEKEND OF MISBEHAVING. In this scene, Lorenzo (the boss) and Alice (the nanny) are in the plane on their way to Capri, where they're pretending to be engaged so he can buy some mysterious paintings.
***
"Mmmm…" A delicious moan escaped Alice's lips pressing against the rim and fogging the glass. "This is heaven. Are you sure you don't want any?"

He nodded and lifted his water one more time, pretending it was decades-old scotch. Alcohol had no room in his life right now. He had to keep his head clear, uncluttered, real. Rational.

Alice took another sip, and then chuckled. "I'm sorry. You must think I'm a hillbilly for enjoying every little thing you are obviously used to."

"No." His voice was a tad huskier than he would have wanted. Somehow her appreciation of his lifestyle was refreshing.

She put her glass on the tray and folded her arms, angling her body toward his. Didn't this woman have any notion of personal space? She studied him like she was an art student and he was a damned Monet. Her eyebrows furrowed, and she shook her head. "Are you always like this?"

Oh no. Not the free therapy lesson, the one he'd seen her use on Cara many times. The one that made him so glad for having her in his life.

"You've known me for a year."

"I've worked for you, that's different. For instance, I don't think we've ever been alone like this." She shrugged.

He drummed his fingers on his armrest. Alone. Yes, there was a trunk in his chest, loaded with fake treasure and concealed weapons. And maybe a bomb or two.

She snagged her lower lip with her teeth, and he swallowed hard. A sharp tingle zipped down his stomach, intensifying when it reached his cock.

"In our little make-believe world, what would a happy-go-lucky nanny like me be doing with an introverted one-percenter like you?"

"Must I remind you that you work for me?"

"Not during this trip. You're paying me to be your sassy fiancée, the woman who should get a medal for breaking down your walls and showing you what life is all about."

He snorted. "You must be really enjoying this."

"I have to, at least a little bit, right?" She winked, then straightened her shoulders. "Seriously though, we fooled Viola for five minutes. I doubt she'll believe we're engaged if she hangs around us for a whole weekend."

"Don't worry, I'll make sure she does."

"How?"
***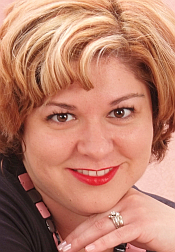 Carmen Falcone learned at an early age that fantasizing about fictional characters beats doing math homework any day. Brazilian by birth and traveler by nature, she moved to Central Texas after college and met her broody Swiss husband—living proof that opposites attract. She found in writing her deepest passion and the best excuse to avoid the healthy lifestyle everyone keeps talking about. When she's not lost in the world of romance, she enjoys spending time with her two kids, being walked by her three crazy pugs, reading, catching up with friends, and chatting with random people in the checkout line.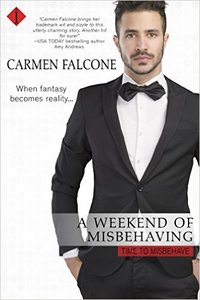 When fantasy becomes reality
The last thing nanny Alice Sommers needs is to be caught skinny-dipping by her sexy, cranky-pants boss—in his pool. Her sister owes a crap-load of money to a slimy loan shark and Alice really needs this job if she has any hope of saving her family. Fortunately, her boss is richer than sin and needs her just as much.
Art dealer Lorenzo Baldi will lose his prestigious career if his anarchist father's paintings are revealed to the art world. He's determined to persuade the paintings' eccentric owner to sell them to him, even if to pull it off, he'll have to blackmail his daughter's nanny—a woman with the sexy curves of a Botticelli masterpiece—into being his fake fiancé.
The gorgeous island of Capri inspires some major misbehaving. But even as the loan shark breathes down Alice's neck and the paintings move closer to the art scene, Lorenzo drops one more bomb that will change everything.
To comment on Carmen's blog please click here.