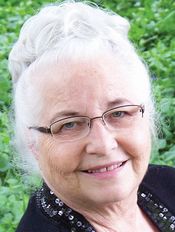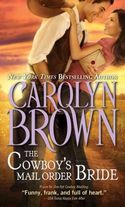 The inspiration for THE COWBOY'S MAIL ORDER BRIDE came from a situation near and dear to my own heart and life. I am a mail order bride. More than forty years ago my best friend's fiancée sent home a picture of him and bunch of his soldier buddies and I simply picked out the one I thought was the best lookin' one in the bunch. Brazen hussy that I was at the age of fifteen, I wrote the first letter. Two years later I received an engagement ring and proposal on paper and after I graduated from high school, I got on a bus in Oklahoma and went to Pennsylvania to marry the soldier without having ever met him.
Fast forward from 1966 to 2013 and I got to wondering what if that engagement ring and letter had been lost in the mail. This was pre-texting, pre-Skype, pre-cell phones or even the luxury of talking to anyone on the telephone when long distance was so expensive. We were putting a lot of faith in the postal service.
If the letter and ring did get lost would my handsome young soldier think I'd forsaken him and my lack of response as a no to his question? Where would the path of my life have taken me had that happened?
And that became the story of Marvin and Clarice, a young couple that had the course of their lives changed because a letter got stuck inside an old mail bag fifty years before. But the story didn't end there. Marvin had a granddaughter and he made her promise to take the letters he'd kept all those years back to the woman who'd written them. Clarice had a grandson and so fate steps in once again… maybe a little excerpt from the first of the book? Emily has just reached the ranch and rang the doorbell…
"I'm here to deliver this box."
"Your nose is red and you look chilled. Come on in the living room. We got a little blaze going in the fireplace. It'll warm you right up. This weather is plumb crazy these days. February ain't supposed to be this damned cold. Spring ain't that far away. Winter needs to step aside. What'd you say your name was?" Dotty motioned her into the living room with a flick of her wrist.
"I'm Emily and thank you. The warmth feels good," she said.
"Well, you just wait right here. She won't be long. Go on and sit down, honey. Take that rockin' chair and pull it up next to the fireplace. Can I get you a cup of coffee or hot chocolate?"
"No, ma'am. I'm fine," Emily answered. She would have loved a cup of anything hot just to wrap her chilled fingers around but she didn't want to stick around long enough to drink a whole cup.
"Well, I'm in the middle of stirrin' up some hot rolls and I got to get back to them. Just make yourself at home until Clarice gets here."
Dotty disappeared, leaving Emily in the living room alone. She held the ancient boot box in her lap. Her grandfather had probably worn the boots that came in the box and now it held letters from a woman who was not her grandmother. His passing and her two promises to him in his final days seemed surreal, especially sitting in the woman's house who'd written the letters more than sixty years before.
Warmth radiated out from the fireplace as she took stock of her surroundings. The room was a perfect square with furniture arranged facing the fireplace to give it a cozy feel. A framed picture of a cowboy took center stage on the mantel. She set the box on the coffee table and stepped in closer to really look at the photograph. He had dark brown hair and green eyes behind wire rimmed glasses. It had been taken in the summer because there were wild flowers in the background. One shiny black boot was propped on a rail fence and he held a Stetson in his right hand. His left thumb was tucked into the pocket of his tight jeans, leaving the rest of his hand to draw attention to the zipper. And right there in the corner of the frame was a yellow sticky note with the words, "Miss You, Nana!" stuck to it.
The crimson flushing her cheeks had nothing to do with the heat rising from the fireplace and everything to do with the way she'd mentally undressed him when she focused on that left hand. She backed away quickly and stood by the door but when she looked over her shoulder, the cowboy was staring at her. She moved to the other side of the room and shivers shot down her spine when she realized he was still looking at her. She tried another corner and behold, those green eyes had followed her.
She was tired. It had been a long emotional week and this was the final thing she had to do before she could really mourn for her grandfather. She'd driven since daybreak that morning and her eyes were playing tricks on her. Her dark brows knit together as she glanced at the picture from across the room. Did he have a wedding ring on that left hand? Determined not to let a picture intimidate her, she circled the room so she could see the photograph better and his hand was ring free.
How old was he and when was the picture taken? Not one thing gave away a year or a time other than it was spring or summer. He might be a fifty year old man with gray hair nowadays and bowed legs from riding too many horses through the years. Or he could be a lot younger than he looked in the photograph and still be in college, just coming home to work on the ranch in the summer time like she had when she was getting her degree.
Unless he came looking for a warm spot to take the chill off, she'd never meet him anyway. Her mission was to deliver letters and studying the picture was just a diversion while she waited on Clarice.
"My grandson, Greg Adams," a woman said from the doorway. "Fine lookin' cowboy, isn't he? His daddy and momma sure didn't want him to be a cowboy but he's got his grandpa's ranchin' savvy. He's down in southern Texas at a cattle sale. Cute little sticker he left there, isn't it?"
© Carolyn Brown, 2013
THE COWBOY'S MAIL ORDER BRIDE BY CAROLYN BROWN – IN STORES FEBRUARY 2014
She's Got Sass…
Emily Cooper promised her dying grandfather that she'd deliver a long-lost letter to a woman he once planned to wed. Little does adventurous Emily know that this simple task will propel her to places she never could have imagined…with a cowboy who's straight out of her dreams…
He's Got Mail…
When sexy rancher Greg Adams discovers his grandmother Clarice has installed Emily on their ranch as her assistant, he decides to humor the two ladies. He figures Emily will move on soon enough. In the meantime, he intends to keep a close eye on her—he doesn't quite buy her story of his grandmother as a mail-order bride.
A lost letter meant a lost love for Clarice, but two generations later, maybe it's not too late for that letter to work its magic.
ABOUT THE AUTHOR
Carolyn Brown is a New York Times and USA Today bestselling author with more than sixty books published. She writes bestselling single title cowboy and country music mass market romances as well as women's fiction. Born in Texas and raised in southern Oklahoma, Carolyn and her husband now make their home in the town of Davis, Oklahoma. For more information, please visit www.CarolynLBrown.com.
To purchase THE COWBOY'S MAIL ORDER BRIDE:
Amazon | Barnes & Noble | Books-a-Million | iBookstore | IndieBound | Sourcebooks | Discover a New Love
One lucky commenter will get all three books in the Cowboys & Brides Series (BILLION DOLLAR COWBOY, THE COWBOY'S CHRISTMAS BABY and THE COWBOY'S MAIL ORDER BRIDE), along with a cute cowboy charm gift from Carolyn herself!
To comment on Carolyn Brown's blog please click here.