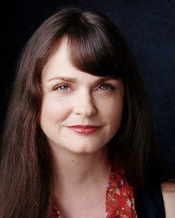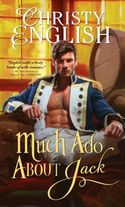 In the third installment of my Shakespeare in Love series, MUCH ADO ABOUT JACK, Countess Angelique finally finds a man who can live up to her. After years of neglect and ill treatment at the hands of her husband Geoffrey, and later her lover, Anthony Ravensbrook, Angelique is ready to be treated like a queen.
Captain James doesn't always treat her like royalty…actually, he refuses to bow and scrape at all. But he always treats her with respect, something no one else has ever done. Angelique meets her match in James and finds a man who is her equal, in bed and out. A man who doesn't hesitate to stand up to Anthony, to the Prince Regent, or even to murderous dukes.
From one of my favorite heroes and the woman who loves him, I learned:
1) Keep your pistols loaded and your powder dry.
2) When the enemy is on your port bow, get your cannon ready to fire.
3) Friends who back you in a fight are friends you should keep.
4) On the deck of a ship, watch out for random coils of rope and passing waves.
5) True love doesn't show up every day, so when it does, be ready to change your life.
I'll leave you with an excerpt from chapter 2 of MUCH ADO ABOUT JACK, so you can get to know my hero a little better, and the woman who will steal his heart…
The scuttlebutt was that old Duke of Hawthorne had died, leaving his money and his estate in his nephew's hands. William Darlington, the new duke, had called a special meeting of the Hellfire Club to celebrate.
Captain James Montgomery heard something of this when he visited his father's club in Mayfair, but he listened to the speculation with only half an ear. In spite of the food and the women that were bound to be on offer, James would not be joining his fellow Hellfire members for the party in the new duke's honor. He had never met the man, and did not much like the idea of celebrating another man's death.
He was determined to track down the Countess of Devonshire instead.
James wore his Navy dress uniform though he had sold his commission the day before. He had been so certain that he was ready to settle on land, but that morning he had found himself back down at the docks, this time not at Greenwich, but in London proper, where some of the smaller merchant ships came into port. He had found one almost completely unattended, save for a lone boy in the rigging, when Angelique Beauchamp had shown up and changed the course of his day. Perhaps even the course of his week.
James was a man to enjoy a pretty face. Even more, he was a man to enjoy the fine turn of a blushing cheek, the swell of full breasts beneath a silk gown, the curve of a woman's hips as she walked away from him. He had seen little of the last in his twenty years at sea. Always, since the age of twelve, women had been walking toward him. Angelique Beauchamp was the first to walk away.
He drank his whisky while sitting in a deep leather arm chair. Raymond, Lord Pembroke sat across from him, slumped over his own brandy, half drunk though it was barely five PM.
He and Pembroke had come back to England from the Continent two years ago on the same ship and had struck up a friendship of sorts. Pembroke had been his guest for dinner in his captain's quarters and had brought James into the Hellfire Club, where it seemed a man of certain appetites was always welcome.
After only a few meetings, James had found the Club tiresome, almost as mundane as White's. Though the food was always good and the whores varied, James had spent too many years sampling the women of the world to let another man do his selecting for him.
And now, once again, he had his sights on a woman. A woman who, it seemed, might even be a challenge to get.
"Angelique Beauchamp," James said to Pembroke. "Where can I find her tonight?"
Pembroke's sky blue eyes were bloodshot. He rubbed one thumb against his temple as if trying to alleviate a headache, and failing.
"Why do you ask?"
"I want her."
Pembroke laughed, one bark that turned into a guffaw. The men around them turned to stare, and a waiter came by to stand silent at Pembroke's elbow. For a moment, James was sure his illustrious friend was about to be asked to leave, but the footman only poured him a fresh brandy.
Pembroke dried his eyes on a fine linen handkerchief drawn from his coat. He folded it again, and set it aside before he fixed his gaze on James.
"Every man in London wants Angelique Beauchamp."
"I'm going to have her."
Pembroke leaned back in his chair, his fresh brandy untouched beside him. "That woman is trouble, Montgomery. That's all I'm going to say."
"All women are trouble," James replied. "Only some of them are worth it."
His friend sighed. "I have it on good authority that she is a lovely woman. Intelligent, well-spoken, a woman who makes her own way in the world. But I would not recommend her to an adder."
"Why not?"
"Some women are complicated. Angelique is one of them."
"Maybe I like complicated," James said.
"Since when?"
James ignored his friend's question, and posed one of his own. "Where can I find her?"
"I don't keep her diary about my person. Perhaps if you inquired at her town house in Regent Square, her butler might assist you."
"Regent's Square? Perhaps I will."
"I was joking. For God's sake, Montgomery, I don't know how you came to know Angelique, but I recommend you have a drink with me and forget about her."
"Angelique Beauchamp is a woman a man can not forget."
"I agree completely."
A man with dark brown hair and a hawk's gaze sat down across from James. The stranger drew his leather armchair closer so that they might not be overheard. Pembroke took one look at the man, and groaned, rubbing his temples again. James ignored his friend and nodded to the stranger.
"The Countess of Devonshire will be at the Duchess of Claremore's ball tonight. Number 5, Grosvenor's Square," the stranger said.
James waved the address away with one hand. "I'll find it. My thanks."
"Happy hunting. I await the tale of your success with interest," the man said, rising once more to his feet.
"I don't carry tales of women," James answered.
He saw the first gleam of respect in the other man's eyes, but it might have been a trick of the firelight. "That's just as well, because you won't succeed. If the Duchess of Claremore doesn't turn you away at the door, Angelique will."
James smiled. If there was one thing he was good at, it was getting a woman to do what he wanted and thinking it was what she had wanted all along. "We'll see."
© Christy English, 2014
MUCH ADO ABOUT JACK BY CHRISTY ENGLISH – IN STORES FEBRAURY 2014
How to Become London's Most Notorious Widow:
1. Vow to NEVER remarry
2. Own a ship and become fabulously wealthy
3. Wear the latest risqué fashions in your signature color
4. Do NOT have a liaison at the Prince Regent's palace with a naval captain whose broad shoulders and green eyes make you forget Rule #1
Angelique Beauchamp, the widowed Countess of Devonshire, has been twice burned by love, and she is certain that no man will ever touch her heart again. But that doesn't mean she can't indulge a little—and it would be hard to find a more perfect dalliance than one with the dashing Captain James Montgomery.
After a brief torrid affair, James tries to forget Angelique and his undeniable thirst for more. The luscious lady was quite clear that their liaison was temporary. But for the first time, the lure of the sea isn't powerful enough to keep him away…
ABOUT THE AUTHOR
Christy English is happiest when she is dreaming. Her dreams have taken her to the royal court of Henry II in THE QUEEN'S PAWN, to medieval Paris in TO BE QUEEN, and now to Regency England in MUCH ADO ABOUT JACK, LOVE ON A MIDSUMMER NIGHT, and HOW TO TAME A WILFULL WIFE, where she loves to watch her characters find true love, often in spite of themselves. Please visit her on her blog , on Twitter , or on Facebook.
To Purchase MUCH ADO ABOUT JACK: Amazon | Barnes and Noble | Books-a-Million | Chapters/Indigo | IndieBound | iBooks | Sourcebooks
What do you think Shakespeare would think of the Regency period? One person will win a copy of MUCH ADO ABOUT JACK
To comment on Christy English's blog please click here.