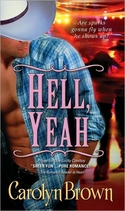 Hello all y'all at Fresh Fiction! I'm so glad to be here today, especially after meeting y'all at the RWA Conference in Orlando last week. What a wonderful experience getting to visit with y'all.
HELL, YEAH hit the bookshelves with a bang the first of the month. It's the second in the Honky Tonk series, following I LOVE THIS BAR which came out in June. MY GIVE A DAMN'S BUSTED will be out in October andHONKY TONK CHRISTMAS in December.
HELL, YEAH is Cathy O'Dell's and Travis Henry's story and I thought we'd interview Cathy today so y'all could get to know her better before you rush right out and buy the book … or else throw your name in the Stetson to win a copy.
Pretzels and peanuts are on the bar. Get comfortable and get your questions ready and we'll get started as soon as Cathy finishes up her night at the Honky Tonk. She's popping the top off a cold beer right now and propping her feet up on one of the tables so I think she's just about ready. You'll find a pencil and piece of paper beside you so write down whatever you'd like to ask her and I'll draw them out of the hat. She's says she'll take questions as long as there is a drop of beer left and after that she's locking up the Tonk and going to bed.
So first question … drum roll please and then let me hear a big loud hell, yeah from everyone in the crowd … that was pretty good but it didn't raise the roof of the Honky Tonk so suck in some air and let me hear it again or else I'm going to put a quarter in the juke box and pick out three old tunes and forget about interviewing Cathy.
Very good! I believe they heard you all the way over in Erath County, so here we go:
Question: Did it make you mad as hell when Travis Henry just waltzed into your beer joint and kissed you at the stroke of midnight?
Cathy (with a big smile on her face): It should have but he was so damned cute with those wire rimmed glasses and those tight fittin' jeans I couldn't be mad. I was stunned and sure didn't like the feelings it caused but not so much mad as confused.
Question: What about the day when you found out he was going to be living in your back yard?
Cathy: Oh, darlin', I was fit to be tied. Amos about had to clean off a spot in the yard big enough for me to have a good old southern hissy fit. My whole world turned upside down and inside out that day.
Question: Did you wish Daisy was back so you could talk to her about it?
Cathy: Yes, ma'am, I surely did. Daisy and I were the only family left on the O'Dell side and more like sisters than cousins. But I did tell her all about Travis moving into my back yard. We talk regularly on the phone and she visits when she can. She still loves the Honky Tonk and keeps in touch with Chigger and Jim Bob. Plus Jarod's nephew runs Uncle Emmett's old ranch so there's a connection there.
Question: Tell us about Jezzy? Is she the Honky Tonk's new Chigger?
Cathy: No, Jezzy isn't Chigger. She's a left over flower child from another era and we've become fast friends. She's the older sister I never had. Y'all need to come around when she's here and buy her a beer. She'll entertain you for hours with her stories.
Question: Chigger's momma said in I LOVE THIS BAR that she was going to find you a husband before the year was out. Does that worry you since you've decided to run the Tonk until the day they carry you out on a zipped up stretcher?
Cathy: I've got to admit I do have a superstitious side so that did worry me especially when she found wives for Billy Bob and Joe Bob. For a while I was afraid she'd parade men through the Tonk and try to reform me. I'm still wondering if all her praying brought Travis to Mingus. That woman has some wicked powers, let me tell you.
Question: I understand that you and Travis have quite an adventure. Care to discuss it?
Cathy: (Holding up her palms and laughing) No ma'am. That would give away too much and spoil HELL, YEAH for the reader. I will tell you that there are rats involved and I absolutely hate rats. And an old boyfriend who's an absolute bona-damn-fide sumbitch and he's even worse than rats. This is my last swallow of beer. Is there one more question in that Stetson?
Last question: Would you tell us about Larissa?
Cathy: Larissa is my best friend. When she first came in I thought she was hoity-toity but I soon found out that she was just looking for a place to hang her heart just like I was. We both found Mingus, Texas by different routes but it's home and that's where the heart is. It's been fun talkin' to you ladies. Come on back to the Honky Tonk any time and have a beer, do some two steppin' or line dancin' and get to know Jezzy and Larissa for yourselves. Or maybe you could just pick up a copy of HELL, YEAH at your nearest bookstore. Last one out switch off the lights and y'all have a good night.
This is Carolyn back again. Cathy has gone to her apartment and I'm sitting on the front steps of the Honky Tonk. Smoke still hangs in the air but the stars are bright above the old weathered wood beer joint. We've talked to Cathy this evening. If you could interview Travis, what would you ask him?
To comment on Carolyn's blog and to have a chance to win please click here.