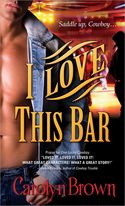 Honky Tonk #1
June 2010
On Sale: June 1, 2010
Featuring: Jarod McElroy; Daisy O'Dell
384 pages
ISBN: 1402239262
EAN: 9781402239267
Mass Market Paperback
$6.99
Romance Contemporary
Buy at Amazon.com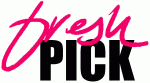 I Love This Bar
by Carolyn Brown
Funny, sexy, and sure to appeal to the huge audience of country music fans, this new trilogy features the Honky Tonk beer joint and its succession of lovelorn owners.
Serving two counties, one wet and one dry, the Honky Tonk is the gathering place for every hothead, thirsty rancher, and lusty lady looking for a good time. Owner Daisy O'Dell vows she'll run the place until they drag her cold dead body through the swinging doors. That is, until the day Jarod McElroy walks in, looking for a cold drink and a moment's peace from his ornery Uncle Emmitt.
The minute Jarod sees Daisy, with her hot looks and smart mouth; he knows he's met not only his own match, but Uncle Emmitt's as well. Now, if only he can convince her to come out from behind that bar and come on home with him…
Excerpt
All the air escaped Daisy's lungs in a whoosh when the cowboy collapsed on top of her body. She sucked in air and pushed at the weight, but her arms were pinned. She opened her eyes to see a head full of dark hair and felt the sharp bone of his nose pressing into her left breast. He raised his head and looked over at her, his face only inches from hers, his eyes zeroing in on her lips.
Hot damn! That's one sexy face, they both thought at the same time.
She shut her eyes and started to lean in for the kiss, then reality hit. She had fallen flat on her back on the floor of the Honky Tonk beer joint and taken the nearest cowboy down with her. She popped her eyes wide open and wriggled back away from Read More…