". . . let us run with endurance the race that is set before us," Hebrews 12:1
THE BONES WILL SPEAK was the first novel I wrote, and I cried, laughed, hated, loved, and cried again in the process. Bones was an eight year odyssey of learning to write under the patient—oh so patient—tutelage of my mentor, Frank Peretti. Like most new writers, I figured I had a good grasp of English, a story to tell, and a computer to catch my spelling errors. Oh, my! I had so much to learn.
Although I wrote Bones first, when I couldn't sell it, I set it aside and wrote A CRY FROM THE DUST. Cry immediately caught the interest of publishers, went to auction, and sold to Thomas Nelson as a three book deal. It became a Christy finalist last year and won the prestigious Carol award for the best mystery/suspense/thriller of 2014. What a thrill! I decided I just needed to tweak Bones and I'd have book two. Ha! When I re-read it, I realized it was really awful. No tweaking, a major overhaul. How gratifying, and humbling, when Bones also became a Christy finalist!
The reoccurring character, Gwen Marcey, is near to my heart. Gwen is divorced, a breast-cancer survivor, Great Pyrenees owner, and forensic artist. I wrote what I knew. In Bones, I also combined two real cases I worked on as a forensic artist: the Phineas Priesthood and the Robert Yates serial killings. The Phineas Priesthood was a group of violent white supremacist. Between the 1970s to late 1990s, Aryan Nations, skinheads, and neo-Nazi groups made their home in the panhandle of North Idaho and Eastern Washington. I worked with my dad at the North Idaho Regional Crime Lab in Coeur d'Alene, Idaho. At one point, my dad was shot and wounded by them. Now that's scary! Doing research, I ordered several books on the movement from Amazon. I was a bit nonplussed when I realized the source for the materials was a white supremacist book store. They personally thanked me for my interest. . . .
I hope you enjoy THE BONES WILL SPEAK and I am so grateful to the judges of the Christy competition for choosing this book in the suspense category. Terri Blackstock and Lisa Harris, fellow nominees, are wonderful and accomplished writers and I'm humbled to be considered with them.
Giveaway
Carrie is giving away a copy of THE BONES WILL SPEAK and a forensic author drawing kit to one lucky reader!
Carrie Stuart Parks is a Christy finalist as well as a Carol award-winning author. An internationally known forensic artist, she travels with her husband, Rick, across the US and Canada teaching courses in forensic art to law enforcement professionals. The author/illustrator of numerous books on drawing and painting, Carrie continues to create dramatic, award-winning watercolors from her studio in the mountains of Idaho.
Mentored by New York Times best-selling author, Frank Peretti, Carrie began writing fiction while battling stage II breast cancer. Now in remission, she continues to encourage other women struggling through the effects of cancer.
Animals have always been a large part of her life. Her parents started Skeel Kennel Great Pyrenees in 1960. Carrie inherited the kennel and continues with her beloved dogs both showing and as an AKC judge.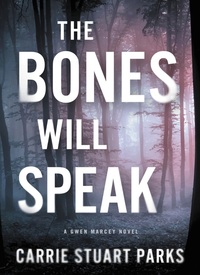 A killer with a penchant for torture has taken notice of forensic expert Gwen Marcey . . . and her daughter.
When Gwen Marcey's dog comes home with a human skull and then leads her to a cabin in the woods near her Montana home, she realizes there's a serial killer in her community. And when she finds a tortured young girl clinging to life on the cabin floor, she knows this killer is a lunatic.
Yet what unsettles Gwen most is that the victim looks uncannily like her daughter.
The search for the torturer leads back in time to a neo- Nazi bombing in Washington state—a bombing with only one connection to Montana: Gwen. The group has a race-not-grace model of salvation . . . and they've marked Gwen as a race traitor. When it becomes clear that the killer has a score to settle, Gwen finds herself in a battle against time. She will have to use all of her forensic skills to find the killer before he can carry out his threat to destroy her—and the only family she has left.