When my publisher asked me to make my heroine, Special Agent Nikki Boyd, the lead character in a brand new series that focuses on a Missing Persons Task Force, I was extremely exited about the idea. And because they also wanted each suspense novel to take place during a tight forty-eight hours time period, giving her the lead in more than one book allowed me to be able to weave in aspects of her personal life and a romantic relationship, as well as a giving readers a chance to connect with Nikki on a deeper level.
When I started brainstorming the series, one of the things I wanted to incorporate into book one was Nikki's compelling back story, Ten years earlier, her younger sister Sarah vanished and was believed to have been taken by a man dubbed by the media as the Angel Abductor. This serial killer terrorized eastern Tennessee in the early 2000's, leaving behind no clues as to who he was—only Polaroid photos of his victims.
Nikki has been searching for Sarah ever since, a loss that compelled her to quit her job as a teacher in order to join the police academy and later lead a newly formed missing person task force for the State of Tennessee. But I didn't want to simply start off the series by having her tell someone Sarah's story. I needed to find a way to incorporate the back story naturally throughout the novel.
As I continued brainstorming, one option stood out to me. What if Nikki was forced to relive the past when she discovers that her sister Sarah's abductor is back? Now Nikki's back story rises to the forefront as it connects her team to another chilling missing person case. It also ups Nikki's motivation to solve the case, because not only has a young woman vanished, but Nikki's desperate to put closure to her family's loss and find out the truth about what happened to her sister.
For me, the story's setting in the stunning Smoky Mountains turned out to be the perfect catalyst to highlight both Nikki's past and her vulnerabilities. The fast moving suspense plot, while combining the past with the present, showed her motivation as well as who she'd become because of her loss. And when her vulnerabilities were revealed, it gave me a chance to explore an unexpected romance. Which was exactly what I was looking for. A complex romantic suspense novel that forces Nikki to dig into the past in order to find a missing teen in the present—and perhaps at the same time her own sister.
Giveaway
One reader will win a copy of VENDETTA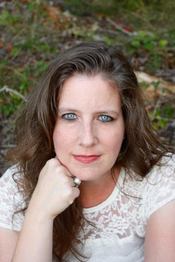 LISA HARRIS is a Christy Award finalist for BLOOD RANSOM and VENDETTA, Christy Award winner for DANGEROUS PASSAGE, and the winner of the Best Inspirational Suspense Novel for 2011 (BLOOD COVENANT) and 2015 (VENDETTA) from Romantic Times. She has over thirty novels and novella collections in print. She and her family have spent over twelve years working as missionaries in Africa. When she's not working she loves hanging out with her family, cooking different ethnic dishes, photography, and heading into the African bush on safari. For more information about her books and life in Africa visit her website.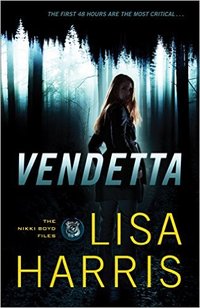 No one needs to push Nikki Boyd to excel on the Tennessee Missing Person Task Force. The case of her own missing sister, still unsolved after ten years, is the driving force in her work. When a Polaroid photo of a missing girl shows up at a crime scene, Nikki quickly recognizes similarities to the past. The closer she gets to the abductor, the more she feels that this case is getting personal, and that she is not the hunter at all–but actually the one being hunted.
With this explosive first book in the new Nikki Boyd Files, Lisa Harris takes readers on a fast-paced pursuit of justice that will have them holding their breath until the heart-stopping finish.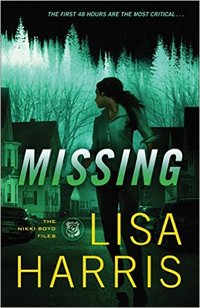 Nikki Boyd Enters the Deadly World of Counterfeit Drugs to Find a Missing Woman
Nikki Boyd isn't usually called in on homicides; her forte is missing persons. But when a case with two murdered and two missing pops up on a quiet suburban street, she's ready to start the investigation and find missing homeowners Mac and Lucy Hudson. When the first clues lead her to the boat of her friend Tyler Grant–and another dead body–Nikki must untangle what ties Tyler to the Hudsons. The clues pull her into a deadly maze of counterfeit drugs and a killer who will stop at nothing to silence anyone who threatens his business–including Nikki.
Christy Award-winning and bestselling author Lisa Harris puts readers right into the action in this fast-paced thriller that will have them turning pages long into the night.