I have a confession to make. I'm one of those writers who dreams of having their books made into movies. Of all the stories I've written to date, I think The Summer Park Psychics series is the best match for the screen.
Books give us a chance to stretch out inside a character's mind and really delve into what makes them tick. If all three of these books were condensed into a movie… Wow, that would be action-packed. I've even toyed around with turning the series into a screenplay myself (I haven't ruled it out yet). As such, I've absolutely daydreamed about who I would cast as each character.
Lingering Touch is full of beautiful people. Part of Finn's character is that he's constantly wondering if people are more interested in him for his looks than who he is as a person. It's something he struggles with throughout the book. The perfect actor to play this part is Bradley Cooper. I think he could capture the nuances of that issue incredibly well. For Jazz—the strongest female character I've ever written—Ming-Na Wen. I mean, seriously. Have you watched her?
Rachel and Garrett feature strongly in Lingering Touch as well (the events of Lingering Touch take place at the same time as Whispering Hearts, but each book stands alone). My absolute dream casting for Garrett would be Josh Holloway, and I think Melissa George would be perfect as Rachel.
There are some new faces in Lingering Touch as well. We meet Finn's dad, Tommy (I will be shocked if you don't adore him), and Tommy's love-interest, Daphne. She's having trouble getting Tommy to see that their age difference isn't an issue, but he'll come around. I could see Bruce Boxleitner playing Tommy and Morena Baccarin would make a great Daphne.
And then there's Travis… I won't say too much about him, since that would be a huge spoiler, but Jeffrey Donovan would be great in this role. Of course, he'd have to lose a lot of weight to play this character. Travis is…kind of heart-breaking, actually. Another character in this book who will factor in more for the future novels is Nell, who I could see being played by Katie Nehra. Her part is small in Lingering Touch, but she'll be a big part of shaping the futures of the main characters in The Summer Park Psychics books to come.
Whether or not the movies will happen, it's great fun to think about!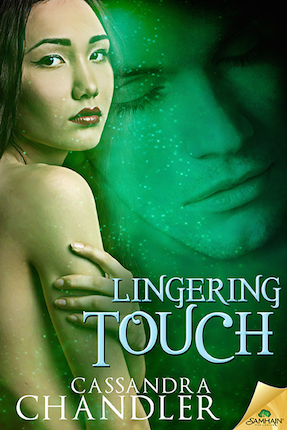 The memory of his touch has never left her heart. . .or her body.
Finn Connelly can see the past by touching objects, even read people's thoughts. This power allows him to be the best private investigator in Summer Park. Until his abilities spiral out of control, leaving his thoughts and emotions inextricably entangled with those of others.
The only one who can help him regain control is the last person he trusts. Jazz Zhou, the woman who broke his heart.
Jazz is still reeling from nearly losing her closest friends to a serial killer-a man she brought into their lives. When she learns Finn is psychically bound to the ghost of one of the killer's victims, she grabs the chance to atone for past mistakes.
As their investigation takes them to the killer's hometown, they realize the threat to Jazz's friends isn't over-and neither is their relationship. But the more Finn uses his powers, the more he loses himself. And soon even Jazz's touch might not be enough to help him claw his way out of a murderer's memories.
Warning: Contains a heroine with a take-no-prisoners attitude and a hunky private eye with a touch that will leave you begging for more. And alligators. Lots of alligators.
Romance Paranormal [Samhain Publishing, On Sale: August 2, 2016, Paperback / e-Book, ISBN: 9781619235168 / eISBN: 9781619235168]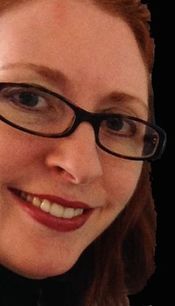 Cassandra Chandler has studied folklore and mythology for her entire life and been accused of taking fairy tales a bit too seriously. Raised in a household where tarot readings and viewing auras were considered mundane, she spends her time writing and trying to appear normal. At least the writing is working out.
Her romances range from sweet to scorching, set in extraordinary worlds and driven by characters searching for a deep and lasting love. She has always seen the starry sky as a destination rather than a matte painting, though her primary residence is on earth.
You can follow her thoughts on writing, life, and mostly writing at www.cassandra-chandler.com (updates every Wednesday!) or see her real-time ramblings on Twitter (@casschandler).