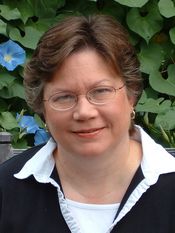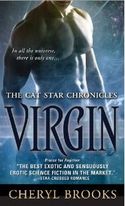 Thanks so much for having me here today to talk about the seventh book in the Cat Star Chronicles, VIRGIN! I thought I would let my characters do the talking…
Marla: Hello! This is Marla Elkhorn, interviewing Cheryl Brooks, Dax Vandilorsk, Ava Karon, and Waroun, the author and main characters of The Cat Star Chronicles: Virgin, which was released earlier this month from Sourcebooks Casablanca.
It's such a pleasure to have all of you here today on Fresh Fiction. Waroun, I understand you claim responsibility for the pairing of Dax and Ava. Would you care to tell us about that?
Waroun: Oh, absolutely! I'm the only reason they're together today. Mainly because I didn't steal the lovely lady right out from under his nose.
Dax: Really? I thought Threldigan was the one trying to steal her.
Cheryl Brooks: (scratches head) That's what I thought too, but then, I'm only the one who wrote the book. What do I know?
Waroun: (waggles his sucker-tipped fingers) Ava's essence was so delicious!
Ava: Not sure you ever got that much of it.
Waroun: (regretful sigh) Once was enough.
Marla: Ahem. Well… moving right along… Ava, what can you tell us about yourself?
Ava: I'm a human/Aquerei cross, and all I wanted was to leave Luxaria and go back home to Rutara to reunite with the man I'd left behind. Dax had a starship–
Dax: And I was willing to take her anywhere she wanted to go–except back to an old lover.
Waroun: (snickers) I used to call him The Great Virgin. Can't do that anymore, though… Anyway, we had this deal. If any women started coming on to him, they had to try me first.
Marla: (clearly appalled) But you're a Norludian and he's a Zetithian! Pardon me if I don't see–
Waroun: Why anyone would want a Norludian lover? Well… you're right about that. Only two girls ever took us up on the deal.
Marla: Oh, do tell…
Dax: Let's just say they weren't happy when they finished with Waroun and I wasn't interested. Davordians have never appealed to me.
Waroun: (snorts) No women have ever appealed to you–until Ava, that is.
Marla: Isn't that a little… odd for a Zetithian?
Dax: I suppose it is. You see, a Zetithian needs the scent of a woman's desire before he can, um, function–
Waroun: (giggles)
Dax: And Ava is one of the few who's ever smelled right to me.
Marla: That's the only attraction? Her scent?
Dax: Oh, no. There's a whole lot more to it than that. She's…well… she's the woman I've been waiting for all my life. She's the one.
Cheryl Brooks: (nods) That about sums it up.
Ava: And I was smitten with him–who wouldn't be? He's strong, intelligent, capable–
Waroun: And sexy. Don't forget that part.
Cheryl Brooks: Zetithians are irresistible. They can't help it. But Ava did at least try to be strong. She didn't think she was good enough for him.
Waroun: (points at Dax) And he didn't have the first clue about courting a lady.
Dax: Which is why I called my friend Threldigan. He's a Mordrial magician–
Waroun: And a notorious ladies' man.
Dax: (shrugs) I figured he could give me some pointers.
Marla: But of course you saw Threldigan for what he was right away, didn't you, Ava?
Ava: Yes, but remember, we were on Rhylos at the time, and you know what Rhylos is like. Things have a way of seeming better on that world than they really are.
Waroun: What happens on Rhylos stays on Rhylos–at least, that's what they say. Don't believe it's true, myself.
Marla: (mutters) You can say that again… (clears throat) And Rhylos is where your love affair–and also your adventure–began?
Ava: (nods) Turns out I held the key to ending the civil war on Aquerei. It got pretty scary there for a while. Dax also turned out to be instrumental in bringing about the New Age on Aquerei. (takes Dax's hand and gives it a squeeze) I almost lost him.
Waroun: (sighs) I'm really missing those Aquerei girls…They were so hot! Think we could go back again?
Ava: We promised to go back every year on the anniversary of the start of The New Age, Waroun.
Waroun: Think we could go now?
Dax: That's what? The third time this month?
Waroun: (grumbles) Didn't know you were keeping track.
Marla: Hmm… It looks like we'd better wrap up this interview and let you folks get on the road–er–back into outer space. My thanks to all of you for taking the time to be here today.
Cheryl Brooks: And thank you and the Fresh Fiction gang for having us here! Post a comment for your chance to win a free copy of Virgin!
VIRGIN BY CHERYL BROOKS–IN STORES JUNE 2011
He's never met anyone who made him purr…
Starship pilot Dax never encountered a woman he wanted badly enough. Until he met Ava Karon…
And he'll never give his body without giving his heart…
Dax is happy to take Ava back to her home planet, until he finds out she's returning to an old boyfriend…
As their journey together turns into a quest neither expected, Ava would give herself to Dax in a heartbeat. Except he doesn't know the first thing about seducing a woman…
ABOUT THE AUTHOR
Cheryl Brooks is a critical care nurse by night and a romance writer by day. She is a member of the Romance Writers of America. She is the author of The Cat Star Chronicles series and lives with her husband, two sons, five cats, five horses and one dog in Indiana. For more information, please visit http://www.cherylbrooksonline.com/
To comment on Cheryl Brooks's blog please click here.