In PLAYING DEFENSE, Chris Winslow believes in taking life as it comes, and then adding a little levity to it all. After an elaborate prank with dairy cows dyed to match team colours, he's warned that his future on the Corrigan Falls Raiders (hockey team) is at risk if he doesn't get a bit more serious at least about his grades at school. His tutor will be Claudia Waring. She's not humourless, exactly, but she definitely feels that there's an appropriate time and place for laughter. A very limited time and place. As she spends time with Chris, though, she begins to realize that life doesn't always have to be quite as serious as she's made it. She begins to realize there are some benefits to spending time with someone who has a lighter approach to the world…
5 Reasons to Fall for the Class Clown
That sore stomach you get when you watch a really good comedy? It's because laughing is good exercise for your abs. It's good for his abs, too, especially if he's already ripped from hockey-related workouts. Ahhh… abs.
It takes courage and self-confidence to call attention to yourself and let people laugh at you. And courage and self-confidence? Sexy. Your funny guy is willing to try anything, because he knows he can handle it if things don't go quite as planned.
Brooding bad boys are fun in theory, but they get pretty old in practice. Do you want to spend your time dealing with someone else's drama, or do you want to be with a guy who helps you get over your own angst? Do you want to spend a lot of time and energy worrying about your boyfriend starting a fight or storming off in a rage? Or do you want to relax and have some fun?
His sexy smile when he lets you in on the joke, and it seems like it's just the two of you even though there are always lots of people crowded around him. He's popular, sure, but he's yours!
Life is too short to be serious all the time. And the right guy can definitely help you loosen up, in all possible ways.
Cate Cameron is the author of the Lake Sullivan Romance series, including Just a Summer Fling. Her life path may not be a straight line, but it has definitely zigged in some interesting directions. With a work history that ranges from historical interpreter to garden designer, office manager to school librarian, she's had a lot of experiences and tries to bring them to life in her writing.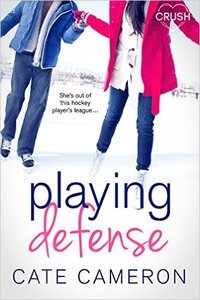 Disclaimer: This Entangled Teen Crush book contains adult language, swoon-worthy kisses, and sexy hockey players. It may cause you to watch a hockey game…or ten.
Sixteen-year-old Claudia Waring has never kissed a boy. Never been popular. Never been to a hockey game. All that's about to change. Assigned to tutor Chris Winslow, a prank-loving, gorgeous hockey player, Claudia's perfectly planned life immediately veers off course. And she kind of likes it. But as fun as Chris is, she knows she'll never fit in his world.
After his latest prank lands him in hot water, Chris has to get serious about school or lose hockey. Not an easy thing for someone as carefree as the defenseman. The biggest problem, though, is how much he wants to help his cute, buttoned-up tutor loosen up a little. But while confidence has never been a problem for him, around Claudia, Chris is all nerves. Why would a girl as smart as her ever fall for a jock like him?