Pro of Same-Sport Loving – If you're really dedicated to excellence, you have to spend a lot of time working out, practicing, and otherwise perfecting your game. If you have school or a job as well, there isn't much time left for a relationship. But if your work out and practice time is ALSO relationship time, you're all set!
Con of Same-Sport Loving – One of you will probably be better at the sport than the other. This isn't necessarily true, but it's pretty likely. What effect will that have on the relationship? And if both of you are equally dedicated and equally skilled, how will it feel if the difference is based on something neither of you have any control over? Like, say, your boyfriend hit a growth spurt at puberty and turned into 6'2" muscle-man, and you? You didn't.
Pro – You're both probably pretty fit. Nice muscles, strong bodies, lots of endurance… hard to argue with any of that!
Con – You're both probably pretty competitive. This can work well if you're both on the same team, but if you face off against each other? Look out!
Pro – Passionate competition can lead to other kinds of passion. After all, you won't always be playing your sport.
Con – Some sports have a lot of gear, and gear can take up a lot of space. Not that big of a deal when you're a teenager and you're both still living at home, but when you get older? If you want to live together? Can your garage hold two bags of hockey gear? (Can your garage hold the smell of two bags of hockey gear?) How about two rally cars?
Pro – Again, for older couples, sports can be expensive, and if your finances are combined it might be a bit hard to explain why you absolutely need to spend a lot of money on a new tennis racket (or a new horse!) It's not nearly as big of an argument if your partner already understands your passion and also understands the demands of the sport.
Con – There aren't that many sports that are equally popular with women and men. Soccer, basketball… equestrian events… maybe a few more. But in general, if you both like the same sport, one of you may be "crossing the aisle" and playing a sport traditionally favored by the other sex. Male synchronized swimmers, female football players—it's not easy to challenge stereotypes or to carve out a spot for yourself.
Pro – If you are playing in a sport where you don't always feel welcome, you need someone to have your back. And if you happen to have a boyfriend who loves your sport and loves you, he can give you a lot of support. Yeah, you're tough and you don't need his help… but it's kind of nice to have it anyway.
In WINGING IT, Toby and Natalie grew up together, both totally dedicated to hockey. Then Toby got drafted to the OHL and his career took off, while Natalie's… didn't. The difference drove them apart for a while, but when Nat's crazy "fake boyfriend" scheme brings them back together, it doesn't take long for them to realize that they may not be on the same hockey team anymore, but they're still definitely playing on the same line.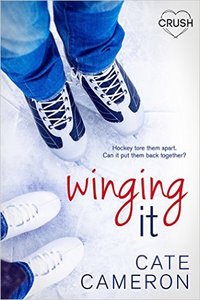 Disclaimer: This Entangled Teen Crush book contains adult language, ice-melting kisses, and a swoon-worthy hero. This fake relationship romance will have you wishing for a hockey player of your own…
Natalie West and Toby Cooper were best friends growing up, on and off the ice. But when Toby's hockey career took off, their friendship was left behind. Now Natalie has a crazy plan to land her crush—Toby's biggest rival—and she needs Toby's help to pull it off.
When Nat asks Toby to be her fake boyfriend, he can't say no. Not when it means getting his best friend back. But Natalie is all grown up now, and spending time with her—even when it's just playing hockey together—stirs up a lot of feelings, old and new. Suddenly pretending to be interested in her isn't hard at all…if only she wanted him and not his enemy.
Corrigan Falls Raiders