What is your name? Do you have a nickname?
My name is Tobias Ford. I also answer to Master, Sir, or Master T.
Where were you born? Where have you lived since then? Where do you call home?
I was born in Tucson, Arizona. My mother still lives there. I've lived all over the world with my stint in the military. Currently, Pasedena , California is where I call home.
What is one strong memory that has stuck with you from childhood? Why is it so powerful and lasting?
My alcoholic father left my mother and I when I was five. It's tempered my need to control my life. I never have more than a drink or two, the disease that drove him from our lives resides in my veins, so I'd prefer not to go down that road. Combined with my PTSD from my tours in Iraq and Afghanistan it would be a bad mixture all together. And I don't have relationships with women who have children, I know how much that can mess with a child's mind. I prefer my subs unattached and unfettered.
You're getting ready for a night out. Where are you going? What do you wear? Who will you be with?
I own a BDSM Club which is where I spend most nights. I'm typically in leather pants and a Dungeon Pleasures tee-shirt.
Where do you go when you're angry? What do you do there?
I box. It helps to get the energy outside of myself and is a stellar workout.
Have you been in love? Had a broken heart? Who was it and what happened.
Yes, and I'd prefer not talk about it. Let's just say she couldn't handle my PTSD.
What is your biggest fear? Who have you told this to? Who would you never tell this to? Why?
That I will get sucked into a PTSD episode and not come out of it. I have a brotherhood of support from other vets with PTSD. We meet and talk about it once a month. More if needed.
If you had to make a meal for me right now with only the ingredients in your refrigerator and pantry, what would you make me?
I like cooking. It calms me. You'd find steak and green beans, maybe some sweet potato fries.
Look down. Describe what you're wearing. Is this the way you're normally dressed? If not, what do you normally wear?
I just returned from a shift in Dungeon Pleasures and needed a shower. I did a scene in the Lair, so I'm still in a towel from my shower.
What's the one thing you want out of life that you don't think you can have? Why can't you have it?
I want a wife and family of my own but I think my PTSD is too violent to subject innocent bystanders too. It's worse at night and I'd never forgive myself if something happened to them under my watch.
Giveaway
Anya is giving away five (5) copies of MASTER AND DEFEND!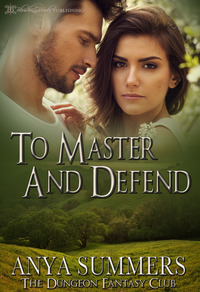 TO MASTER & DEFEND (The Dungeon Fantasy Club Series, Book 2)
Ophelia Mills is coerced by her friends into having a fashionable night out, where she discovers the newest night life destination is actually an exotic BDSM Club named Dungeon Pleasures. She's always been curious about the lifestyle, but her reserved nature has so far held her back from exploring her desires. When an over enthusiastic club goer goes overboard with his intentions and attempts to force her into submission, the club's owner comes to her rescue, defending her honor. After a scorching one night stand with her knight in shining armor, Ophelia discovers that the fantasy was one for the record books.
Tobias Ford likes his life just fine. At the helm of two successful businesses, he's a Dom with a checkered past and isn't looking for anything permanent. He's perfectly content to enjoy the submissive offerings at Dungeon Pleasures, as well as his membership in the exclusive Dungeon Fantasy Club. Then Ophelia Mills stumbles in, needing his protection, and bringing forth every dominant urge he possesses. After a torrid night he cannot forget, he devises a campaign, laying siege to her heart even as he spanks her bare bottom for disobedience. With every one of her pleasured cries, Tobias falls further under Ophelia's spell as she surrenders to his mastering.
As he indulges her newfound carnal appetite, Ophelia will have to face old hurts, and decide whether or not she can trust him with the most precious of gifts…
Born in St. Louis, Missouri, Anya grew up listening to Cardinals baseball and reading anything she could get her hands on. She remembers her mother saying if only she would read the right type of books instead binging her way through the romance aisles at the bookstore, she'd have been a doctor. While Anya never did get that doctorate, she graduated cum laude from the University of Missouri-St. Louis with a M.A. in History.
Anya is a #1 Amazon Bestselling and Award-Winning Author published in multiple fiction genres. She also writes urban fantasy and paranormal romance under the name, Maggie Mae Gallagher. A total geek at her core, when she is not writing, she adores attending the latest comic con or spending time with her family. She currently lives in the midwest with her two furry felines.
Don't miss these exciting titles by Anya Summers and Blushing Books!
Dungeon Fantasy Club Series
Her Highland Master, Book 1, April 15, 2016
To Master & Defend, Book 2, May 15, 2016
Two Doms for Kara, Book 3, June 12, 2016
His Driven Domme, Book 4, July 2016
Her Country Master, Book 5, August 2016
Love Me, Master Me, Book 6, September 2016
Submit To Me, Book 7, October 2016
Her Wired Dom, Book 8, November 2016