I know, it's a strange theme for a romance novelist to explore. Aren't I supposed to be dedicated to the ideal of True Love? Don't I believe that the only way to have a Happily Ever After is for the main couple to be together?
Well, in books, sure. That's all lovely. But in real life?
I love being single, and I especially love being single at the holidays.
The only time I appreciate singledom more is when I screw up. Like, when I do something totally stupid. A few years ago I ran into a post in a parking lot and tore the bumper off my three-month-old car. Absolutely no reason for it, totally careless, no way to blame anyone else and it was likely going to cost me a small fortune. Still, I smiled all the way to the auto dealership.
Because I didn't have to feel guilty. I didn't have to confess my stupidity, didn't have to defend myself if my partner went ballistic, didn't have to feel grateful if he was good about it. I made a mess, and I took care of getting it fixed. That easy. And that's why I love being single.
Holidays are also a lot easier with only one person. Sure, I don't have backup (or a designated driver) at holiday parties, but that's probably just as well. If these people are my friends, I don't need backup, and if they aren't my friends I should just stay home. And even in the country where there are no cabs, it's not that hard to hitch a ride with someone going my way. I'd say the benefit of having half as many parties to go to well outweighs the other nuisances!
And will I be with my family or my inlaws this year? Well, that question is easy! No coordination needed, none of the ridiculous hours on the road some of my siblings have to put in, trying to make appearances at both sides of the family despite the fact that they live hundreds of kilometres away from each other.
Sure, there are things I miss about being in a couple. But honestly, for someone who likes her own company as much as I do, being single is a pretty sweet deal.
Anyone else looking forward to a free and independent holiday season? Got some good books and some nice wine and maybe a pet or two? What else could you possible need?
So, Happy Holidays to everyone… with bonus sympathy for those of you who are forced to go through the season with a significant other to worry about.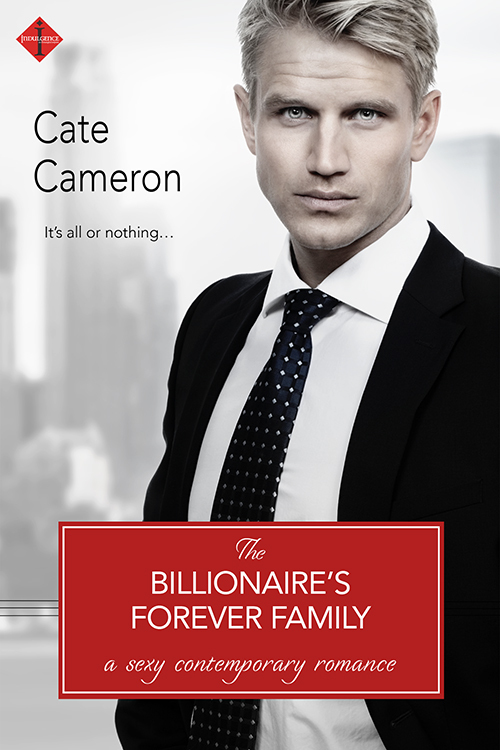 When Cassie Frost reaches out to the biological father of the niece she's raising, she doesn't expect him to send in the lawyers. Emily is all the family Cassie has left, and she'll do whatever it takes to keep her niece. But as the owner of a struggling diner going up against a billionaire, the odds aren't in Cassie's favor.
When billionaire Will Connelly learns he has a daughter, he's determined to have a place in her life—even if that means going head-to-head with her proud, stubborn, and irresistible aunt. It's clear they both want what's best for Emily, but Will's not used to being told he's wrong, and Cassie doesn't seem to have a problem letting him know whenever she thinks he's messing up.
Will's sure they can have it all, even if Cassie is determined to stand on her own two feet instead of being swept off them.
Romance Contemporary [Entangled Indulgence, On Sale: December 4, 2017, e-Book, ISBN: 9781640634596 / ]
Cate Cameron is the author of the Lake Sullivan Romance series, including Just a Summer Fling. Her life path may not be a straight line, but it has definitely zigged in some interesting directions. With a work history that ranges from historical interpreter to garden designer, office manager to school librarian, she's had a lot of experiences and tries to bring them to life in her writing.