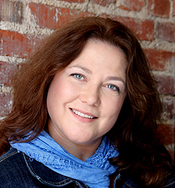 The Deadly Notions mysteries are set in the fictional nineteenth-century village of Millbury in Bucks County, Pennsylvania. In LIE OF THE NEEDLE, my heroine, Daisy Buchanan, owner of the vintage sewing notions store, is conducting research for the Historical Society on the village's connection with the Underground Railroad.
It wasn't a real railroad, of course, but a series of safe houses or "stations". Pennsylvania was a destination for many fugitives because it had a reputation for being anti-slavery. They came from the nearby slave states of Delaware, Maryland and Virginia, and crossed the Mason-Dixon Line at the border of Maryland and Pennsylvania. A good number stayed in Chester and Lancaster counties, where there was a large free African-American population, but for some, the goal was always Canada, as it was simply safer.
The underground line through Bucks County was less used than the main routes further west with more direct access to the north, but some slaves did come to the area by way of Norristown or Philadelphia. The towns of Solebury, Quakertown, Doylestown, Yardley, Newtown and Buckingham were all stops on the line, and they were hidden in churches, barns, spring houses, fields and caves. The last important stop was Quakertown where the rail lines converged before upstate New York and the Lehigh Valley.
It's something of a myth that the Underground Railroad was a highly organized network. Runaways had to take a huge leap of faith when they first set out, hoping they would find sympathetic and brave souls to provide food, clothing, and shelter along the journey, often from the Quaker settlements. In LIE OF THE NEEDLE I mention the old song "The Drinking Gourd", which was actually a hidden map, with its reference to the North Star to guide their way. Many of the other spiritual songs also had coded messages in them for people who could not read or write to be able to learn how to escape.
It's hard to find much information as many of the station masters insisted on absolute secrecy, for obvious reasons. A few records were kept to help their passengers find family and friends, but most were destroyed, especially after the Fugitive Slave Law of 1850 made it a federal crime to harbor or give aid to runaways. While doing research for this book, I watched the HBO documentary film "Unchained Memories" which is a series of slave narratives voiced by top African American actors. It had such a powerful effect on me to see how families were ripped apart, the inhumane way people were treated, and the terrible pain they must have endured.
Although I didn't set out to write to a theme, after I finished LIE OF THE NEEDLE, I realized that one of the recurring ideas was the importance of home. From the character that goes missing early on in the book and everyone prays will safely reappear, to the fight with the builder who would destroy the character of their quaint neighborhood, to the stories of the slaves who passed through Bucks County on their way to freedom and a place to call home. After all, isn't that what we all want? A place that's safe and free, with the people you love. Some things are truly timeless and universal.
About LIE OF THE NEEDLE
As the owner of Sometimes a Great Notion, a shop specializing in vintage sewing notions and antique treasures, Daisy Buchanan is a strong advocate of preserving the past. But when a killer strikes, she turns her attention to saving lives…
Talk about a great notion! As a fund-raiser to save a two-hundred-year-old farmhouse and stop an ambitious developer, the ladies of the Historical Society of Millbury, Pennsylvania, are producing a Hunky Men of Millbury calendar. Daisy is delighted to lend her support, and the female population of the village is abuzz with anticipation.
But after Daisy's close friend Cyril doesn't show up for his photo shoot and the calendar photographer is found dead, it's beginning to look like the days may be numbered for the men of Millbury. Can a cryptic verse on an antique sampler help Daisy pin down the killer before another pinup runs out of time?
Includes creative tips for vintage notions!
About Cate Price
Cate Price was born in England and came to the U.S. when she was sixteen. She spent the majority of her junior and senior high school years translating her 'quaint' English expressions for her fellow classmates. She majored in Communications at Central Connecticut State University with an emphasis on Radio and TV production, and produced and acted in several shows at the local Hole in the Wall Theatre. She's worked as an actress, voice over artist, talent agent, waitress, bartender, casting director and real estate agent, until she finally settled on her current occupation as Executive Assistant to a CEO, (where, truth be told, the acting skills occasionally still come in handy).
She is a regular sight on the streets of her home town walking her two amazing rescue dogs, and enjoys gardening, yard sales, and cooking with friends. Writing the first book in this series proved to be rather an expensive project, because while researching auction houses, she also became addicted to bidding on box lots.
Cate's previous (unpublished) books span the genres of romantic comedy, romantic suspense and murder mysteries, and have won or finaled in numerous contests, including the prestigious Daphne Du Maurier Award for Excellence in Mystery/Suspense. She is currently the VP of her local Romance Writers of America chapter. Over the years she has served as web mistress, treasurer, corresponding secretary and contest coordinator, and has since learned not to volunteer at chapter parties where wine is involved. She is also a member of Sisters in Crime and the Kiss of Death chapter of RWA.