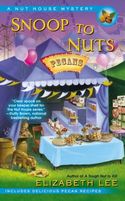 So my editor asked me if I wanted to do a series set in Texas.  I said "Sure, I'll be happy to do a series set in Texas."  Then I wrote the proposal and my three chapters and the synopsis and the editor called my agent and said, "Why, Elizabeth knows Texas like the back of her hand . . ."
Well, hold on now.  It's not all that easy.  Elizabeth doesn't only not know Texas "like the back of her hand," she's never been there.
Next thing, after having the hubris to think I could take on the whole state of Texas without ever going there, was to get there fast.  My daughter, Kathy, was up for the trip and we were off.  It was June—getting hot in some parts of Texas—but still nice in the hill country where I got to visit a pecan farm like the one my story family: the Blanchard's, own in Riverville, which is down in south central Texas.
Now, don't ask me why I put my town there—I've got no idea—but when I got there and was hiking along the Colorado River and visiting the little towns, it was all pure Riverville.  I'd made it up in my head—the people, the places—but here they were and I was walking down Riverville's main street and even felt like waving to the folks around me, as if I'd known them all my life—the way Lindy Blanchard, my protagonist, does.
Along one lonely stretch of road, where every gully had a sign measuring how deep the water gets in case of flood, we were met with a rash of vultures sitting beside the road and in the skeletal trees behind fences.  How could I not get ideas for more murders, out there where the only living things seem to be vultures?
We went to Luckenbach for the heck of it.  Not much there but the post office, but something about being in that sung-about place made it feel special and important.  In real small towns there were still Five and Dime stores where they sold honest-to-God gingham aprons, and not the frilly kind for show.  We drove into Bandera on a dusty Sunday afternoon as ten horses and their riders rode into town, tied up outside the local saloon, and went inside (well, not the horses).
Texas is real.  Anything you read or hear—it's happening in some part of Texas.  History's alive and celebrated.  The arts are important.  Music is the backbone of Austin.  I couldn't be happier about discovering the real Texas and now putting the places I came to know into books.  Of course, I have to murder a few of the folks along the way but, as they say in Texas: "Ya gotta take a little of the bad to get yerself some good."
The second book in the series is coming out in January: SNOOP TO NUTS.  They're poisoning each other in this book.  Next book they'll take up arms and do in a few of their own.  One woman wrote a review of A TOUGH NUT TO KILL (first in the series), saying she felt exactly like she was in one of the saloons I wrote about.  She could smell the beer and liquor.  She could see the line dancing.  She could hear the cowboys—hats pushed to almost falling from their head—as they guffawed and beat each other on the back.
Well, if all of that's Texas—along with a lot of good people—that's exactly what I want to be writing about, come hell or high water.
About SNOOP TO NUTS
Murder gets nutty in the latest in Elizabeth Lee's delectable Nut House series
Lindy Blanchard's family pecan farm is known county-wide, but it's the goodies her grandmother sells at their store, the Nut House, that really bring in the crowds—until someone turns one of her tasty treats deadly…
The "Most Original Pecan Treat" contest at the Ag Fair is the talk of Riverville, Texas, especially when it's clear that Miss Amelia Blanchard's Heavenly Texas Pecan Caviar will take home a blue ribbon. Which is why everyone is amazed when her dish doesn't even place—and even more shocked when one of the judges, Pastor Jenkins, keels over dead, right after taking a second taste of Miss Amelia's food.
No one in town truly believes that Amelia would even hurt a fly, but all the evidence points to poor Pastor Jenkins' death being caused by poison in the caviar. Now, unless Lindy figures out who wanted to frame Amelia for murder, her meemaw may have baked her last famous pecan pie…