I recently had the chance to combine three of my favorite things: to meet a favorite author of mine, Susan Elizabeth Phillips, be around other avid readers, and have a fancy high tea at the famous Dallas Adolphus Hotel. It was all so nice and a luxury to be there. Some of my friends find it so fun and interesting that we thought of having a book group gathering around high tea. They can also attest to the great excitement I possessed for meeting one of my favorite authors again.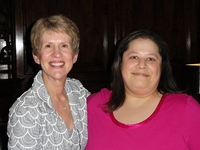 We were celebrating the release of Susan's newest book, CALL ME IRRESISTIBLE. In Susan's new book, Meg Koranda has to go out in the big bad world and make it on her own, without the help of her famous parents (who were the stars of one of Susan's previous books, GLITTER BABY), other siblings, or her best friends. And to make it a little harder–she is loathed by an entire town for the perceived break up of Ted Beaudine's wedding–the town's beloved son. One of the great things about Susan's female characters is that they are always women who even though they hit rock bottom, do not let it stop them, they merely pick themselves up, dust off the dirt and start again. For Meg, being independent means doing it under the watchful eye of an entire town and the sexy, and perfect, Ted. One of Meg's many jobs is working at the local country club and being around the Texas country club crowd.
High tea at the Adolphus sounds like something that would appeal greatly to some of the characters in Susan's newest book. So it was a perfect place to celebrate CALL ME IRRESISTIBLE and spending time with its author.
Like Meg Koranda, I am not comfortable around the extra fancy. But I have to admit, there are some things one must try once. Tea at the Adolphus is one of them. There are so many reasons why. First, we got the chance to have a glass of champagne in order to toast Susan and her new book. Then the waiters came around to each table and laid your napkin in your lap for you. Each course was served, and it was the best of tea time: tea sandwiches, followed by scones with each person having their own little serving dishes of clotted cream and jam, followed by assorted desserts. The deserts were to die for, and there were so many to choose from. I, of course, sampled the ones with chocolate in them. And it goes without saying, the tea was fabulous.
But best of all was the company. Fifty ladies, telling our favorite stories that introduced us to SEP. We were then treated to a lovely trivia game of Susan's past books, lead by the author herself. Sadly, I was not quick enough to win a prize. Susan then took the time to sign each of our books and take pictures. For me, it was like being around my favorite movie star.
High tea at the Adolphus is a treat to behold, even if you are not used to fancy. Treat yourself once to a grand experience, especially if you have the chance to be around great company.
Sara Edmonds
And for more fun, check out Felicia's blog post on the tea. She has the BEST pictures!