Danielle Jackson: Welcome to Fresh Fiction, Chandra, and congrats on your debut novel, DIGGING UP LOVE! Can you tell us your "journey into publishing" story?  
Chandra Blumberg: Thank you, Danielle! I always dreamed of becoming an author, but for a long time, I bought into the mistaken belief that writing wasn't a viable career and getting a book published was as unlikely as hitting the lottery.
While I continued to write—mostly short stories and essays I never planned to show anyone—I didn't seek publication until a few years ago. I started off writing parenthood essays and was in the midst of querying a non-fiction humor manuscript about motherhood when the March 2020 pandemic shutdown hit.
At that point, with all the uncertainty in the world and the chaos of a family of six living in quarantine, I was ready to switch gears from writing about my daily life and delve back into fiction. I drafted DIGGING UP LOVE during the covid shutdown as an escape of sorts and got so much joy from spending time with my characters and story. The adage about writing the book you want to read really held true for me.
I took what I'd learned from querying a nonfiction manuscript and began to seek representation as a romance writer. From connecting with my awesome agent, Rachel Brooks, to signing a two-book deal with Montlake, the path toward publication was a whirlwind of new experiences and surreal moments. This is truly the culmination (and also just the beginning!) of a lifelong dream. I've focused on learning as much as I can and soaking up every amazing moment of this debut experience, and I can't wait for readers to meet these characters who captured my heart.
DIGGING UP LOVE combines two of my favorite things—baking and dinosaurs (LOL!). Where did the idea for this book originate?  
These are two of my favorite things as well, and one of the coolest things about this journey is finding out how many other people love this combo! The concept stemmed from my own interests. I've always been a big fan of Jurassic Park, and my kids are dinosaur lovers. We'll come home from the library with stacks upon stacks of dinosaur books, and we frequently visit the Field Museum in Chicago.
The premise originated with a scene I wrote about a couple on a date in the dinosaur wing of the museum. I recalled reading a news article about mammoth bones being found in a farmer's field in my home state of Michigan. That sparked the idea of what would happen if the unexpected find was something even more sensational, like dinosaur fossils.
I chose to write a pastry chef heroine because baking is a hobby of mine. I spend a lot of free time browsing recipes and cheering on contestants on reality baking competitions. While I am by no means the expert baker Alisha is, I thought it would be super fun to explore a topic I enjoy in creating her character.
Your heroine, Alisha, has always dreamed of moving to Chicago and opening her own bakery, but reasons keep her stuck in her rural small town. The discovery of a dinosaur fossil in her grandparents' backyard changes everything. What do you hope readers take away from Alisha and this story?  
I really wanted Alisha's story to be about someone finding themselves as they balance personal goals with family expectations. Alisha has to decide if it's worth it to forge her own path despite external pressures and warring internal desires. I hope readers are awakened to the value of their own dreams and aspirations.
Quentin is a paleontologist leading the dig on the fossil and both butts heads with and find himself immediately attracted to Alisha. He also has his own issues, particularly with his father and how he views Quentin's chosen profession. How do the pressures of his job and familial obligation challenge Quentin throughout this book?  
Quentin undergoes conflict stemming from a family who doesn't understand his career choice, which I think is something many people experience. This struggle can take different shapes depending on family dynamics, but often there are very firm—spoken or unspoken—expectations about acceptable life choices. Quentin is in a profession which his family doesn't support and therefore feels even more pressure to be a success and prove himself. Then along comes this dinosaur discovery which seems like the perfect chance to do just that.
I imagine the research for this book was super fun—baked goods AND dinos! What something deliciously fun you learned about baking/the bakery business and something wildly interesting about paleontology?  
It really was a ton of fun! I can't tell you how many hours I spent going down the rabbit hole of baking blogs and video tutorials. I think the most interesting thing I discovered is how many takes there can be on a single recipe. For instance, a classic fresh fruit tart can be made with different flours, fillings, sweeteners, garnishes… The possibilities are endless! Reading all the recipes made me want to experiment more in my own baking.
In researching the paleontology angle, I was incredibly lucky to benefit from the experience of two paleontologists, and the first-hand knowledge both women shared was invaluable. One thing I didn't realize is how rare it is to find intact fossils. Most of the fossils found on dig sites are fragments, and the paleontologists have to piece everything back together in a lab, like a puzzle.
One of the busiest times for bakers just passed by—the winter holiday season! What do you like to bake during this time of year?
Since my debut novel features a baker, it will probably come as no surprise that my favorite holiday tradition is baking cookies! Growing up, the extended members of my family would gather to bake dozens and dozens of Christmas cookies. Everything from snowball cookies to white-chocolate-dipped-gingersnaps to cut-out iced sugar cookies. The experience of creating something delicious with family and laughing and catching up on each other's lives has always been the highlight of the holidays for me.
What can readers expect from you next?  
The second novel in the series, STIRRING UP LOVE, releases in July 2022. It's another foodie romance, this time with a savory angle instead of sweet. STIRRING UP LOVE is a rivals-to-lovers story about a sassy restaurateur and an opinionated chef battling it out over barbecue and big dreams.
Rapid Fire Random Questions
What's the best live performance you've ever seen?: I've been a stay-at-home mom of littles for a big chunk of adulthood, so most of the live performances I've attended have been of the puppet show variety. Maybe I should add a concert to my list of things to do in the next five years!
Biggest Pet Peeve:   Putting fitted sheets on beds. I never get it right the first time. Or the second. And folding them? Don't get me started.
Writing advice you live by:  Write whenever, wherever, and however you can. And when you can't, don't stress about it.
If you could have a magical power, what would it be?:  Definitely the ability to teleport. I would love to snap my fingers and travel across the world in an instant to spend time with far-away friends and family.
Gold or silver?:  I really want to say both but I'm sure that's cheating, so I'll say gold.
Favorite outdoor activity:  Anything to do with water! Swimming, kayaking, going to the beach, and I hope to try paddleboarding next summer.
Do you have or have you had a nickname?: Nothing that's stuck. I've always wanted one though.
Favorite holiday:   Christmas. I start listening to holiday tunes on November 1st or sometimes even after we finish trick-or-treating on Halloween.
A book you wish you could read again for the first time:   This is such a hard question because it would be any book I've loved. Since we're near the holidays I'll say IN A HOLIDAZE by Christina Lauren. Such a fun premise and I went into it not reading the back cover (which I do a lot) so the story was a delightful, swoony surprise!
You have a totally free afternoon – no deadlines, no obligations, no Twitter notifications!  What do you do?:  Explore somewhere new!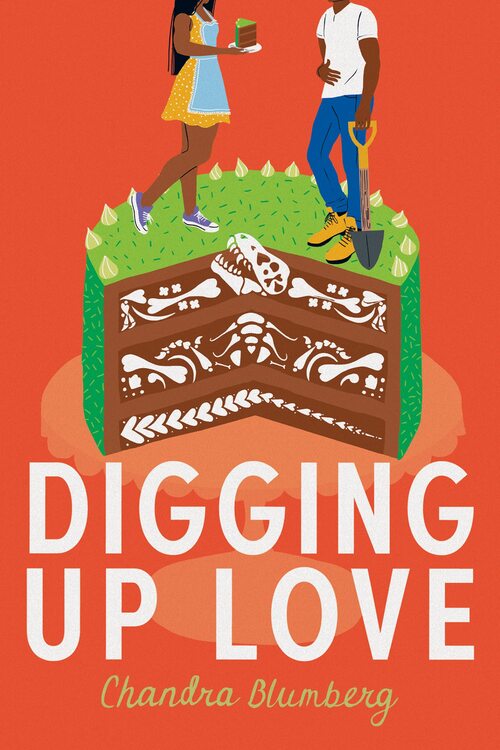 From debut author Chandra Blumberg comes a playful, heartfelt romance about chasing your dreams and finding love in the process.
Alisha Blake works her magic in the kitchen, creating delectable desserts for her grandfather's restaurant in rural Illinois. Though Alisha relishes the close relationship she has with her family, she can't help but dream about opening a cookie shop in Chicago. She may be a small-town baker, but Alisha has big ambitions.
Then a dinosaur bone turns up in her grandparents' backyard. When paleontologist Quentin Harris arrives to see the discovery for himself, he's hoping that the fossil will distract him from a recent painful breakup. Instead, he finds Alisha—and sparks fly. The big-city academic and the hometown baker seem destined for a happily ever after.
But Alisha is scared to fall in love. And Quentin's trying to make a name for himself in a competitive field, which gets even more complicated when the press shows up at the dig site. For love to prevail, the two may have to put old bones aside—and focus on the future.
Romance Contemporary [Montlake Romance, On Sale: January 1, 2022, Paperback / e-Book, ISBN: 9781542033909 / eISBN: 9781713625032]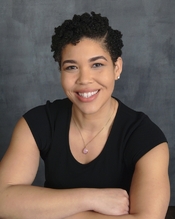 Chandra Blumberg is a Michigan native who loves writing funny, heartwarming love stories about characters that feel real and relatable. When it comes to her writing process, getting to that happily ever after is half the fun.
After majoring in English at Michigan State University, Blumberg moved to the Chicago area, where she enjoys exploring museums and the beauty of Lake Michigan in all seasons. When she's not writing, she's usually making a mess in the kitchen with her kids, lifting heavy barbells at the gym, or traveling with her family.
***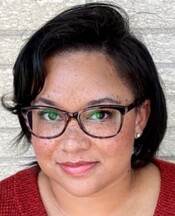 Danielle Jackson is a contemporary romance author, avid reader, lackluster-yet-mighty crafter, and accomplished TV binge-watcher.
Once upon a time, she was a publisher publicist and continues to cultivate her love of books and reading by chatting with the best authors in the business as the Editorial Manager of FreshFiction.com and co-host of the Fresh Fiction podcast. Danielle also moderates industry panels, interviews authors, and hosts a romance book club.
Danielle lives in Chicagoland with her very own romance hero husband, darling daughter, and two tempestuous cats. Follow her on Twitter and Instagram, @DJacksonBooks.