1–What is the title of your latest release?
2–What is it about?
CRY WOLF is the fifth book in my series following snarky human agent Cooper Dayton and his werewolf partner Oliver Park who work together to solve twisty mysteries. This time the guys are officially moved in together with no case to travel for. .  .so naturally, trouble arrives on their doorstep instead. An old adversary warns Cooper he's in danger, Park's ex Eli shows up in desperate need of help, a casual trip to the zoo turns up a dead body in the sea lion pool, and, perhaps most stressful of all, there's a certain someone's wedding to plan.
3–What do you love about the setting of your book? 
Zoos have always had a somewhat surreal quality for me. That idea of controlled danger, manufactured wilderness, nature at its most unnatural. It was incredibly fun to lean into that and take the guys off the usual path (literally) to explore behind the scenes and blur the lines between who's caging who.
4–How did Oliver Park surprise you? 
Park had to grow up fast and be the "strong guy" in control for most of his life, which meant locking a lot of early hurts and fears away behind the mask. At this stage of his relationship with Cooper though, he finally feels safe enough to really show some of those vulnerabilities. I was honestly surprised by just how open he got in this book. But it was time.
5–Why will readers love Cooper Dayton? 
He's a prickly porcupine with a sharp sense of humor and a sharper tongue. But he's committed to doing the emotional work necessary to be the best possible partner for Park and has really come a long way to prove it. He also has a great cat.
6–What was one of your biggest challenges while writing this book (spoiler-free, of course!)? 
Cooper and Park are in a very established relationship at this point and have gone through a lot to get here. For the first time in writing the series I felt very conscious of the fact that if you're reading this you've probably been following the characters for a while and might have expectations around what their "settled" life should look like or how certain, ahem, anticipated events should go. While plotting, I kept careening off in different directions because I felt extra pressure to get it right, not only out of respect to the readers, but also out of responsibility to these characters and the emotional arc they've been building for five books now.
7–Do you look forward to or do you dread the revision process? 
Yes, definitely…eventually. Honestly, by the time I wrangle a first draft together I'd rather run into the wilderness and live in hiding off the grid than ever have to look at it again. But that usually only lasts a few hours. And by the next day I'm bouncing off the walls desperate to get the feedback. A lot of my looking forward to revision is thanks to having a wonderful editor in Mackenzie Walton, who never fails to breathe fresh excitement into a draft.
8–What's your favorite snack to have on hand while writing? 
I'm a big fruit fiend. Any kind I can get my hands on.
9–Where would you go for an ideal writer's retreat? 
Somewhere totally isolated near a natural hot spring. All I want to do is soak in hot water all day and all night. Err, and write. But I can, you know, multitask. Probably.
10–What's the best piece of writing advice you've received? 
Write what you'd want to read.
11–Who is the fictional character you want to hang out with the most? (anyone in literature!)
Sherlock Holmes. I just want to shadow him on a case then go back to 221B and put on matching smoking jackets. Is that too much to ask?
12–What's one of your earliest book memories? 
My brain immediately went to summer reading challenges at the library. I remember waiting in line clutching my little sticker book so nervous to talk about what I'd read that week to the extremely suave grown-up (who I now realize was just some bored fifteen-year-old kid). Worried my beloved Wishbone books weren't cool enough. Wishbone not cool enough? Lies and slander!
13–If you had to write in a different genre, what would it be and why? 
Oh god, this is hard because I've already managed to sneak all my favorite genres into one series, already. Romance, paranormal, mystery. . . what else is there? I have always wanted to try writing a YA book though. I feel like there's room for more extreme and rapid character development than you might get away with in adult fiction, just by the very nature of the life stage the characters are at. As a writer, that feels super intriguing. Plus, I think the genre is doing some really exciting things right now.
14–What song will automatically put you in a good mood? 
Papaoutai by Stromae. Very much a pump-up song.
15–What is your favorite way to practice self-care?
Going for a run and letting my brain go completely off-leash.
16–What can you eat and never get sick of? 
Frank's Buffalo Hot Sauce. I sneak it on everything. I once tried to adapt it into a soup base. Utter disaster… is what I determined after eating it all anyway.
17–Will you share a favorite, recent-ish book you recommend? 
Honeytrap by Aster Glenn Gray
18–Do you have any hobbies? 
It's strange because writing used to be my main hobby. Now to relax I've gotten back into drawing, painting, or any work with my hands, really. I spent most of the summer building a set of bookshelves from scratch, which I'm pretty proud of. Might need to build a few end tables before I'm really allowed to call it a hobby, though.
19–Are you an early bird or a night owl?
I'm a natural early bird who has developed a bad habit of staying up too late.
20–What can readers expect from you next? 
Nothing is 100% set in stone yet, but I can say that spinoff is high up my priority list. Whatever happens, I'm sure I'll find a way to check in on Cooper and Park. I start to miss them too much if I don't!
Big Bad Wolf #5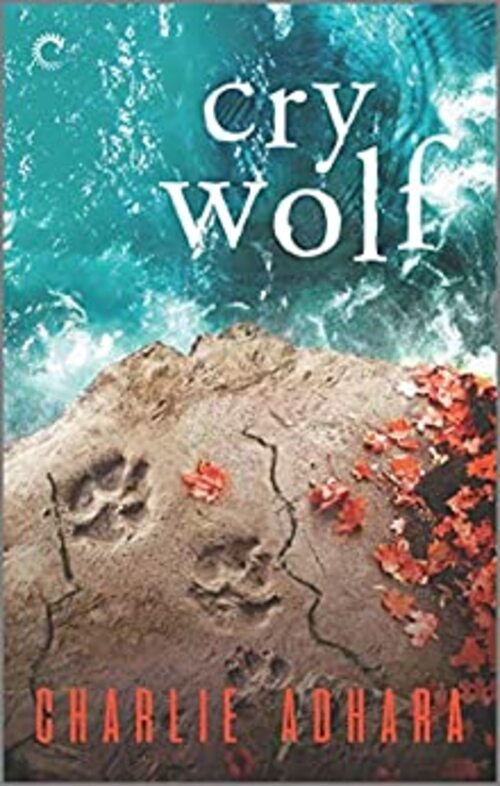 Don't miss this thrilling installment in Charlie Adhara's suspenseful paranormal mystery series, Big Bad Wolf.
Agent Cooper Dayton never thought anything could be harder than solving murders. Until he had to plan a wedding.
After taking down an old adversary, Agent Cooper Dayton of the Bureau of Special Investigations has earned a break. Not that planning a wedding to his sexy shifter partner, Oliver Park, is necessarily stress free, but it's better than worrying about the ominous warning, delivered months ago, that Cooper's life is in danger.
When he's dragged to an event by his family, Cooper braces for an awkward evening, but instead finds himself in the middle of an ugly feud between Park's ex and a rebel pack leader. What was supposed to be a quick outing turns into a full-blown murder investigation after the pack leader ends up dead, Park's ex goes missing, and Cooper and Park are sent a series of disturbing wedding gifts that are somehow connected to it all.
The list of potential suspects is long, and with the bodies piling up, Cooper must turn to the one person he trusts the least: the villain he's already put behind bars once and who has nothing to lose by lying and everything to gain if Cooper is out of the picture—for good.
Big Bad Wolf
Book 1: The Wolf at the Door
Book 2: The Wolf at Bay
Book 3: Thrown to the Wolves
Book 4: Wolf in Sheep's Clothing
Book 5: Cry Wolf
Romance LGBTQ | Romance Paranormal [Carina Press, On Sale: January 18, 2021, e-Book, / eISBN: 9781488075193]
Charlie Adhara has always loved a good story and, on occasion, a bad one. After getting her degree in neuroscience, Charlie decided she'd much rather study the heart. She now writes contemporary, mystery, paranormal, queer romance. Or some assortment of that. Whatever the genre, her stories feature imperfect people stumbling around, tripping over trouble, and falling in love.
Charlie has done a fair amount of stumbling around herself but tends to find her way back to the northeast U.S. After all, home is where the dog is.