After listening to a presentation by a Diplomatic Security Service (DSS) agent at a meeting of our local chapter of Mystery Writers of America, I knew that was the job for my protagonist, Raisa Jordan. Little did I know how much I had to learn.
First came the research.
A lot of people don't realize how difficult it is to earn the badge of a DSS agent. The man who spoke to us made it sound interesting, sexy, exotic, dangerous and exciting, but did you know that a DSS agent must have a four-year degree from an accredited university? You could have a B.A. in Underwater Basket-weaving for all they care, but the diploma is required. You must also pass a physical, obtain a medical clearance, a Top Secret Security Clearance, and be determined stable, resourceful, trustworthy, and capable of assuming responsibility.
After clearing those hurdles, agents attend the Federal Law Enforcement Training Center (FLETC), and prove proficiency in job-related subjects, including: criminal law, federal court proceedings, use of firearms, personal defensive tactics, driving skills, security techniques and criminal investigation. And it doesn't hurt to speak multiple languages.
Then there was the job description.
Most people think all DSS Agents do is check for visa and passport violations, and oversee the Marine details protecting our embassies. When, in fact, DSS agents are the Department of State's security and law enforcement arm abroad. The only law enforcement agency with representation in nearly every country in the world, agents investigate the activities of foreign intelligence agencies, assess terrorist incidents and threats, and assist in apprehending fugitives who have fled the United States. They transport diplomatic documents, arrange security for visiting dignitaries, and provide security support for U.S. participants at major domestic and international events, such as the Olympics.
And there was the travel.
One thing is for certain, DSS agents go to some incredible places. There are 294 U.S. Embassies and Consulates around the world. An agent's first postings are assigned, but the assignments change every couple of years and soon you can apply for the spot of your dreams. Of course, with every "cush" posting, there are some where it's more difficult to live, so all posts come with a hardship rating. The nicest spots are rated 0% hardship, the toughest spots 35% hardship. London gets a 0%. Paris gets a 0%. Kabul gets a 35%.
Why? It's hard living in Kabul. It's isolated, the air quality is terrible, there is a lack of infrastructures and medical care. To live there requires specialized training in hostage awareness, surveillance detection, weapons, combat first aid and counter-assault driving. Not to mention the scores of people who would like nothing more than to kill you if you're ever caught out walking the streets.
The perks of the job.
Aside from the travel, you're given free housing, offered great job security and you get to rub elbows with presidents, sports figures, and celebrities around the world.
Writing the books.
The idea for DARK WATERS came to me in 1999, while I was living in Tel Aviv with one of my daughters for a couple of months. It was before Raisa was born, and it took me a while to write. I wanted to be sure my story did justice to the complex world of Israel, the myriad of religious and political believes, the conflicts caused by the setting and circumstances.
I drew from a number of our experiences, from sitting on the sea wall in front of the Dolphinarium Discotheque listening to the music (the site of a suicide bombing several months later that killed 21 teenagers) to taking a city bus too far south and ending up in real danger of being stoned because of the way we were dressed.
The end of book one dictated to me that RED SKY be set in Ukraine, post the Russian invasion of Crimea. Naturally I felt I had to go there to absorb the feel of the country. In Kiev the mood was somber. The economy had suffered with the war, so I have to say, I wasn't completely surprised to discover the Kievians newest tourist offering. For $50, a driver with a rifle will give you a flak jacket and a hard hat, and load you into a Humvee for a tour of the front lines. I was game, but saner heads prevailed. My daughter said, "No. The answer is NO Mom."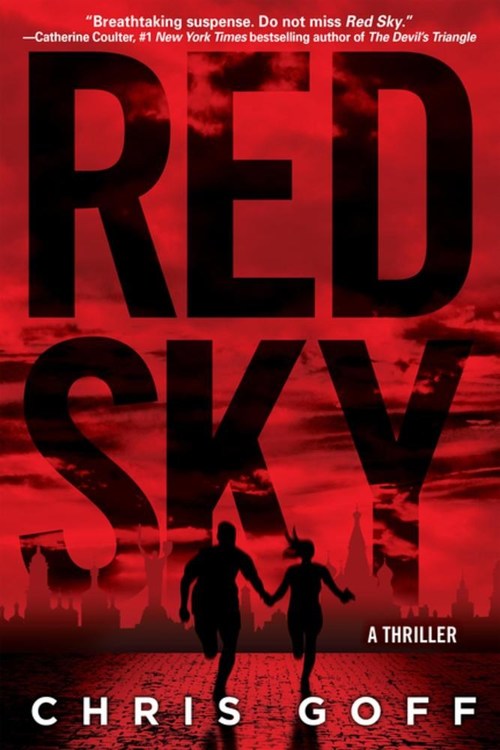 When People's Republic Flight 91 crashes in northeastern Ukraine with a U.S. diplomatic agent onboard, U.S. Diplomatic Security Service Agent Raisa Jordan is sent to investigate. The agent was escorting a prisoner home from Guangzhou, China, along with sensitive documents, and it quickly becomes apparent that the plane was intentionally downed. Was it to silence the two Americans onboard?
To avoid a diplomatic incident, Jordan must discover what the Americans knew that was worth killing hundreds to cover up. With Russia deeply entangled in the Ukraine and the possibility that China could be hiding reasons to bring down its own plane, tensions are high.
As international relations and even more lives hang in the balance, Jordan races to stop a new Cold War. Red Sky, Chris Goff's pulse-pounding follow-up to Dark Waters, is yet another white-knuckle joyride for fans of Gayle Lynds.
Mystery | Thriller [Crooked Lane Books, On Sale: June 13, 2017, Hardcover / e-Book, ISBN: 9781683311263 / eISBN: 9781683311270]

That perfect storm for a thriller you just cannot put down!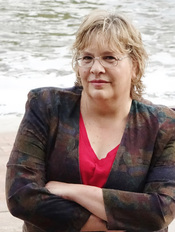 Chris Goff is an award-winning author of six novels based on environmental themes and two international thrillers. Her most recent book, RED SKY, (Crooked Lane Books, June 2017) is set in Ukraine and Asia, where Agent Raisa Jordan tests the boundaries of diplomacy as she races to prevent the start of a new Cold War. Catherine Coulter had this to say: "Breathtaking suspense, do not miss Red Sky." Goff's series debut, DARK WATERS, was dubbed "a sure bet for fans of international thrillers" by Booklist, and was a finalist for the 2016 Colorado Book Award and 2016 Anthony Award for Best Crime Fiction Audiobook.
Named the Rocky Mountain Fiction Writers' 2002 Writer of the year, Goff's bestselling Birdwatcher's Mystery series was nominated for two WILLA Literary Awards, a Colorado Author's League Award, and published in the UK and Japan. The backlist was re-released in e-book by Astor+Blue Editions in November 2014. Her latest, A Parliament of Owls, came out in May 2016.
Goff began her career writing non-fiction, penning columns for several local newspapers in Summit County, Colorado, as well as articles for regional and national publication. Later she edited rock and ice-climbing guides for Chockstone Press, and worked in graphic production for "Living the Good News," a division of The Morehouse Publishing Group. She has taught writing workshops at the Colorado Free University, the University of Colorado. A long-standing member of multiple writing organizations, Goff has served on several local, regional and national boards, including Mystery Writers of America. She begins serving a four year term on the Executive Council of International Crime Writers Association in October 2017, and current serves on the Education Committee of Sisters in Crime.