Chapter Two Excerpt: Rachel, Out of Office by Christina Hovland
A romantic momedy! Single-mom Rachel needs a break from her family vacation. She struggles to keep up with work and balance the demands of family, all the while fending off pesky new feelings for her hunky former-brother-in-law. Which makes her wonder…is falling for him really that wrong? Or is anything possible when she's out of office…?

Rachel rummaged through her handbag to search for her sunglasses as they walked. Damn, she knew she'd dropped them in there before she left the house.
"It's not happening. If I need company, I'll just adopt a puppy or something," she continued. Coming up empty from the inside pocket, she turned her attention to the oversize beach bag, the one that had never seen a beach but was her own personal "bug out" bag where she kept all the things she might need for herself or her kids.
"If you don't want to be so obvious, just squeeze a couple of cantaloupes." Her best friend Molly shrugged, clearly oblivious to Rachel's search for eye protection and her extreme disinterest in the suggestion.
"Are you equating cantaloupe to breasts, because men like breasts?" Rachel asked, even though she knew she shouldn't have continued engaging in Molly's dating cray-cray.
"See! You're catching on." Molly nodded enthusiastically.
Rachel shook her head. She would not be doing that.
"If you use two lemons, it's a totally different subliminal message."
"For guys who like small breasts?" Stop. Asking. Questions. Rachel.
"No, silly. Guys love having their"—Molly tipped her sunglasses to the edge of her nose and looked pointedly at Rachel's crotch area—"ahem squeezed."
Molly further illustrated this point by making two fists and squeezing.
Rachel didn't have the equipment Molly referred to, but she still felt the urge to cross her legs. See, when life tossed lemons at Rachel, she found a recipe on Pinterest and squeezed a pitcher of lemon martinis for an impromptu girls' night soiree. Sometimes, if she was feeling bold with her lemons, she'd mix up a pitcher of whiskey smash instead. She didn't squeeze them to make a sexual point.
Rachel twisted her lips, paused her stride, and shook her head. "We're done. Change of subject."
Then she stuck her head back into the depths of the beach bag filled with snacks and extra gear and just-in-case bandages and water bottles. Where the heck had she put those damn glasses? Gah.
"Good call, Rach. Because that's the worst advice I've ever heard." A throaty male voice with a hefty dose of southern drawl came from behind them.
Rachel paused. She knew that voice like the inside of her handbag.
Don't get her wrong. The southern accent was nice. Sometimes if he said the right thing with extra southern mixed in, it made her tingly and her tummy twist in ways that weren't bad. Not bad at all. Actually, the twisting was sorta good. Which was bad.
Blurgh.
Of course, it would be Travis.
"Don't go around squeezing a guy's nuts. We don't like that." Travis knew where his sunglasses were because he pulled them from the bridge of his nose, folded them carefully, and tucked one end into the front of his shirt.
If he kept up that look, pretty soon he'd be wearing loafers with no socks. He could probably pull off the look, though, and still knock all the ladies out with his brand of handsome.
Travis was a hottie. The worst kind of hottie—the kind who knew it, embraced it, and owned it. He was also untethered, immature, and irresponsible.
Short black hair with a bit of an unintentional Superman-esque wave, muscles because he embraced his hotness, worked out, and apparently didn't eat Puffle Yums, and the kind of symmetrical features that probably turned on even facial recognition software. Yes, the symmetry of his face was that good.
Rachel did not like Travis's brand of hottie knowledge, preferring the kind who had no clue they were attractive. They were so much nicer to her.
Rachel ignored him, shoving her face back into her bag on her sunglasses search.
She didn't have to look up to see him shaking his head; she knew intuitively that's what he was doing. Probably closing his eyes in a half-lidded what-the-fuck, this-is-ridiculous eye roll he did so well.
"Some of you do." Molly laughed, lighthearted, the subtle hint of flirt in her tone that Travis ate up. "Like the squeeze thing, I mean."
Travis laughed. "Rach, you know how you say I never take anything seriously?"
Yes, she did.
"I take my stance here extremely seriously." He gave her a smolder and a wink that made her nearly—only nearly—forget who he was, where they were, and why he was a bad idea.
Between him and Molly, it was like a big ol' flirt bomb had decimated the Little League field.
Molly was dancing the dance to hand deliver Travis right to Rachel.
Which was…blah.
Of course, Molly wouldn't try for Travis herself. Rachel had suggested it, but Molly said that would be, and Rachel was quoting here, "weird."
Rachel mentally batted Travis away like the unreliable annoyance he had proven over and over to be.
"Tell Rachel and me more about what you'd prefer squeezed," Molly said, right on cue.
Rachel extracted her head from her bag, wishing that Molly had not just asked that. But, oh boy, she had. "Or you could, you know, not do that."
Travis grinned. "I'd love to tell you what to squeeze."
"I just said not to."
"But did you mean it?"
"Yes."
"You sure?"
"Travis." She turned to face him, squaring her shoulders.
"Yes, Rachel?" he drawled.
"Knock it off." She used her mom tone. The one that, generally, got her what she wanted.
Molly smiled. "You two, this is great."
Rachel scowled. She gave up on her sunglasses search and went back to marching toward the benches.
Molly let well-timed laughter tumble over the thick air among them. "What would you suggest, then?"
"I suggest we go be adults and watch the baseball warm-ups," Rachel said. Fine, it was more of a huff.
Travis stood, thoughtful. Too thoughtful.
Travis didn't do thoughtful. This was new.
"There are so many other things you can do down there—don't go squeezing around. Do you want me to start a list of things men enjoy?" he said to Rachel with another hefty dose of charisma.
Rachel's stomach did the flippy good, but also bad, thing. "I know what men enjoy."
She didn't, not really. But she could probably make a few good guesses.
"I'd love to hear what you think Travis would enjoy," Molly said.
"I can start at the waistband and work my way down?" Travis continued.
Gah. This, right there, was why Travis drove her up the wall.
"I think I'll stick with the squeezing thing Molly suggested." Truly, Rachel just wanted him to stop talking about it. "Hard. With fingernails."
Did she imagine it or did he cross his legs just a touch?
"Nope." Travis pinched his lips closed and shook his head. "Don't squeeze the boys. I can speak for all men when we say 'no' on this one."
"You speak for all men on this subject?" Rachel asked without adding even the thinnest coffee filter to her thoughts before they vocalized right from her lips. "Literally, all of them?"
"Of course not," Travis said lightly. "Just every man I've ever met and every one I'll ever meet."
"The produce manager will get upset if I lick the lemons." The words tumbled from Rachel's lips before she fully processed their meaning.
She couldn't help it, her cheeks burned, and she was pretty sure she'd turned the color of the red accent wall in her living room as her mind played a film reel of licking Travis's lemons.
Yikes. No. Nada on a banana. That would not happen.
"Rach." He grinned, the slow way he drawled her nickname making her cheeks burn brighter. "You never cease to surprise me."
© 2021 Christina Hovland. All Rights Reserved. Reprinted with permission from Entangled Publishing and the author.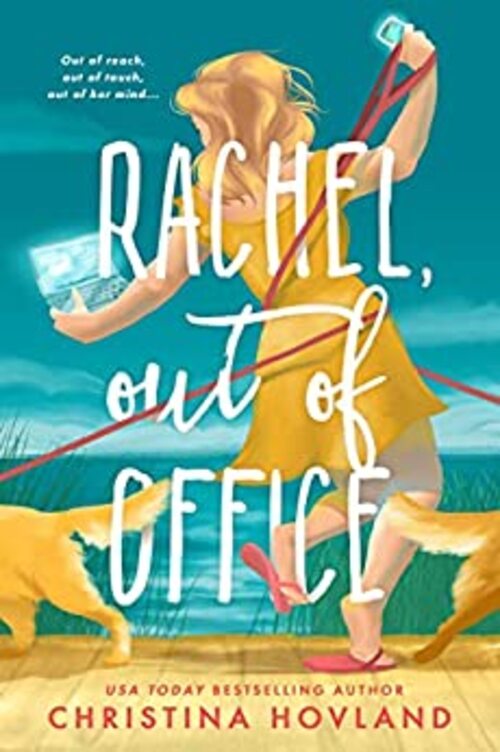 Single mom Rachel Gibson seriously needs a break. Between an absent ex-husband, rowdy twin boys, and running her own work-from-home business, her candle isn't just burning at both ends, it's a full-blown puddle of wax. She's the go-to girl for other entrepreneurs, handling all the tasks they dread. Social media posts? She's got it. Website updates? She's on it. Light bookkeeping? She loves it.
Thank goodness Rachel's about to get a reprieve, as her former in-laws plan to whisk her boys away for a summer of fun at the family lake house. But when her ex backs out at the last minute, she finds herself in a pickle. Even though she's drowning in to-dos, she's horrible at saying no–especially when it comes to providing some stability for her kids.
Once Rachel arrives at the lake house, she struggles to keep up with work and balance the demands of family, all the while fending off pesky new feelings for her ex-brother-in-law. Which makes her wonder…is falling for her ex-husband's brother just one more messy complication added to the dumpster fire of her life? Or is anything possible when she's out of office. . .?
Women's Fiction [Entangled: Amara, On Sale: January 25, 2021, e-Book, ISBN: 9781649371225 / eISBN: 9781649371225]
Christina Hovland lives her own version of a fairy tale—an artisan chocolatier by day and romance writer by night. Born in Colorado, Christina received a degree in journalism from Colorado State University. Before opening her chocolate company, Christina's career spanned from the television newsroom to managing an award-winning public relations firm. She's a recovering overachiever and perfectionist with a love of cupcakes and dinner she doesn't have to cook herself. A 2017 Golden Heart® finalist, she lives in Colorado with her first-boyfriend-turned-husband, four children, and the sweetest dog around.