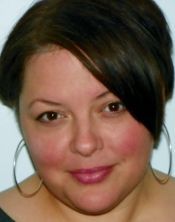 Hey there, Fresh Fiction readers! I'm thrilled to be here today to celebrate the release of my new Entangled Indulgence, REFORMING THE ROCK STAR. I'm running a little giveaway too, so stick around to comment for a chance to feed your book addiction!
When I was writing this particular book, it got me thinking about hot rock stars, the nature of people, and the crazy things we do to impress each other. ESPECIALLY members of the opposite sex. In REFORMING THE ROCK STAR, my hero Laz mistakes the heroine, Syd, for a stripper. And you can't really blame him. She's at a bachelor party, all buttoned up with her hair in a bun and her glasses on, and he thinks it's all part of her Sexy Librarian schtick when, in reality, she's actually the socially awkward and genuinely nerdy caterer. Syd goes through sort of a reverse-My Fair Lady makeover to try to show Laz how sexy she can really be, when in truth, Laz thought she was sexy the whole time.
That got me thinking about the time that I "pulled a Syd" in my own life. Despite the fact that this does not *necessarily* reflect well upon me >.< I'm going to share it with you now, mainly, because I have no shame. And, because it's funny.
So this one time (back in my 20's), a guy I was crushing on at work was SUPER into hiking and the outdoors. A veritable Bear Grylls, if you will. Rock-climbing, rappelling, spelunking (and, whilst I LOVE that word—it's so meaty in the mouth—the act sounds right on par with water-boarding, if you ask me). The whole nine yards. And, because I wanted him to ask me out on a date, I decided that I was going to re-invent myself and become the kind of girl he would want to do all his spelunking with. So I started eating kale (gag) and some weird, puck-like granola bars, and making sure that, whenever he came into the break-room, I was mid-"near miss with a mountain lion" story that I was sure would catch his ear.
I'm not proud of it. My older self cringes as the lack of self-confidence I had that I felt like that was what I needed to do to get this guy's attention. But I can't lie. It worked.
So, one day, *Granola Pete (*not his real name) came up to me and was like, "Hey, I heard you talking about hiking up to Webb Mountain the other day. Do you hike there a lot?"
And I was all, "A LOT? *snort* They practically wanted to name it Chris Mountain, cuz I'm there, like, ALL the time."
And he was all, "Really? I've never seen you there?"
And I was all, "Well, you just weren't looking hard enough." *past giggle* *current gag*
By the end of the conversation, we had plans to go on a four mile hike that weekend to another mountain, and I was GIDDY with excitement. In the days leading up, I bought this legit looking water bottle, some hiking boots that I scuffed up on the pavement outside my house, and a midriff-baring "Born to Hike" t-shirt. I was READY. TO. GO. No stone unturned.
Except the hiking part. I had never actually gone hiking before. Anywhere. Ever. I played in the woods as a kid, but it was flat. And this place…wasn't.
So on a eighty-five degree summer day, we started our climb. I was adorable. My ponytail bouncing as we walked. My little t-shirt crisp and smelling like fresh linens. My optimism through the roof. It took a solid half mile before reality hit. I was breathing so hard, I couldn't hear him talking, or the sounds of the forest around me. All I could hear was my own wheezing breath as I cursed Mother Nature and my own hubris in equal measure. My legs were on FIRE. My head was spinning. I literally wondered if I was going to die out there.
And the whole time, he talked, forcing me to use precious oxygen on yes and no responses. It was like a living nightmare as I tried to hide my condition from him.
About an hour in, I found the first tick on me and all hell broke loose, my friends. I'm not going to say I had a panic attack. But I didn't NOT have a panic attack. There was screaming. And flailing. And some weeping. LOTS of running. By the time we got to the bottom again, I was sweat-clicked, covered in dirt, and three seconds from vomiting from heat stroke.
But guess what? HE LIKED ME ANYWAY. In fact, we later joked about that day, and still look back and laugh on it. In fact, I later became Mrs. Granola Pete. We didn't stay married because we had nothing in common (HA!), but faking it that day turned out to be the most fortuitous misstep of my life. We had a son together, who, thankfully, takes after his father, and is the best kid a woman could ask for. I later found a man who hated hiking almost as much as I did, and we're very happy together.
So what about you, Fresh Fiction-ites? Has there ever been a time when you wanted to just start fresh and totally reinvent yourself? If so, tell me about it in comments. I'll be giving one commenter a $10 gift card to either Amazon or Barnes and Noble, winner's choice!
To comment on Christine Bell's blog please click here.