Christine Warren, author of HARD BREAKER, chatted with Fresh Fiction about her latest book, where she sees the series going, and whether or not she plans to write more books in The Guardian series.
Fresh Fiction: Now that the major battle between the Guardians and the demons has been fought, will you be continuing the story line and taking it a new direction?
The Guardians series was always intended to have a fixed start and end point. I wanted to try something different after the Others and see if I could carry a single story thread across multiple books. With my previous work, stories were more loosely connected by characters. For me, the Guardians have done what they set out to do, and now they get to enjoy their retirement with their mates!
Fresh Fiction: What was your inspiration for the Guardians and their wardens? Is it based on any folklore?
It's not really based on any one specific story or myth. I simply liked the idea of an epic Good vs. Evil struggle and the idea of heroes who look scarier than the things they're saving the world from. That was enough to get my imagination firing.
Fresh Fiction: Are you done writing your Others series? It has been five years since you have written any, when can we expect more?
Well, as a matter of fact… I'm not technically restarting the Others series, but I am going back to that universe and expanding on it a little. In 2018, I'll be debuting a new series of shifter novels that connect back to the Others, while introducing a new setting and characters. I'm excited about it, and it feels good to be going back to my roots. Like revisiting old friends!
Fresh Fiction: Why did you quit writing The Others series? The way you branched it out and yet tied the characters together gave you lots of room for growth.
I never actually thought of it as quitting, just taking a break. I wrote more than a dozen books in the Others series and that was all I did for most of ten years. I just needed a little change of pace to keep my creative juices flowing. But obviously, my Others mean a lot to me. They gave me my start as a writer, not to mention tons of giggles over the years. I couldn't abandon them forever, which is what gave rise to my upcoming series.
Fresh Fiction: Are you planning to leave The Guardians series open for a revisit, too?
Like I said, I don't intend to go back and write more about the Guardians. Those guys (and girls!) deserve a break; they went through a lot. But I never actually say "never." Mostly in an attempt to keep those words from coming back and biting me in the butt.
Fresh Fiction: Your books are full of strong female characters, do you have an inspiration for that or is it your desire for women to read that in your books and be inspired to find the strength in themselves?
Wow, that's one of the best compliments I've ever gotten. Thank you! I think the answer is little bit of both. My parents raised me to believe I could do or be anything I wanted to, and it wasn't until I was an adult that I realized how different that experience was from the one my mother had growing up. She had to deal with even more misogyny and oppression that I've ever had to contemplate, so she's definitely a role model for me. But mostly I think I write strong women because I believe that women are strong. We're incredibly strong, more so than we'll ever be credited with, and I'm just reflecting the truth that I see around me every day.
Fresh Fiction: Where did the idea for gargoyle heroes come from? (You have to admit it is a stretch to think of those rather gruesome statues turning into gorgeous men.)
Okay, so when I was a kid… in junior high, maybe?… there was a cartoon on television about gargoyles that came to life at night to protect and defend the citizens of New York. I was obsessed with it. Frankly, I've always loved that idea. To me, it harkens back to the classic Beauty & the Beast myth, where the outer appearance of something terrifying can hide real goodness and nobility. What's more romantic than that?
Fresh Fiction: On the subject of male gargoyle, how and why did you come up with the idea to switch one of them to a she?
I hadn't planned on a female Guardian, to be honest. I think in my head I was too obsessed with my mental pictures of big, fierce, yummy men! But as I was writing the books, I realized I wanted to write a very special kind of heroine who could physically kick ass but still be emotionally vulnerable. And I wanted to write a hero who could deal with that, a man with the confidence not to be intimidated by a woman who could take him in a fight. To me, that's the sexiest kind of confidence.
Fresh Fiction: What kind of research do you do for the locations in The Guardians series
It varies. Some of it is based on places where I've spent time in the past, like Vancouver, B.C. or Boston or London. Some of it is just places I'm fascinated by, like Paris (still on my wish list) so I end up doing a lot of web crawling and reading and watching films or looking at photos. With Ireland, it was extrapolating my experiences in a different part of the country (Cork and Kerry) to the area around Dublin. And having a native Irish pal didn't hurt there. It all kind of goes into the melting pot in my head and eventually comes out on paper. I don't make guarantees about my accuracy, but I do try my best to catch a little snippet of what a place is like for my characters.
Fresh Fiction: Which character couple is your favorite of the series?
That's like asking me to pick my favorite pet! I can't do it! I love aspects of all of them, and all of them carry little pieces of me in them. Fil's Lithuanian curses and Spar's reactions came straight from my grandmother and the people who knew her. Kylie was like writing down the voices in my head sometimes, and Dag's bafflement with her smart mouth was tons of fun. Wynn, too, has a lot in common with me, and I admit to having a soft spot for Knox. And like I said before, I love the dynamic between Ash and Drum, but every one of those couples is super special to me. I'm going to miss them!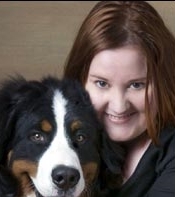 Since her early days of hiding the luridly covered paperbacks under her pillows so her parents wouldn't catch her reading past her bedtime, Christine Warren has suffered an addiction to romance novels. Discovering Ellora's Cave
turned her into a positive junkie by introducing her to the world of Romantica, but it also proved to be an inspiration for the long-time writer. After penning everything from poems to short stories to screenplays, she discovered her
real calling in erotic romance and happily penned her first e-book about a sexy Russian vampire and a woman with too many friends.
Christine spends most of her time thinking about sex — which is really no different from what she's always done — but now she puts those thoughts into her computer screen and hopes her audience enjoys reading them as much as she enjoys writing them!