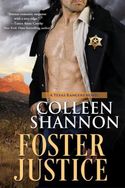 That's the Texas Ranger motto, but when Chad Foster's rebellious brother goes missing, it's time to put his elite training to use investigating a crime that strikes much closer to home. Turning Los Angeles inside out to retrieve Trey and save their ranch from a ruthless land grab is a no brainer, even if it puts his badge at risk. His only lead is a heart-stoppingly sensuous exotic dancer with a very tempting butterfly tattoo, the woman who helped scam his brother out of their ranch. But staying on top of this redhead's every suggestive word and sensual move means putting his case—and his heart—right in the line of fire . . .
A Texas Ranger, complete with quarter horse, is as out of place in downtown L.A. as a lawman is in the bed of a suspect, but with both their lives at risk, Chad has to put his trust in the one woman who could bring him down for good, and pray that somehow hard evidence is really just a pack of lies. . .
Excerpt from FOSTER JUSTICE
She was down to a G string, a triangle with lacy ties on both sides and a thong up her butt, and a scrap of a bikini top.  Imprinted with holographic butterflies that seemed to flutter with her every movement, it was more suggestive—made a man want to catch those butterflies in his hands–than nudity.
She was too beautiful to be a stripper, and she showed some real talent in the rhythm of her moves, but the mere fact she showed her wares off for a price meant to Chad she was capable of fraud, if not worse.  She certainly had the right equipment to distract a man to death.  At least he finally understood what had drawn Trey away from high sky Amarillo to smoggy Lost Angeles.
Fascinated–and getting more pissed off by the minute at his own arousal–he watched as The Butterfly crossed both endless legs around the pole.  Supporting all her weight, which wasn't much despite her height, she leaned so far backward her long waves of deep auburn hair brushed the stage.  Her arms moving Cleopatra style, her upper torso shimmied as she continued to bend further back until she was a bow of sheer sexual energy, flexed to fly free at a man's touch.
Her large breasts pointed provocatively at the ceiling, the nipples erect.  Great boob job, he tried to tell himself scornfully, but his mouth was parched.  He licked his lips, watching her lick hers, caught himself and turned tomato red under the weary gaze of a topless waitress.
About the Author
Colleen Shannon grew up in West Texas where the skies are as limitless as the tales told by its many colorful residents. Surrounded by oil men, lawyers and drillers in a community that has produced two presidents and many national leaders and businessmen, Colleen grew up reading and writing stories of every kind. After college when she married and was expecting her first child, she used a scrap computer to write her first romance. She sold it herself in less than a year, and at the age of 26 began a new career and never looked back. The strength of her first book led to her nomination by Romantic Times as Best New Historical Author. She went on to win and/or be nominated for numerous other awards, including a Kiss Award for all three heroes of her Fairy Tale trilogy written for Dorchester Books.
Her fifteen single title releases have appeared on numerous bestseller lists. She has well over a million books in print. Colleen's latest interests include mainstream thrillers and screenplays. However, she truly enjoys exploring the myriad possibilities between men and women, and she expects to celebrate her love of romance and action with many more novels.
Her newest release is from Kensington, a romantic suspense, her first published contemporary. It is planned as the first in a series about modern Texas Rangers, another interest of Colleen's because her ancestor, a Texas Ranger, was one of the first people buried in Brown County cemetery, Texas. Another one of her ancestors was a signatory to the Texas Declaration of Independence.
Colleen Shannon graduated cum laude from the University of Texas at Austin with a B.A. in Archaeology and more recently earned her Master's in Real Estate Development from the University of Southern California.