January is one of those months I find myself snuggling up in front of the fire with a good book instead of doing my grocery shopping. A good cozy mystery beats bundling up in layers and driving to the grocery store feeling like the Michelin Man stuffed inside a clown car any day. And if it means my family has to eat frozen pizza again, so be it. They'll survive until the temperature rises, or at least until I'm done with my book.
If you need an excuse to do the same, I have three mysteries that will have you pointing to the freezer when your hubby asks, "What's for dinner?" Check these out, they're worth the dirty looks.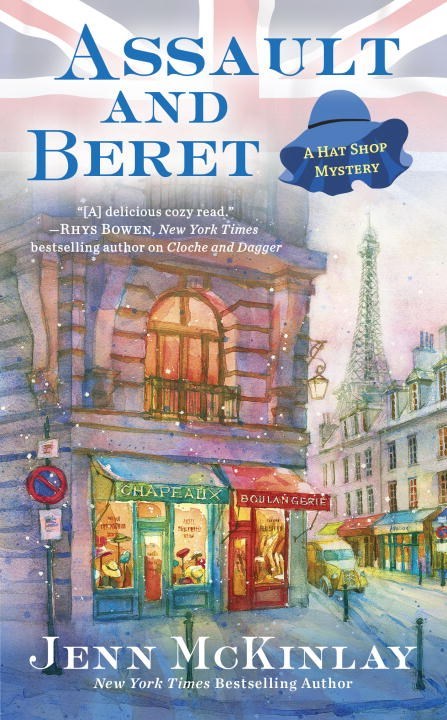 Allons-y to Paris for more hats and homicide from the New York Times bestselling author of Copy Cap Murder!
London milliner Vivian Tremont and her American cousin and partner, Scarlett Parker, tip their caps to their beloved shop on Portobello Road in Notting Hill and set off for Paris, where Viv can't wait to teach a hat-making class. But she has another reason to travel to the City of Light: to find the man she impulsively eloped with years ago and have their marriage annulled.
William Graham is not only handsome and charming, but he also has a glamorous job as an insurance investigator who works with priceless pieces of art, most recently a small Renoir that has been discovered in a junk shop. But when both Will and the masterpiece suddenly disappear, it's up to the ladies from London to follow the trail of clues. They'll need to hold on to their chapeaux, however, because someone is a master in the art of deception…
Mystery Cozy [Berkley Prime Crime, On Sale: January 3, 2017, Mass Market Paperback / e-Book, ISBN: 9780425279595 / eISBN: 9780698187818]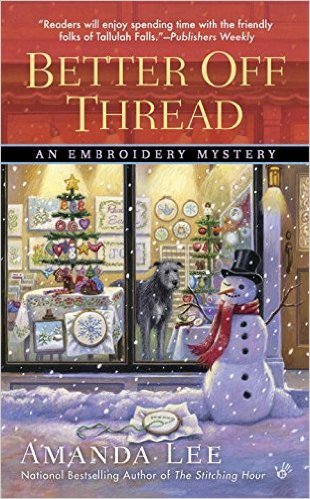 Santa finds himself in a stitch of trouble in the tenth in the series from the national bestselling author of The Stitching Hour…
Marcy is busy helping her customers make hand-crafted ornaments at her embroidery shop, the Seven-Year Stitch. But despite the yuletide bustle, when her friend Captain Moe asks for her help, she can't refuse—especially when the favor is to play the elf to his Santa for sick children at a local hospital. Despite the ridiculous outfit, Marcy finds herself enjoying spreading cheer—until the hospital's administrator is found murdered.
Although the deceased had plenty of people willing to fill her stocking with coal, evidence pins the crime on Moe. Now it's up to Marcy, with the help of her police officer boyfriend Ted and her Irish Wolfhound Angus, to stitch together the clues to clear Moe's name—before someone else winds up crossed off Santa's list for good…
Mystery Cozy [Berkley, On Sale: December 6, 2016, Paperback / e-Book, ISBN: 9780451473851 / eISBN: 9780698186521]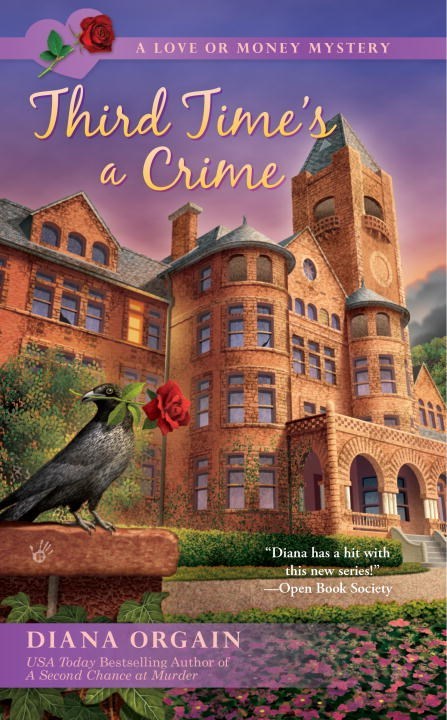 Ex-detective Georgia Thornton returns to reality TV in the third mystery from the USA Today bestselling author of A Second Chance at Murder—
POOL YOUR RESOURCES…
After two hit reality TV shows brought ex-detective Georgia Thornton into America's living rooms, audiences can't get enough of her quest for love and justice. Now producers have come up with an all-new show set in a haunted castle in Golden, California. Georgia and nine other contestants will need to solve the mystery of a young woman who disappeared at the castle in 1960.
Except there's one rather substantial problem waiting for everyone when they arrive: a groundskeeper is found drowned at the bottom of the castle's empty pool. Now Georgia and the other contestants will need to work together, because there's a different sort of game afoot—and it's not one they can afford to lose…
Mystery [Berkley Prime Crime, On Sale: January 3, 2017, Mass Market Paperback / e-Book, ISBN: 9780425271704 / eISBN: 9780698140172]
Until Next time, get cozy and read on!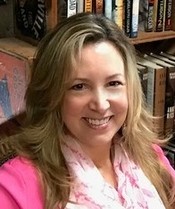 Kym Roberts is a retired detective sergeant who looks for passion, mystery and suspense in every book she reads and writes. She can be found on the web kymroberts.com, on Facebook at Kym Roberts (author) and on Twitter @kymroberts911. Look for her new cozy mystery release, Fatal Fiction, A Book Barn Mystery available now.