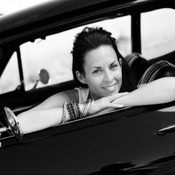 My name is Danielle. I write both Young Adult and New Adult fiction for Entangled Publishing and HarperCollins as D.R. Graham. People ask me all the time where I get my ideas for the novels I write. Those who know me assume because I am a child and family therapist that I must draw all my ideas from counseling sessions. I guess that's partially true when it comes to character traits, but my stories don't actually come to me as ideas based on other people's lives. They start as intense feelings or random images that I find fascinating.
ONE PERCENTER, which is the first book in the Noir et Bleu Motorcycle Club series, was inspired by a funeral of a high ranking member of an outlaw motorcycle club. I watched as the crowd exited the church into a parking lot full of police officers, and I was struck by the image of the little kids holding hands with their rough looking biker dads. It moved me to tell the story of what it is like to grow up loving people the rest of the world is terrified of.
The first book I ever published, titled HIT THAT AND YOU'RE DEAD, became a bestselling young adult novel geared toward reluctant readers. Early in my counseling career, a teenage girl asked me to help her tell her dad that she had been sexually assaulted. After we told him, the first emotion that ripped through him was protective rage. It only appeared for a fraction of a second before he reached over and hugged her in support. It was a powerful emotion that I had never witnessed prior to that. Many years later, I can still see the intensity in his eyes, and it moved me to tell a story of what someone's protective rage might compel them to do if pushed to the limit.
RANK, which is my next release (March 2015), is a story about brothers who are bull riders on the rodeo circuit trying to pick up the pieces of their lives after their dad's death. One of the brothers has bipolar disorder. I chose to tell the story from the perspective of the sibling who doesn't have a mental health issue because people often overlook how difficult it is to be the one who isn't sick. The story wasn't derived from any one experience. It's weird, I know, but it started with the sentence: Facial wounds bleed a lot!
I can't explain how a story writes itself from a random image or emotion, but it is the part of writing I enjoy the most. I meet the characters at the beginning and get to know them better as we spend time together. I don't know what's going to happen, and I'm often surprised, shocked, and delighted when I realize how things work out.
Since there is no shortage of intense emotions or striking images, I think there are story ideas everywhere. Thanks for reading!
About ONE PERCENTER
99% of bikers obey the law. The other 1% make their own…
Eighteen-year-old Tienne Desrochers grew up in the rough world of the Noir et Bleu. Bikers. Outlaws. But after her dad's murder, Tienne decides she's had enough. She refuses to end up like her junkie mom. So she grabs her younger brother and leaves it all behind…including her boyfriend, Aiden Gyllenhall.
More comfortable in the middle of a bar fight than at a country club, living with her wealthy aunt and uncle is an adjustment, to say the least. No swearing. Designer shoes that pinch. And pretty, preppy boys like Leland Crofton instead of super-sexy, tattooed Aiden. But even the upper class can't escape the rancid touch of underworld violence.
And this time, Tienne won't just learn who she really is—she'll learn how to fight for what's hers.
About D.R. Graham
D.R. Graham is the author of Young Adult and New Adult novels for HarperCollins and Entangled Publishing. She worked as a social worker with at-risk youth for seven years before becoming a therapist in private practice. The clients she works with are children and teenagers and the novels she writes deal with issues relevant to young and new adults in love, transition, or crisis. She is also an award winning columnist for the Richmond News. She currently lives in Vancouver, British Columbia with her husband.
D.R. Graham's novels are edgy and reflect the emotional rawness of the young adult psyche. The novels contain coarse language and mature subject matter. They are intended for mature young and new adult readers. Visit her website for more information and to join her street team: The Graham Crackers.