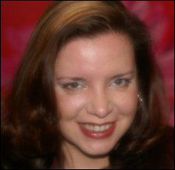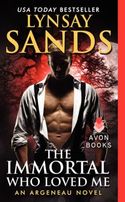 THE IMMORTAL WHO LOVED ME (Argeneau Vampire book #21) brings new life to the series with its heroine's unique job: she owns a kitchen goods store. This was largely inspired by Lynsay's own kitchen renovation, which was underway while she wrote. In celebration of the book's recent release–and the completion of her new kitchen, as you can see in the photographs–Lynsay has shared some of her favorite recipes for you to prepare in your own kitchen.
And one more delicious detail from the Argeneau Vampire series: one of the main side-effects of being a vampire who's just found his or her lifemate is a sudden craving for good food (not blood!). And lots of it. So whether you are cooking for yourself or a lovestruck vampire, these recipes should keep you satisfied.
Ants Climbing A Tree
-6 dried shiitake mushrooms
-250g pkt bean thread vermicelli noodles
-2 tablespoons peanut oil
-2 teaspoons finely grated fresh ginger
-2 garlic cloves, crushed
-2 small fresh red chillies, thinly sliced
-5 green onion, ends trimmed, thinly sliced
-400g pork mince
-2 tablespoons soy sauce
-2 tablespoons hoisin sauce
-1 tablespoon water
-2 teaspoons cornflour
-150g firm tofu, cut into 2cm pieces
1. Step 1 Place mushrooms in a heatproof bowl. Cover with boiling water. Set aside for 1 hour to soak. Drain, reserving 250ml (1 cup) of liquid. Thinly slice.
2. Step 2 Meanwhile, place noodles in a heatproof bowl. Cover with boiling water. Set aside for 10 minutes or until soft. Drain.
3. Step 3 Heat oil in a wok over high heat. Stir-fry the ginger, garlic, mushroom, half the chilli and three-quarters of the shallot for 2 minutes. Add the mince and stir-fry for 3 minutes.
4. Step 4 Add soy sauce, hoisin sauce and reserved liquid. Cook for 2 minutes. Combine water and cornflour in a bowl. Add to the sauce and stir until it thickens. Stir in noodles and tofu until heated through. Top with remaining chilli and shallot.
5. Recipe from here.
Chicken in Wine in No Time
-1/2 c. flour
-2 tsp. salt
-1/2 tsp. pepper
-1/4 c. oil
-2-3 lbs. chicken, cut up
-1 c. dry white wine
-1 pkg. dry onion soup mix
-Water
Combine flour, salt and pepper in paper bag. Shake chicken pieces to coat. Brown chicken well on all sides in oil in skillet. Sprinkle with onion soup; pour in white wine. Add a little water. Cover; simmer until tender, about 45 minutes. Yield: 4 servings. Easy and very tasty.
Recipe found here.
Easy Pierogi Casserole
-9 lasagna noodles, uncooked
-4 cups hot mashed potatoes
-1/2 cup (1/2 of 8-oz. tub) PHILADELPHIA Chive & Onion Cream Cheese Spread
-6 green onions, thinly sliced
-1 pkg. (3 oz.) OSCAR MAYER Real Bacon Bits, divided
-2 cups KRAFT Shredded Triple Cheddar Cheese with a TOUCH OF PHILADELPHIA, divided
HEAT oven to 375°F.
COOK noodles as directed on package, omitting salt. Meanwhile, combine potatoes, cream cheese spread, onions, 1/2 cup bacon and 1 cup cheddar.
PLACE 3 noodles in 13×9-inch baking dish sprayed with cooking spray; cover with 1/3 of the potato mixture. Repeat layers twice. Top with remaining bacon and cheddar; cover.
BAKE 33 to 35 min. or until heated through, uncovering for the last 5 min. Let stand 10 min. before cutting to serve.
Kitchens Tips
Serving Suggestion: Serve with a mixed green salad tossed with your favorite KRAFT Lite Dressing.
Note: You will need to cook about 2 lb. baking potatoes (about 6) to get the 4 cups mashed potatoes needed to make this recipe.
Substitute: For a change of pace, substitute BREAKSTONE'S or KNUDSEN Cottage Cheese for the mashed potatoes.
Recipe found here.
Southwest Chicken Panini
-2 cups finely chopped cooked chicken breasts
-2 Tbsp. MIRACLE WHIP Light Dressing
-2 Tbsp. KRAFT Lite Ranch Dressing
-1-1/2 tsp. chili powder
-8 slices Italian bread
-1 large tomato, cut into 8 thin slices
-4 KRAFT 2% Milk Singles
HEAT panini grill.
COMBINE first 4 ingredients.
FILL bread slices with chicken mixture, tomatoes and 2% Milk Singles to make 4 sandwiches.
GRILL 3 to 5 min. or until Singles are melted and sandwiches are golden brown.
Kraft Kitchens Tips
If You Don't Have a Panini Grill: Heat grill pan or large skillet on medium heat. Cook sandwiches 3 to 5 min. on each side or until golden brown on both sides, gently pressing down tops of sandwiches with spatula to flatten slightly as they cook.
Make Ahead: Chicken salad can be prepared in advance. Store in airtight container in refrigerator up to 2 days. Use to assemble sandwiches just before cooking as directed.
Substitute: Have some leftover turkey? Use it instead of the chicken in these tasty sandwiches.
Recipe found here.
Orange Cream Cookies
Adapted from Betty Crocker; Yields 3 1/2 dozen cookies
-1 cup sugar
-1/2 cup softened butter
-1 egg
-1 tsp. vanilla
-1 tsp orange extract (or 3-4 drops orange essential oil)
-1/3 cup sour cream
-1 TBSP milk
-1/2 tsp. salt
-1/2 tsp. baking soda
-2 cups flour
-1 (12 oz) bag white chocolate chips
-1 small box vanilla pudding mix
Cream together sugar and butter. Add egg, vanilla, orange extract and milk. In separate bowl, combine sour cream, pudding mix, salt and soda. Add flour and sour cream to butter mixture, mixing until smooth. Mix in white chocolate chips. Add orange coloring as desired.
Drop by rounded tablespoonfuls onto greased cookie sheet.
Bake at 375 for 10 minutes.
Recipe from here.
Millionaire's Shortbread Bars
-1 ½ cups (375 mL) Robin Hood® Original All Purpose Flour
-½ cup (125 mL) icing sugar
-¾ cup (175 mL) butter, softened
-1 can (300 mL) Eagle Brand® Dulce de Leche Caramel Flavoured Sauce
-1 cup (250 mL) semi-sweet chocolate chips, melted and cooled slightly
Preparation:
1. Preheat oven to 350°F (180°C). Line an 8" x 8" (2 l) baking pan with parchment paper, overlapping the sides for easy removal.
2. Combine, in a medium bowl, flour and icing sugar. Blend in butter using a pastry blender or your fingers. Press mixture into prepared pan.
3. Bake in preheated oven for 20 to 25 minutes or until lightly golden.
4. Bring caramel flavoured sauce to a boil over medium heat in a medium saucepan. Stir constantly, cook 5 minutes. Remove from heat. Spread thickened mixture on top of baked shortbread. Let sit 10 minutes before topping with slightly cooled melted chocolate.
5. Pour melted chocolate evenly on top of caramel flavoured filling and spread to cover. Chill in refrigerator, 3 hours or until firm. Cut into bars.
Tips:
Reserve 1 tbsp (15 ml) of thickened caramel flavoured sauce to drizzle on top of chocolate layer.
To melt chocolate, bring 1-2" (2.5 cm-5 cm) of water to a boil in a medium saucepan. Place chocolate in heat proof bowl and place bowl over boiling water. Ensure bottom of bowl does not touch the water. Remove saucepan from heat. Let stand 3 to 5 minutes and stir.
Recipe found here.
About THE IMMORTAL WHO LOVED ME
A few hours ago, Sherry Carne would have sworn that vampires didn't exist. That's before rogue immortals rampage through her store, leaving bloody chaos (literally) in their wake. The kicker comes when Sherry learns that one of the vamps on the bad guys' trail may be her life mate. Her head says it's impossible. The rest of her takes one look at Basileios Argeneau and has much more interesting ideas.
Whatever Basil expected in a life mate, funny, outspoken Sherry isn't it. But mind-blowing chemistry and instinct don't lie. They tell him something else, too—that Sherry's connection to the immortal world goes deeper than she knows. And that she's in the kind of danger only Basil can save her from—if she'll just trust him, now and forever . . .