The Daily Dose
Smattering of Romance, Paranormal, and General Observations

What do you get with a werewolf named Kitty, a radio show and a fresh look at werewolves in literature? The answer is Carrie Vaughn's exciting first book in the Kitty Norville series: KITTY AND THE MIDNIGHT HOUR. My husband picked this up on a whim because the title sounded like something I would read and as usual, he was right. I adored the fresh take on werewolves and supernatural politics set against the backdrop of a night time talk radio show.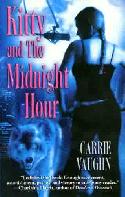 Vaughn captures the nuances of talk radio, but adds wonderful spice with Kitty's very "normal" reactions to the supernatural world in which she exists. Today, Carrie Vaughn is giving away an autographed KITTY AND THE MIDNIGHT HOUR with a bonus homemade CD of the playlist.
I think whomever you nominate for this gift is in for a real treat. KITTY AND THE MIDNIGHT HOUR is the first in a series of six published novels with the seventh being released this January. If you're looking for a fresh take on werewolves, supernatural politics and sexy, fun humor, this is the series for you.
Kitty Norville is a midnight-shift DJ for a Denver radio station–and a werewolf in the closet. Her new late-night advice show for the supernaturally disadvantaged is a raging success, but it's Kitty who can use some help. With one sexy werewolf-hunter and a few homicidal undead on her tail, Kitty may have bitten off more than she can chew!
Click here to read more…