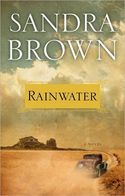 This week I have been reading Rainwater by Sandra Brown. By Wikipedia's definition historical romance is anything set before World War II. As I've read Rainwater I couldn't help but feel that I was not reading a historical book, but one that could just as easily happen today.
I almost passed on reading Rainwater because of the historical label that it has…I don't mind historicals, and have in fact read a few in my day, but no longer read them as a part of my regular reading pattern. Had I passed on this title I would have missed a book that I have been enjoying.
To read more of WHAT DO YOU THINK MAKES A BOOK A HISTORICAL and to leave a comment please click here.