Happy Friday friends,
Today I am chatting about bravery. We all exhibit some level of bravery every day. I'm not talking soldiers on the battlefield bravery, they are heroes and I respect them immensely. I'm talking about the bravery it takes to be our real, authentic selves day in and day out through trials, obstacles, and fears. Being who we were created to be and resting in that is one of the most freeing things you'll ever experience and I pray with all my heart you do. But it also takes a whole heap of bravery not to try to fit in with your peers, colleagues, friends, or even your family. To not feel the need to conform or to hide the beauty of who God made you to be.
The verse I chose for this week's principle is from the song of Solomon.
"You are altogether beautiful my love. There is no flaw in you." Solomon 4:7. (ESV) 
Some things to keep in mind this week as you go through your days:
"God knit each of us uniquely together in our mother's womb."  Solomon 139:13-14
"God knew you before you were born." Jeremiah 1:5
"God has called you by name and you were his." Isaiah 43:1
Rejoice in that today, soak in those verses of truth. You are altogether beautiful.
I hope you will join me each week for Alphabet for the Soul at danipettrey.com/notes/
Blessings,
Dani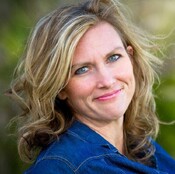 Dani Pettrey is a wife, mom, grandma, and the author of Cold Shot, the first book in the Chesapeake Valor series, and the Alaskan Courage romantic suspense series, which includes her bestselling novels Submerged, Shattered, Stranded, Silenced, and Sabotaged. Her books have been honored with the Daphne du Maurier award, two HOLT Medallions, a Christy Award nomination, two National Readers' Choice Awards, the Gail Wilson Award of Excellence, and Christian Retailing's Best Award, among others.
She feels blessed to write inspirational romantic suspense because it incorporates so many things she loves—the thrill of adventure, nail-biting suspense, the deepening of her characters' faith, and plenty of romance. She and her husband reside in Maryland, where they enjoy time with their two daughters, a son-in-law, and 2 super adorable grandsons.