It's still early enough in 2021 that I'm still mulling over my goals and intentions for the year.
Drink more water.
Write more.
Move (with intent) for at least 30 minutes a day.
Read more.
This last one is always on my list. READ MORE. Is it truly possible? There are so many uncertainties right now, it's hard to carve out dedicated time to really read. But one thing I do have control over is what I read and every year, I try to push myself to read things that I might not normally gravitate toward.
I chose a few recent reads I've enjoyed that have been squarely outside of my comfort zone and that I really enjoyed.
***
SCIENCE FICTION
Look, I love Star Wars a whole bunch, but I've never been able to get into "Science Fiction" the "genre." I stumble over worldbuilding that relies on a ton of explaining, but when it is done well and woven into the fabric of the narrative, I can relax and fully enmesh myself in the setting and the story.
WINTER'S ORBIT by Everina Maxwell – What starts out as an arranged marriage to keep political alliances in line turns into a murder mystery and—you guessed it—a love story. Jainan and Kiem are two characters who have a lot going on and get married solely because that's what is expected (and demanded) of them to do. Along the way they stumble over a plot to change everything… their lives, their homes, and society as they know it. I was immediately grabbed by this story and just fell into the science fiction elements that are beautifully set up. This is Everina Maxwell's debut and I cannot wait to see what comes next.
PERSEPHONE STATION by Stina Leicht – I've talked about this one a bit before, and it has stayed with since I finished reading it at the end of last year. I loved the way the different humans and aliens were described, the way they interacted with one another, and how the interactions changed through the course of the novel. The worlds in PERSEPHONE STATION felt lived in, gritty, and fully formed. I understood it, but also wanted to know more! There was also an intriguing artificial intelligence element that really worked for me, too.
***
"UNUSUAL" HISTORICALS
When I say unusual, I mean these books are about people and topics that aren't the run of the mill historical romance. These are very much my catnip—gorgeous gowns, the ton, gallivanting about at parties and the opera… **swoon** But, I have found myself interested in characters who aren't part of the aristocracy or incredibly wealthy. I enjoy reading about everyday people who are doing what they can to survive and find the happiness they so deserve.
THE BOXER AND THE BLACKSMITH by Edie Cay – Did you watch the Hulu series, Harlots? This book reminds me of that show and I absolutely adore it for that. This book focuses on two working-class characters—a successful female boxer trying to win as many fights as possible to prove her worth and a Black blacksmith making a name for himself in the business as well as trying to discover what happened to his mother. They find each other when one night, on her walk home, the boxer is set upon by men who think she's just a weak woman. The blacksmith is waiting in the shadows to help her, but he quickly finds out that she doesn't need any help. But what she has to come to terms with is that perhaps she actually wants his help… I learned a lot while reading this book, about the actual female boxers of London, about freed Black people living and working near the end of Regency, and so much more.
CONFESSIONS IN B-FLAT by Donna Hill – This is the book that I think was criminally underrated last year by a pioneering Black romance author. In this recent-historical romance, two Civil Rights activists—one who follows the active resistance of Dr. Martin Luther King, Jr. and one who supports the plans of Malcolm X—fall in love after connecting over their love of jazz music. So many historical events fall within the timeframe of this novel, including many harrowing events during the Civil Rights movement and the start of the Vietnam War. And while their end goal is the same, these two characters have different ideas on how to make equality happen. It's sexy and wonderfully developed—I hope more people read it!
***
ANYTHING TO DO WITH BABIES
Don't get me wrong—I love babies! They're great. I had one six-and-a-half years ago and she's amazing! But I don't necessarily want them in my romance novels. Kids are messy and need a lot of supervision and for me, that takes away from the plot of the romance. But there's something about two people who decide to do what's best for their child, and while they may swear they aren't going to get back together (or start a real relationship, depending on the circumstances), they usually do! And when this setup is done in a totally believable way, I can get on board. Harlequin books often utilize babies in their plots and I found two recent releases that were great.
CLAIMING THE RANCHER'S HEIR by Maisey Yates – I feel like there isn't a trope Maisey Yates hasn't excelled at writing. In CLAIMING THE RANCHER'S HEIR, she combines a treasure trove of them: enemies to lovers, one-night stand, accidental pregnancy, a marriage of convenience… There's so much going on, and while the two lead characters are at each other's throats, they are both devoted to giving their baby the best future possible. Oh yeah, this is also a holiday romance, too! I'm here for it ALL.
BACK IN THE TEXAN'S BED by Naima Simone – This is the elusive "secret baby" trope and it is done so well, which is what I expect from Naima Simone! She takes the secret baby plotline, ramps it up to an eleven, and makes it all work in a sexy and emotionally satisfying story. In this book, a chef starts an affair with the son of her employer but leaves after she finds out she's pregnant and believes he wants nothing to do with her or his child. A few years later, she's back in town as the executive chef of a swanky new restaurant and runs into none other than her former lover. He thinks she's didn't keep the baby, but surprise! She did. Now they have to figure out what makes the most sense for their son, and if there's any chance of a relationship between them. Meddling families, exclusive parties, weekend getaways… what more could you want?
Speaking of Naima Simone! The next Boozy Book Broads chat is on Friday, February 19 at 7pm CT/8pm ET on the Love's Sweet Arrow YouTube page and our special author guest is… NAIMA SIMONE! We're talking about Valentine's Day, writing sex scenes, balancing drama and humor, and whatever else we decide to talk about. Also, we give away a $10 LSA gift card at every BBB chat, so make sure you come and join the fun.
***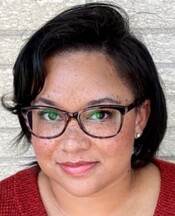 Danielle Jackson Dresser is a contemporary romance author (her debut novel with Berkley will be out in 2022!), avid reader, lackluster-yet-mighty crafter, and accomplished TV binge-watcher.
Once upon a time, she was a publisher publicist and continues to cultivate her love of books and reading by chatting with the best authors in the business as the Editorial Manager of Fresh Fiction and co-host of the Fresh Fiction podcast. Danielle is one of the Boozy Book Broads, a monthly author chat show streamed live on YouTube. She also moderates panels, interviews authors, and hosts a book club at Love's Sweet Arrow, the romance-focused independent bookstore.
Danielle lives in Chicagoland with her very own romance hero husband, darling daughter, and two tempestuous cats. Follow her on Twitter and Instagram, @dj_dresser.